I recently made changes to the Dugan Scoring System and presented it here on SA. Most of the changes were suggested by SA readers. The result is a more comprehensive rating system of David Fish's CCC stocks. For an explanation of the CCC lists click here. Below, you can see tables that illustrate the top 15 scoring companies, with and without yield as a consideration, and after filtering for criteria I believe SA readers would value. Those criteria include:
Being in the top-Dugan-scoring half of the non-RIET and non-MLP companies on the "All CCC" list.
Minimum 7 years on the CCC list.
Minimum $3B market cap.
Maximum relative Graham number of 80.
Minimum most-recent dividend increase of 6%.
Minimum estimated EPS growth next year of 6%.
Minimum estimated EPS growth for the next 5 years of 6%/year.
Additionally, for this article, I added one more twist to the scoring system. In many SA and other articles, I read suggestions about which stock sectors are in- and out-of-favor for the foreseeable future. One notable source is Fidelity's Quarterly sector update. 1Q2016 is re-printed below: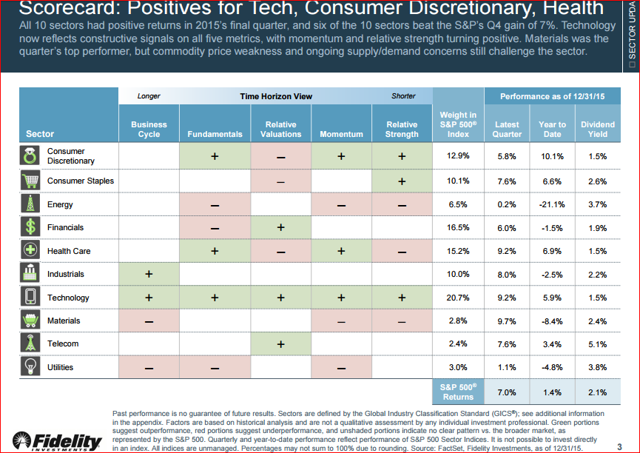 To adjust the earned Dugan Score to allow for whether a sector is currently favored or unfavored, I simply took the net of "+" and "-" signs, multiplied by 2 and added to, or subtracted from, the 2016 Dugan Score. For instance, Technology has 5 plusses and no minuses, thereby earning an additional 10 points for each Technology stock. Energy has 3 minuses and zero plusses, thereby earning a reduction of 6 points for each stock. Consumer Discretionary has 3 plusses and 1 minus, thereby earning an additional 4 points ((3-1) times 2).
Here are the post-filtered, top 15 scoring companies without yield as a consideration (showing both the 2016 Dugan Score and the score having been adjusted for sector favorability):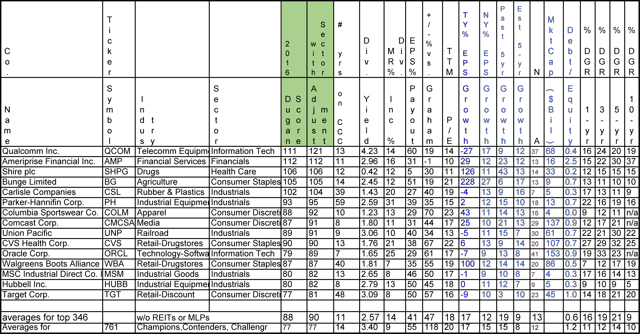 While all of the above companies are high quality, some wouldn't be right for me. Beyond yield, I would not buy a stock with a most recent dividend increase less than 7%. And my preference when doing due diligence is to have all three DGR periods (1, 3 and 5 years) show a double-digit dividend growth. I also believe debt/equity ratio is a significant measure of a company's underlying strategic and tactical strengths to achieve its potential. A D/E above 1 would be a problem for me.
Here are the post-filtered, top 10 scoring companies with a minimum yield of 2.5% (Note that only 10 companies made it through the filtering process):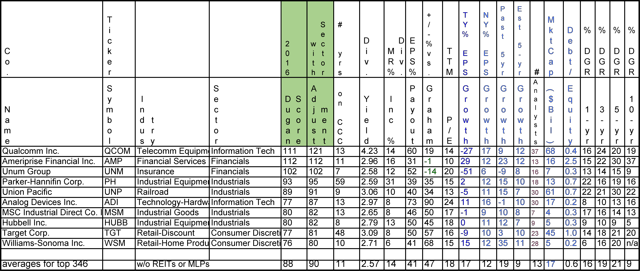 Like in table 1, all the companies in table 2 are solid, all-around companies (identifying solid, all-around companies is the purpose of using the Dugan Scoring System). But none are perfect as all stocks have weaknesses; meaning compromises always have to be made. For me, payout ratios and relative Graham numbers greater than 70 are a problem, and greater than 90 is an eliminator.
I hope you enjoyed this journey and received value in your quest to identify solid, all-around good companies for further due diligence. Comments are encouraged. Happy investing.
Disclaimer: The opinions in this document are for informational and educational purposes only and should not be construed as a recommendation to buy or sell the stocks mentioned or to solicit transactions or clients. Past performance of the companies discussed may not continue and the companies may not achieve the earnings growth as predicted. The information in this document is believed to be accurate, but under no circumstances should a person act upon the information contained within. We do not recommend that anyone act upon any investment information without first consulting an investment advisor as to the suitability of such investments for his specific situation. (Stolen from Chuck Carnevale.)
Disclosure: I am/we are long QCOM, CMCSA, TGT.
I wrote this article myself, and it expresses my own opinions. I am not receiving compensation for it (other than from Seeking Alpha). I have no business relationship with any company whose stock is mentioned in this article.