On November 9, with Facebook (NASDAQ:FB) trading at $106.49, I wrote "Facebook Will Win The 2016 Election". The Wall Street Journal, on December 22, reported 2015 spending topped $111 million, compared to $35 million in the comparable 2011 period. Since the article was written, FB has outperformed the S&P 500 by 13%, largely due to a strong fourth quarter.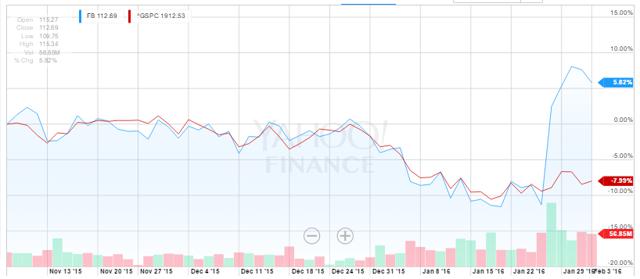 Click to enlarge
While presidential election spending, as noted above, was fierce on both sides in Q4 2015, the season is just warming up. The results on February 1 from the Iowa caucus confirmed that both political parties are going to have long drawn-out nominating processes. There are even some very serious musings about a third-party candidate; generally, Michael Bloomberg (as a "moderate" alternative to a Donald Trump/Bernie Sanders contest) or The Donald himself (if he fails to win the GOP nomination) are mentioned. The election season was promising to be a record breaker with respect to political spending. I strongly suspect the records are going to be destroyed.
I have identified two primary beneficiaries of election spending. The first, representing the clear winner in digital media, is Facebook. My pick for winner in conventional (television) media is Sinclair Broadcasting ((NASDAQ:SBGI) see: "Sinclair Broadcasting Wins The 2016 Election And (May Win) The Spectrum Lottery)".
While the dominance of local TV with the over-35 crowd is well known (see subtle advertising from the TV industry group to campaigns below)...



(Source: TVB.com)
... less attention has been paid to how the campaigns are reaching the under-35 group. There was not a single 2016 mention on the first page of Google (GOOG, GOOGL) responses when searching "2016 Election Spending Social Media" on February 4. The first reference is an "old" and understated reference to online political spending (below) in "images" that "only" show social media spending quadrupling to $1 billion during the 2016 election cycle.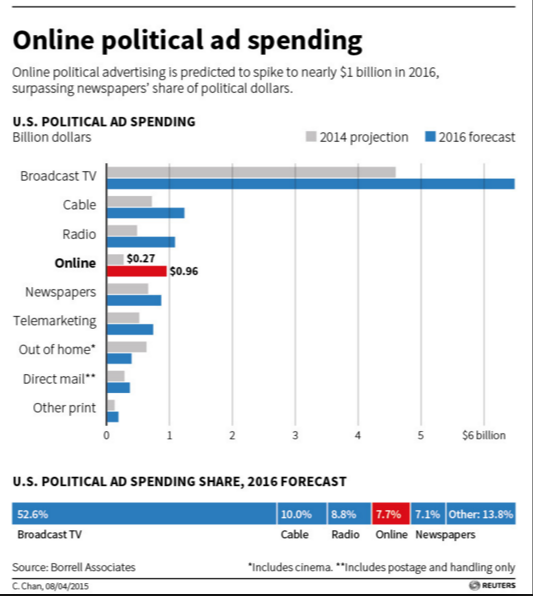 In fact, the first reference I saw from my Google search was an article in the British newspaper, The Guardian, discussing how FB was selling lists, and how (in the days up to the February 1 Iowa caucuses) "Cruz-affiliated donors are spending $10,000 per day on Facebook 'placement' as the first vote nears."
Zac Moffatt, the Romney (2012) campaign's top digital strategist notes, "Facebook is the easiest and most effective platform." The article further highlights the company's importance pointing out, "Political scientists, current campaign advisors and former digital gurus to Barack Obama and Mitt Romney agree: a Facebook ad is perhaps the best money to spend in what could be a nearly $10 billion election, and 2016 is fast becoming the year Facebook learned to profit from how you vote."
The Guardian quote also gives (what I think is) a more realistic assessment of 2016 election spending, quoting a figure of $10 billion - almost 50% more than previous estimates.
Sheryl Sandberg, FB COO, in the Q4 conference call told investors: "The 2016 election is a big deal in terms of ad spend... we're seeing politicians at all levels really take advantage of that targeting" (referring to district, demographic and interest targeting).
My thesis is simple: the economic impact of the 2016 election is under-estimated, and FB's "take" from this year's political ad spend is hugely under-appreciated, under-projected and under-modeled.
Disclosure: I/we have no positions in any stocks mentioned, but may initiate a long position in FB over the next 72 hours.
I wrote this article myself, and it expresses my own opinions. I am not receiving compensation for it (other than from Seeking Alpha). I have no business relationship with any company whose stock is mentioned in this article.