I remember staying at my grandparents' house when I was a kid, and as I walked through their farm, my grandfather would say to me, "Always make good choices in life, you reap what you sow." I'm certain he was talking about the consequences in life of making bad decisions that I would later regret.
Just a few days prior to my stroll through the tomato patch, I had gone for a walk to test my new BB gun. My grandparents had a large farm, so I had a massive playground to practice shooting at targets, usually squirrels.
That day, I ran across some old junk cars - at least that's what I thought they were. My older brother and I were both excited about our new guns, and we proceeded to go target shooting, aiming directly at the glass windows of the scrapped vehicles.
After a few rounds, my brother and I had completely annihilated the windows of the cars and we proceeded back to my grandparents' house, celebrating our marksmanship all the way back.
That afternoon, the neighbors called the house and asked if anyone had seen someone shooting out the windows of their cars. So much for "junk" cars.
Anyway, my grandfather was a wise man, and he taught my brother and I some very important lessons in life. And while the broken windows were certainly a painful reminder, his message was loud and clear: You reap what you sow.
As my granddad and I were walking through the farm discussing the BB gun incident, it became clear to me that he was not only teaching me a lesson on discipline, but also a lesson on investing.
As my granddad explained to me, seeds are planted, then nurtured, and finally harvested. By staying disciplined through ever phase (not shooting out windows), the crops become plentiful and, most of all, rewarding to eat.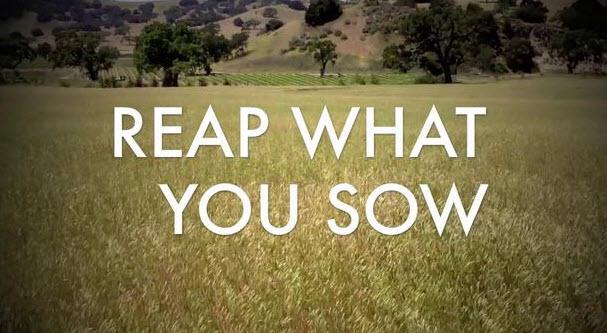 Harvesting Dividends For Profit
It seems fitting that the concept of harvesting crops - reaping what you sow - can also be applied to REIT investing, specifically my favorite farm REIT.
Back in 1994, Farmland Partners' (NYSE:FPI) executive chairman, president and CEO, Paul Pittman, said:
There's $30 billion of farmland traded in the United States per year... Now that we're into this, I can easily look forward to $200 million a year. So we'll grow. We'll finish our first 12 months at more than double where we started. And we'll double again the year after that. It won't take us long.

(Source: SNL Financial article (subscription required))
FPI listed on the NYSE in April 2014, and Pittman has lived up to his promise - the REIT's Total Assets have grown from around $200 million in Q4-15 to over $500 million (including contracts pending) as of Q4-15. Pittman believes his company will eventually reach $1 billion due to the tremendous supply and demand fundamentals.

Click to enlarge
Think about it like this: Most new farmland in the world is not farmable because of soil conditions or bad infrastructure (irrigation). So that simply means farmland is declining, and what makes land such an attractive asset class is that they are not making any more of it. It really boils down to supply and demand.
The true driver for the asset class (farmland) is global food production, and while brick-and-mortar stores provide the necessary real estate for distribution of goods and services, farmland meets the same "brick-and-mortar" need for growing food globally.
The two ingredients necessary to produce global food are simply land and water. The projected increase in global cropland supply by 2050 is just 4.3%.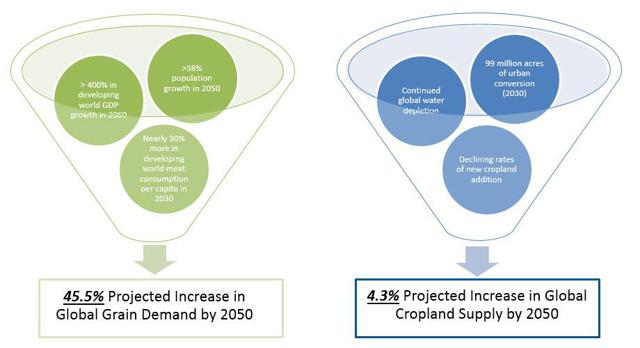 Click to enlarge
FPI is a small cap REIT with just $127 million in market capitalization, and there are two other publicly traded REITs that make up this growing REIT sector: Gladstone Land (NASDAQ:LAND) has a market cap of $82 million, and American Farmland (NYSEMKT:AFCO) has a market cap of $104 million.

Click to enlarge
Farmland is a low-risk way to participate in the global food demand story. Farmers (particularly U.S. farmers) efficiently produce food to feed the world population - approximately 805 million people are chronically undernourished, but the percentage has declined from 20% in 1990 to 11% today.
Food production is a huge industry in the U.S., and production agriculture is underrepresented in the public markets (there are now 3 publicly traded farm REITs). Nearly 5% of the 2013 U.S. GDP was attributable to agriculture and agriculture-related industries, and about 1% of U.S. GDP is production agriculture.
Farming is a near-zero vacancy business model with mostly upfront rent, little or no maintenance capex, and supply constraints. The combination of these traits offers a compelling opportunity for REIT investors to capitalize on the consolidation of the very stable and predictable drivers of global food demand.
Here's a snapshot of FPI's geographic reach: the Plains (32 properties), the Corn Belt (186 properties), the Southeast (22 properties), and the Delta (18 properties).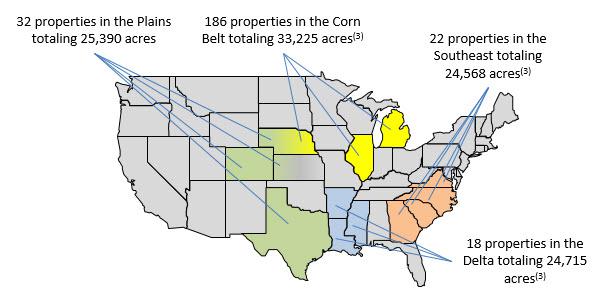 Primary Crops and Livestock Are the Main Drivers
FPI is unique compared to the other two public peers, since the company invests primarily in row crops. Specialty crops are considered higher-risk (compared with row crops), and that's why FPI has opted to overweight exposure (75%) in row crops.
Diverse participation in global food demand trend should reflect approximately the relative contribution of primary row crop, produce and specialty crops. As illustrated below, crops and livestock are the primary drivers, and feed grains and oilseeds are proxy for animal protein.

Click to enlarge
As evidenced by the chart below, yield and crop optionality differentiate farmland from individual agricultural commodity investments. Since 1991, farmland has offered consistently positive annual returns and lower volatility, leading to significant cumulative outperformance.

Click to enlarge
The media headlines often associate corn prices with farmland prices. However, that could not be further from the truth. The true drivers for farmland valuation is global food demand, and when you combine the strong demand attributes with the limited supply characteristics, you get a sound business model that provides reliable and predictable income.

Click to enlarge
As referenced above, there are three farming REITs, and while the business model is fairly new to the REIT sector, farmland properties have regularly outperformed other real estate asset classes. Since NCREIF began tracking farmland values in 1992, there has not been a year with negative total returns. Between 2003 and 2014, farmland has yielded annual returns of 16.4%.

Click to enlarge
The farmland sector offers a compelling opportunity to invest in an asset class where land values appreciate consistently. As the chart below suggests, Price Appreciation + Current Yields = Powerful Total Returns Story. According to the Illinois Farm Index, from 1972 to 2012, Illinois farmland had returned 10.6% annually, with roughly 6.6% coming from appreciation.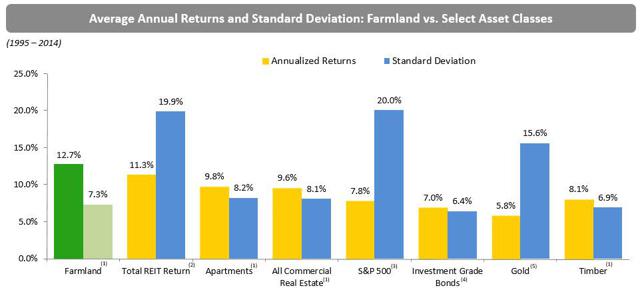 Click to enlarge
Value growth in U.S. farmland may slow temporarily, but over the long term, the trend is strongly positive. As reported by the USDA, the overall U.S. farm real estate value increased 2.4% from the 2014 values.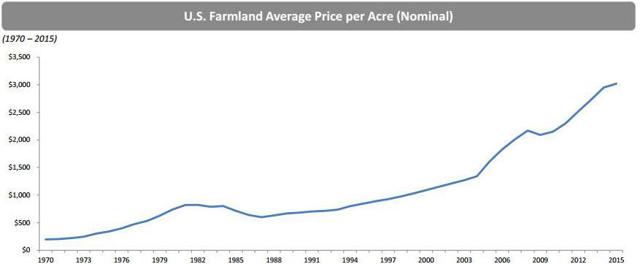 Click to enlarge
Also, the factors today are different from those of the 1980s agricultural recession. Today, the fundamentals are better - more demand and reduced supply - so there's not as much risk today as there was in the 1980s.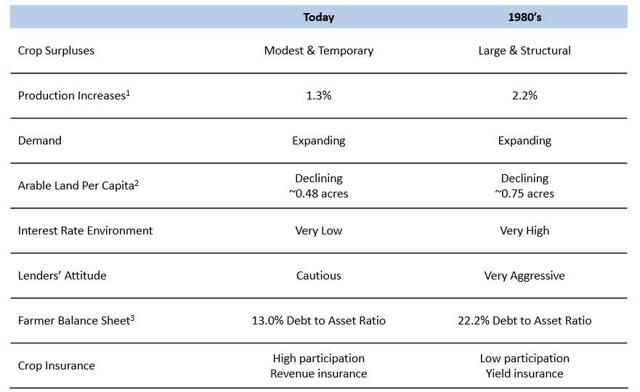 Click to enlarge
Keep Manhattan, Give Me The Countryside
One of the key reasons that I'm a shareholder in FPI is because of the company's tremendous growth prospects. As referenced above, FPI has doubled in size, and given the high fragmentation of the sector, there is a tremendous opportunity for public REITs to gain scale.
At the time of the IPO (April 2014), FPI owned 7,323 acres, and it now owns or has under contract a total of 253 farms totaling approximately 104,742 acres, including 130 farms totaling approximately 32,319 acres under contract, located in the following regions:
Corn Belt: 32,920 acres
Plains: 23,163 acres
Delta: 24,091 acres
Southeast: 24,568 acres
Additionally, the REIT offers loans to farmers secured by farm real estate. Currently, it has over $570.0 million of real estate assets, including farms under contract: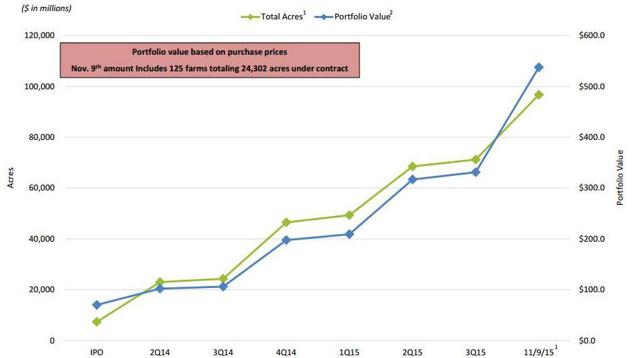 Click to enlarge
On November 30th, FPI said it intends to buy a 7,400-acre farm in Louisiana from an unnamed seller for $31.8 million in cash. The company expects the acquisition to close in the first quarter of 2016, subject to customary closing conditions.
The company has entered into a three-year lease agreement for the farm, which includes rent based on a percentage of gross farm proceeds, for an expected cap rate of 5.0%. This represents its third-largest acquisition to-date in terms of price.
The farm is irrigated, precision-leveled, and also has significant acreage dedicated to rice, increasing some of the diversification of FPI's portfolio.
Also, earlier in November, FPI announced the acquisition of 120 farms (22,300 acres) in Illinois for a total of $197 million. The transaction represents the company's largest acquisition since its IPO, both in terms of purchase price and acreage. The seller had accumulated the farms over decades. FPI will be the largest private owner of farmland in the Midwest, with some of the most desirable land in the region.
The Illinois acquisition will increase the total acreage by 30.0%, and the recently announced acquisition will increase total acreage by another 7.6% to 104,742 acres owned/under contract.
Once FPI closes the two above-named deals, the company should have debt of around $240 million, $117 in preferred, and most of its cash should be invested. In Q3-15, it generated AFFO per share of $.11 per share - lower than that projected due to the timing of the announced acquisitions.

Click to enlarge
Taking into account the recent deals, I have revised my 2016 AFFO run rate estimate to $.60 per share (maintaining my 2015 estimate of $.49 per share).
FPI's robust growth is also reflected in its dividend history. As illustrated below, the company has increased its dividend twice since going public.

Click to enlarge
Here's a snapshot of my AFFO per share run rate: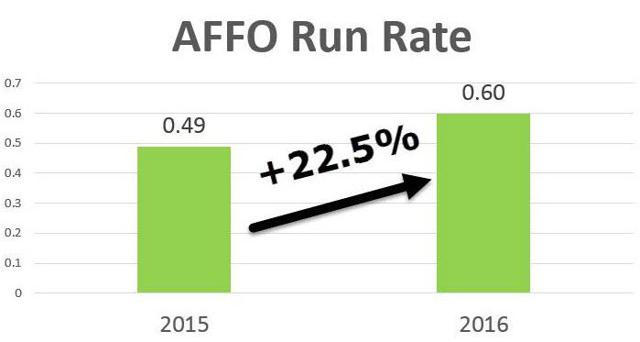 Click to enlarge
Given the robust acquisition activity, I expect to see FPI increase its dividend again in Q1 or Q2 of 2016. Using the AFFO estimates (above), I'm forecasting a payout of $.56 per share in 2016: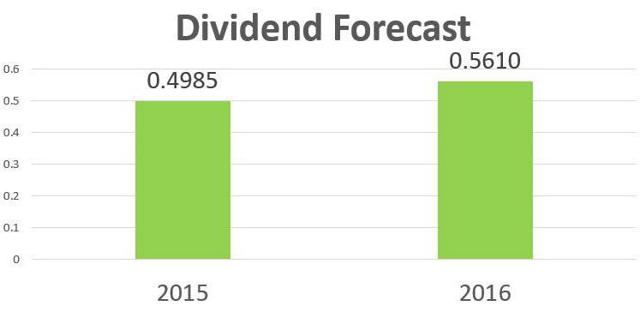 Click to enlarge
Summing up the story, as I said earlier, this opportunity is related the global food demand. FPI represents the most compelling farmland REIT, based on the following: (1) a portfolio highly weighted towards row crops; (2) an experienced management team; (3) a steady and robust acquisition pipeline; and (4) strong dividend growth. Here's how the company is valued, based on its current dividend yield: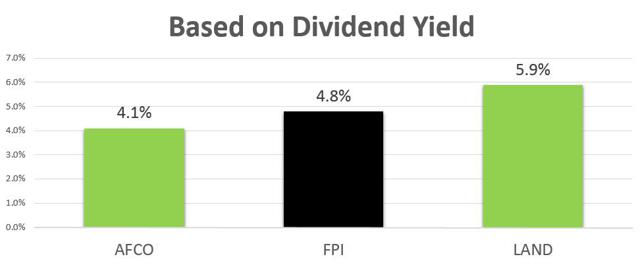 Click to enlarge
FPI is a growth story, and the investment thesis is to capitalize on highly fragmented farms where the majority are family-owned, with an increasing average age of the owner/operator. It should continue to benefit from economies of scale, and without adding more G&A, the company has the systems in place to control costs, while growing like a weed.
Since my initial investment in FPI (in July 2015), the shares have returned -2.2% (compared to -15.88% for LAND).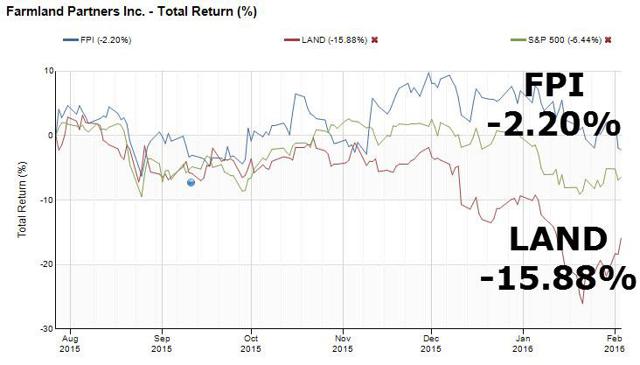 Click to enlarge
As FPI gains in size, I expect the shares to trade above $12.00, and based on current valuation, I consider the price attractive now. Over a 10-year period, farmland has grown by an average of 5% per year, and I see no reason to believe that it won't continue to grow at that rate in the future. That's precisely why I planted some FPI seeds, and as my granddad used to say, "You reap what you sow."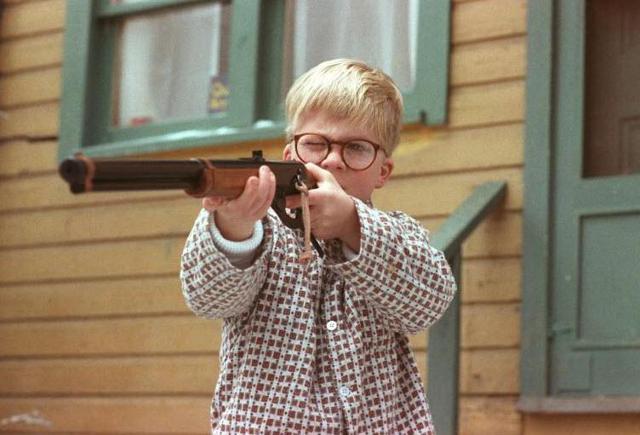 Click to enlarge
FPI releases its Q4-15 earnings on February 22, 2016.
Author's Note: I'm a Wall Street writer, and that means that I am not always right with my predictions or recommendations. That also applies to my grammar. Please excuse any typos, and I assure you that I will do my best to correct any errors if they are overlooked.
Finally, this article is free, and my sole purpose for writing it is to assist with my research (I am the editor of a newsletter, Forbes Real Estate Investor), while also providing a forum for second-level thinking. If you have not followed me, please take 5 seconds and click my name above (top of the page).
The only guarantee that I will give you is that I will uncover each and every rock I can in an effort to find satisfactory investments that "upon thorough analysis promises safety of principal and satisfactory return. Operations not meeting these requirements are speculative." (Ben Graham)
Disclaimer: This article is intended to provide information to interested parties. As I have no knowledge of individual investor circumstances, goals, and/or portfolio concentration or diversification, readers are expected to complete their own due diligence before purchasing any stocks mentioned or recommended.
I wrote this article myself, and it expresses my own opinions. I am not receiving compensation for it (other than from Seeking Alpha). I have no business relationship with any company whose stock is mentioned in this article.
Source: SNL Financial and FPI Investor Presentation.
Disclosure: I am/we are long O, DLR, VTR, HTA , STAG, GPT, ROIC, HCN, OHI, LXP, KIM, WPC, DOC, EXR, MYCC, BX, TCO, SKT, UBA, STWD, CONE, BRX, CLDT, HST, APTS, FPI, CORR, NHI, CCP, WSR, CTRE, WPG, KRG, SNR, LADR, HCN, HCP.
I wrote this article myself, and it expresses my own opinions. I am not receiving compensation for it (other than from Seeking Alpha). I have no business relationship with any company whose stock is mentioned in this article.