Yesterday, I was reading an article by fellow Seeking Alpha analyst Dane Bowler. In case you missed his article, he suggested that investors should sell Realty Income (NYSE:O) in order to purchase shares in higher-risk REITs like Lexington Realty (NYSE:LXP), Omega Healthcare Investors (NYSE:OHI), and Gladstone Commercial (NASDAQ:GOOD).
Bowler was quick to point out that he was not "knocking O shareholders" as he explained that company had "undeniably won and made a ludicrously strong return on capital." His argument was centered on the notion that investors could "keep those strong returns coming by immediately doubling the income." He summed his argument as follows:
...we believe the suggested basket of securities offers a much better income opportunity than Realty Income. Selling O for these companies will allow an investor to immediately increase dividend income by more than double and additionally provide a faster rate of dividend income growth going forward.
Bowler knew there would be counter-arguments with his thesis, and so here it is. In full disclosure, I consider Bowler a friend and I find his work to be insightful and it's because of formats on Seeking Alpha that we can respectfully debate the rationale of our selections.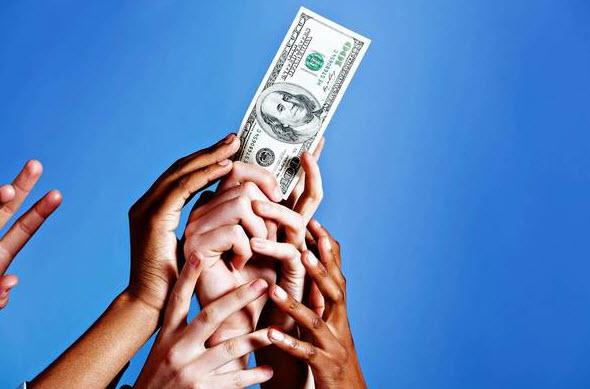 Beware Of Value Traps
Stocks trading at a 9+% dividend yield are trading at that level for a reason, so if you do attempt to scoop these shares up, be aware that you are taking on significantly more risk.
An efficient market removes the ability for an investor to have their cake and eat it too, so one might want to consider that there's a reason why the valuation gap between a Realty Income and Gladstone Commercial - as an example- has gapped out.
This is where fundamental analysis of the two companies' track records, cost of capital (especially important for a net lease REIT as external growth represents at least 75% of the growth equation), balance sheet, lease term on their portfolio, and quality and diversification of their tenants and industries comes into play.
I'm not saying that history will repeat itself, but as we move deeper into a potential slowdown in the economy, one has to think about the sustainability of the dividend and how the company will grow it or continuing paying it. A 9% dividend yield could become a 0% dividend yield very quickly - look no further than 2008-2010.
I recently wrote on GOOD here and I summarized the article as follows:
…the best Net Lease REITs with low cost of capital advantages (like O and NNN) are better positioned to generate higher profits, and I believe GOOD will continue to suffer due to the fact that the company is forced to make investments in secondary markets with lower-quality tenants. Although the 10% yield looks attractive on the surface, upon closer examination, the elevated risks make this security a much less desirable Net Lease REIT that is bordering on my definition of sucker yield.
What Is The Catalyst For Narrowing That Valuation Gap?
One of the laziest reasons to buy a stock is that it's "cheap" …. that in and of itself is no reason to buy a stock and it's a poor reason to sell a stock because it's "expensive" …. did people think GOOG was expensive when it was at $100/share in 2005?
Sure, but think about how much in gains they left on the table by selling too early. In this case, think about what could happen over the next year - more likely that 10-year yields go up or down? I would say down (or stable) is more likely than the 10-year UST ballooning to 3%... which suggests Realty Income shares still have some staying power.
I'm not arguing Realty Income shares are a screaming BUY, but I'm not taking any of my chips off the table. Remember, I bought my shares in "The Monthly Dividend Company" for one simple reason: So that my principal would generate very predictable income that would result in stable long-term returns.
Why would I swap out such powerful reliability for a stock that had such a high cost of capital? GOOD is a classic "value trap" and that simply means that the investments are not accretive and there are no supporting catalysts that will drive the valuation gap.
Lexington Realty, another pick by Bowler, is also at much higher risk than Realty Income. I own shares in LXP but I recognize that I am taking on considerably more risk and I would not encourage investors to replace a low risk REIT with a higher risk one. There is really no comparison in terms of Realty Income's low cost of capital advantage, and the fundamentals conclusively support that argument.
Let's Face It, The Raised Nail Gets Hammered
Realty Income is simply the "king of the mountain" and it seems that there is an article a day on Seeking Alpha suggesting that investors should jump ship. Heck, there was even an article yesterday suggesting that Realty Income should "partner" with Amazon (NASDAQ:AMZN) to build new stores. What nonsense!
While there will be points in time when other net lease REITs grow faster than Realty Income, there is value in consistency and stability of growth - particularly given Realty Income's ~35% retail shareholder base, many (perhaps most) of which would rather have consistent 4-5% dividend growth every year rather than 8% growth in one year coming with 1% the next.
In reality, Realty Income's high equity multiple today actually makes it easier for it to grow at a faster clip as it finances 2/3 of its investment activity with equity. Higher share price = less dilution when issuing equity. (See my article on Realty Income's Low Cost Advantage HERE).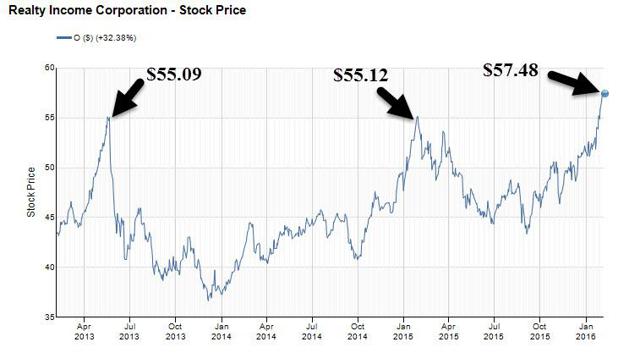 Click to enlarge
I friend of mine used to say, "the pigs get fat and the hogs get slaughtered" and what better way to summarize my rebuttal on Bowler's thesis. There's absolutely nothing wrong with taking a few chips off the table now, Realty Income is trading at an all-time high of $57.48 with a dividend yield of 4.1%. However, taking "hard earned principal" and reinvesting into higher risk securities, especially GOOD, is akin to playing roulette.
The bottom line: It's not time to be a yield chaser, it's time to be an intelligent REIT investor. I am Long OHI and LXP, and while I am cognizant of their role in my portfolio, they are not anchors that will help me sleep well at night. There are very few REITs that I find as attractive as Realty Income and I am not willing to sacrifice quality over quantity (higher yield). At the end of the day, "selling for a double is nothing but trouble."
Author's Note: I'm a Wall Street writer, and that means that I am not always right with my predictions or recommendations. That also applies to my grammar. Please excuse any typos, and I assure you that I will do my best to correct any errors if they are overlooked.
Finally, this article is free, and my sole purpose for writing it is to assist with my research (I am the editor of a newsletter, Forbes Real Estate Investor), while also providing a forum for second-level thinking. If you have not followed me, please take 5 seconds and click my name above (top of the page).
The only guarantee that I will give you is that I will uncover each and every rock I can in an effort to find satisfactory investments that "upon thorough analysis promises safety of principal and satisfactory return. Operations not meeting these requirements are speculative." (Ben Graham)
Disclaimer: This article is intended to provide information to interested parties. As I have no knowledge of individual investor circumstances, goals, and/or portfolio concentration or diversification, readers are expected to complete their own due diligence before purchasing any stocks mentioned or recommended.
I wrote this article myself, and it expresses my own opinions. I am not receiving compensation for it (other than from Seeking Alpha). I have no business relationship with any company whose stock is mentioned in this article.
Source: SNL Financial
Disclosure: I am/we are long O, DLR, VTR, HTA , STAG, GPT, ROIC, HCN, OHI, LXP, KIM, WPC, DOC, EXR, MYCC, BX, TCO, SKT, UBA, STWD, CONE, BRX, CLDT, HST, APTS, FPI, CORR, NHI, CCP, WSR, CTRE, WPG, KRG, SNR, LADR, HCN, HCP.
I wrote this article myself, and it expresses my own opinions. I am not receiving compensation for it (other than from Seeking Alpha). I have no business relationship with any company whose stock is mentioned in this article.