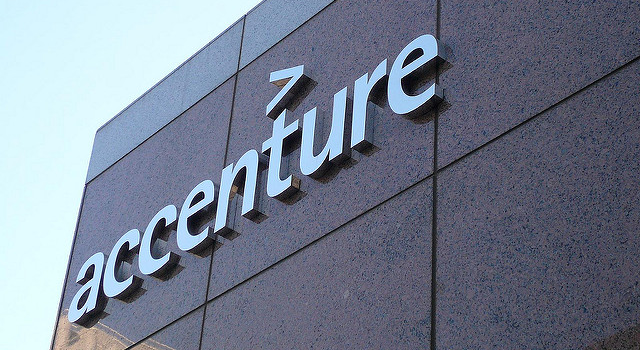 I find consulting and outsourcing companies pretty attractive. Despite the risks inherent in contract-based businesses, these companies tend to produce prodigious amounts free cash flow courtesy of strong operating cash flow and often fairly light CapEx requirements.
It is for this reason that I bumped into the company at hand: Accenture (NYSE:ACN).
As you will see, I argue that Accenture represents a pretty compelling buy despite a slowdown in growth in recent years. With remarkable fundamentals and a striking shareholders' yield it offers investors quite a lot of bang for their buck.
First though, let's unpick the business a little.
What Does It Do and Where?
Accenture is chiefly split between two segments: consulting and outsourcing. In 2015, their revenues were pretty evenly split between the two with consulting contributing 52% and the rest from outsourcing.
Within that they have a number of operating groups from which revenue is fairly evenly split: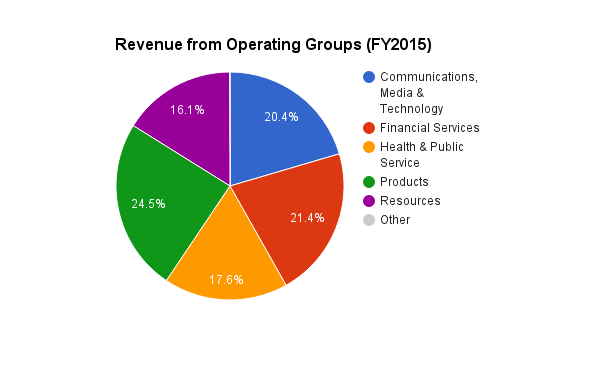 This is a nice diversity of revenue income. But this diversity goes further (literally and figuratively). Accenture has a generous geographic spread: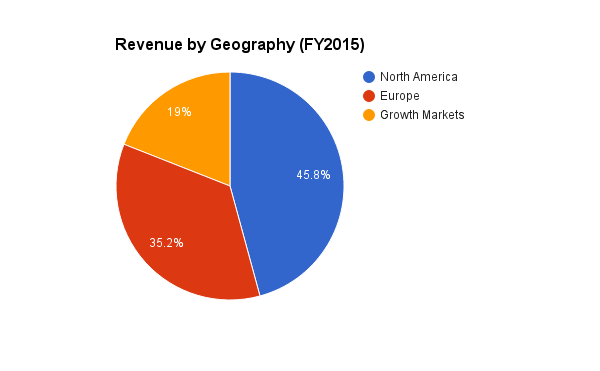 Accenture therefore derives a lot of its revenue from overseas. This is, of course, attractive for the long-term although has rather dented revenue growth in recent years due to the strength of the dollar: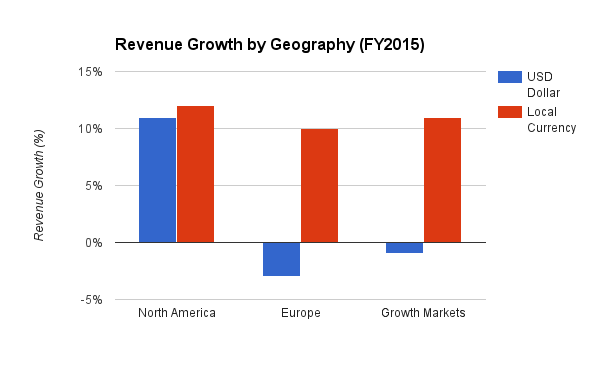 Although this exposure to foreign currency is running against it at present. Over the long-term, these things tend to balance themselves out. Headwinds become tailwinds.
All in all, therefore, Accenture looks well-placed for long-term growth.
Strong Cash Generation History
Ok, so let's get down to the fundamentals.
First the matter of cash generation. Certainly looking at Accenture over the last few years shows that my description of a highly cash generative business is certainly applicable to Accenture:
| | | | |
| --- | --- | --- | --- |
| | OCF | CapEx | FCF |
| 2011 | $3,442 | $404 | $3,038 |
| 2012 | $3,257 | $372 | $2,885 |
| 2013 | $3,303 | $370 | $2,933 |
| 2014 | $3,486 | $322 | $3,164 |
| 2015 | $4,092 | $395 | $3,697 |
Ok, FCF growth has seen a modest CAGR of 4% over this period. However, OCF conversion into FCF has been staggeringly high averaging about 90% over the period: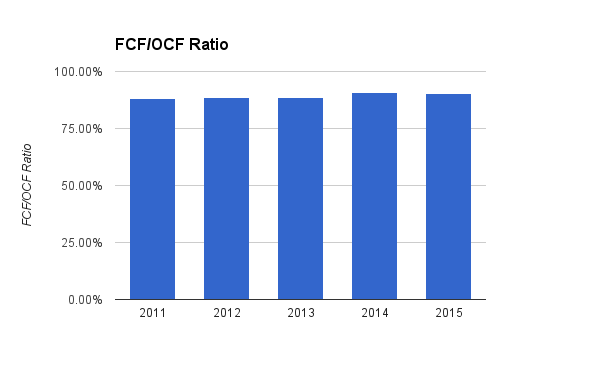 At Q1 2016 time as well, it looks as though those margins are set to get a little boost by year end. Operating profit margin at that point was about 23 basis points ahead of the same time the year before. Modest, maybe, but an improvement nonetheless. This is something to watch in coming quarters, but things look good so far.
Impressive Shareholder Return
As noted in my title, Accenture's shareholder return really draws you in as an investor. The reasoning may not be entirely obviously when you look at the dividend by itself: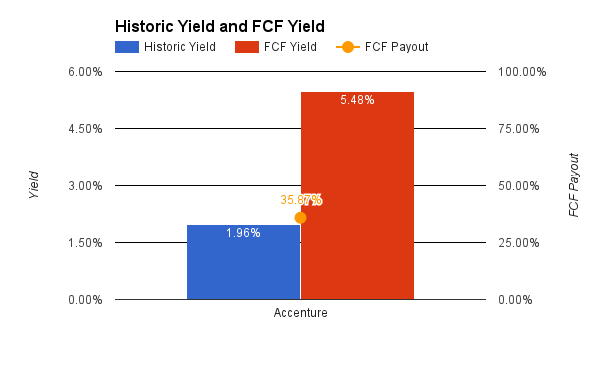 Sure the current yield is running only a little ahead of the S&P 500 yield (1.91%). Sure the FCF yield is pretty high, but it is not dizzyingly so. However, this only tells a small part of the story.
You see, Accenture is a consistently generous share repurchaser.
Since 2011 it has returned around $5.3 billion in dividends to investors. Over the same time, though, they have returned almost $9.2 billion in share buybacks returning on average over 92% of all its FCF generated over the period: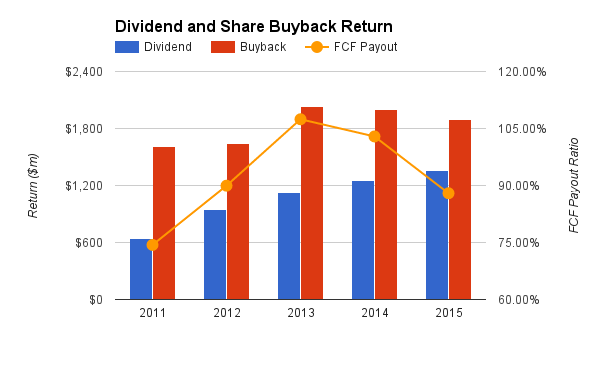 Such largesse is hard to ignore, especially as it means that (in real terms) the shareholders' yield on Accenture's stock over the last five years has averaged nearly 6%: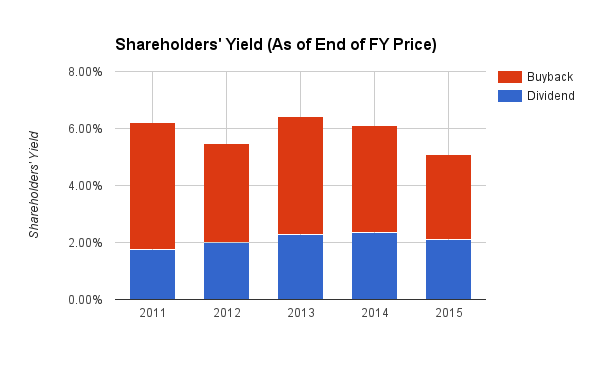 A stronger share price performance in 2015 on the back of peer-beating revenue performance resulted in the lower yield in 2015. However, as noted above, Accenture continued to push over $1.8 billion the way of investors through share buybacks.
Nor has the company set about cutting back it generosity in this department.
In September 2015 the company added another $5 billion to its planned repurchase pot leaving it with over $7.5 billion outstanding on their current repurchase program. Quite staggering.
By Q1 2016 time they had already shoved another $658 million in this direction suggesting that they are likely to contribute about $1.9 billion again in this year. Considering that all this shareholder return is covered by FCF, you would struggle to think on this without being impressed.
Underlying Business is in (Very) Rude Health
Nor is this largesse seemingly to distract investors from underlying issues at the business. Far from it, like all such good programs it comes from a strong performance and excess cash.
Let's take a look at what I mean.
Revenue and EBIT Growth
Over the last five years it has seen revenue grow at a CAGR of 3.7% with net income before taxes growing at a slightly faster 4.6%. Over that time it has also seen its operating profit margin remain stubbornly high: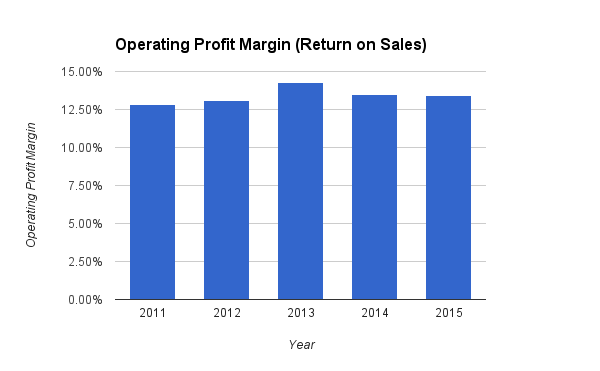 At Q1 2016 time as well, it looks as though those margins are set to get a little boost by year end. Operating profit margin at that point was about 23 basis points ahead of the same time the year before. Modest, maybe, but an improvement nonetheless.
Debt Levels Miniscule
Nor is this performance debt-fuelled. it is comparatively commons for companies in this sector to carry little to no debt. Nonetheless, looking at Accenture's balance sheet shows a remarkably lightly leveraged business.
At FY2015 time, they carried a debt of (wait for it...) $27 million. That is on a business with an enterprise value of around $60 billion and equity of a little over $6.4 billion at the same time.
Needless to say this leaves the company on a remarkably tiny debt to equity ratio: 0.44%.
What is more, with the strength of its FCF being as it is it leaves its entire debt covered by FCF over 136 times. To put that in perspective, this means it could repay its entire debt using its FCF generated in just over two and half days.
Credit risk is not a big issue here then. Certainly, the credit agencies appear to agree giving Accenture an impressive looking normalized credit score (to find out more on how I normalize credit ratings see here):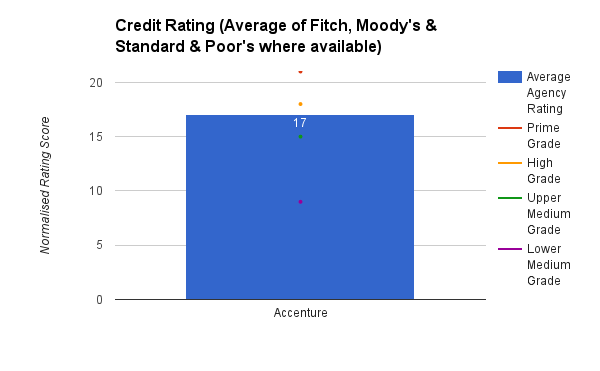 Incredible Cash Generating Efficiency
All this points us to another attractive feature of Accenture. Its incredibly efficient generation of cash. We can ascertain this using the CROIC (cash return on invested capital) metric. This takes FCF and divides it by the sum of the debt and equity.
A CROIC of 10% would mean that for every $100 of capital invested in the business, it produces $10 in FCF. For me, that is an already impressive rate of cash return.
So, does Accenture generate a CROIC of 10%? No. It generates much more. Over the last five years it has averaged a CROIC of 55.6%.
Indeed, last year it was even higher than this at over 60%: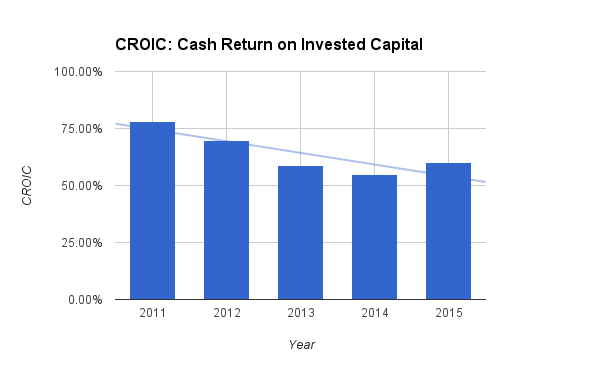 In other words, it generated over $60 in cash for every $100 in capital invested. That is staggeringly impressive. There are few businesses with a more attractive CROIC than this that I have encountered.
Valuation
I know what you're thinking here: "Ok, it is a great looking company. Bet it is over-priced." I may not be able to entirely surprise you here.
Over the last five years it has averaged a PE ratio of about 19.9. Right now, it is trading a little ahead of this figure: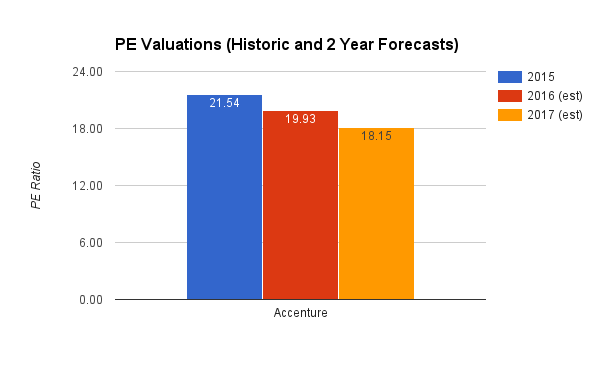 It is therefore running a little ahead of its historic valuation. But a combination of continued expected revenue and income growth and share repurchases will likely see a CAGR EPS growth over the next couple of years of around 9%.
This is attractive, but does it mean that it currently fairly valued? Let's take a look.
Fair Value
I calculate my fair value here by taking the average from the EPS predictions for this year and next and then multiplying it by the historic PE average over the last five years. Doing so provides us with a:
Basic Fair Value of $105.04
I then add in the cash held on the books. Doing so provides a:
Cash-adjusted Fair Value of $111.75
This would suggest that at the moment, Accenture is actually trading a little under its fair value.
Conclusion
Accenture is a great looking company. Although the outsourcing market has increasingly matured in recent years with a number of large-scale players aggressively competing with one another there is clearly space for growth for all. What is more, Accenture has proven itself capable of delivering peer-beating growth figures.
Looking at the business there are no obvious "warning lights" to sour an investors taste for the stock. With negligible debt, robust and growing cashflow and solid underlying constant-currency revenue growth it looks set to continue to produce consistently impressive results in the future.
Tied in with this is a shareholder yield which is both generous and regular. But as I noted in the title, this is just the tip of the iceberg. Accenture is a well-rounded business which, I think, deserves a place in anyone's portfolio. Right now, despite its slightly lofty valuation, seems as good a time as any to open a position.
Certainly, anything under $110 with such a large-scale buyback program in place seems fair if not exactly bargain basement.
Notes
Unless otherwise stated, all graphs and the calculations contained within them were created by the author. Creative Commons image reproduced from Flickr user kathika.
Disclosure: I/we have no positions in any stocks mentioned, and no plans to initiate any positions within the next 72 hours.
I wrote this article myself, and it expresses my own opinions. I am not receiving compensation for it (other than from Seeking Alpha). I have no business relationship with any company whose stock is mentioned in this article.