The shares of Macy's Inc. (NYSE:M) have taken a hammering in the last twelve months, shedding 36% of their value, and we have little doubt investors have had enough. If this were a boxing match, it would be late in the twelfth round and the towel would be about to be thrown in. But wait… could something save the fight?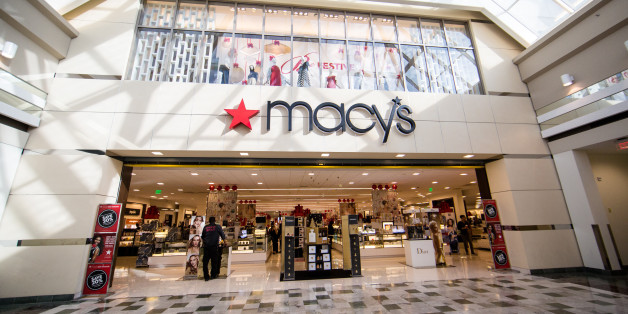 Well, let's get one thing out of the way to begin with. The company is reporting its earnings in a little under two weeks and nobody is expecting Macy's to announce results that remotely resemble anything positive. The warm weather which plagued nearly all retailers certainly hurt Macy's, where its comparable store sales fell 4.7% during the holiday months of November and December. So, what we are expecting is a drop in earnings of around 16.5% and revenue that's around 4% lower than a year previous.
The likelihood of Macy's producing anything better than this does seem quite unlikely to us, but that doesn't at all mean the shares are not undervalued now. We believe the market is pricing in much worse results, perhaps even as low as $3.46 per share, as opposed to the consensus average of $3.67. It should be pointed out that Macy's revised its guidance recently to $3.54 to $3.59, so we fully expect it to deliver in that range.
Aside from the possible value that would be unlocked if the company were to do as activist investor Starboard Value LP wishes and have two separate joint ventures - one for its mall locations and one for its landmark locations, we see significant upside arising from possible earnings growth in fiscal 2017.
We believe that the catalyst for this is the reported increase in savings rate. While consumer spending in the United States in December was unchanged, the savings leapt to a three-year high. We see this as being an indication that spending could increase in 2016. Which is exactly what Macy's needs.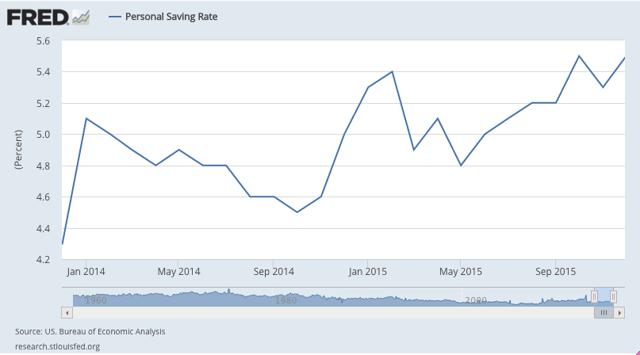 Click to enlarge
We acknowledge that some see a high savings rate as a bad omen but, perhaps it's because we are optimists, our view is that interest rates are not meaningful enough at present to warrant an increase in the savings rate. Consumer spending makes up almost two-thirds of the United States' GDP, so we really need this to be the case. We believe that although consumer spending came in flat, the lower prices we are experiencing for food and fuel, as well as energy, thanks to the unseasonably warmer winter, has meant consumers behaved as normal and pocketed the difference. Eventually, this money will build up and be brought out of consumers' pockets.
This will be extremely helpful to Macy's because the strong US dollar has really slowed down spending by inbound tourists. The US dollar Index measures the US dollar against a basket of currencies consisting of the following: EUR, JPY, GBP, CAD, CHF and SEK.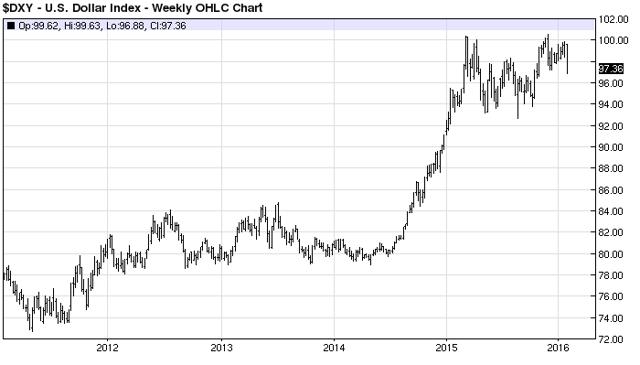 Click to enlarge
Source: Barchart.com
As you can see on the above chart, the USD has strengthened dramatically against this basket of currencies. The net effect of this is that it has become about 22% more expensive for tourists visiting the United States than it was under two years ago. The effect that has on spending is significant and Macy's, being an American retail icon, is losing out. The bad news here is that this isn't expected to change meaningfully any time soon. It will most probably get worse, before it gets better. The National Travel and Tourism Office has forecast that the United States will see a 0.4% to 4.2% percent annual growth rate in visitor volume over the 2015-2020 timeframe. While the US dollar stays at such a high level, we feel it will be at the lower end of the range offered, which will mean less money being spent, by fewer tourists. But once the dollar devalues, the tourist spending will be a real boost to the bottom line. Until then, the domestic market will have to pick up the slack, and we believe it will.
We expect consumers to start spending again once spring arrives. This, coupled with the cost reduction plans that the company is going through, should lead to enhanced profitability in fiscal 2017. Our forecast for fiscal 2017 is for earnings per share to come in at around $3.95, representing an increase of 7.6% year over year from the fiscal 2016 consensus estimate.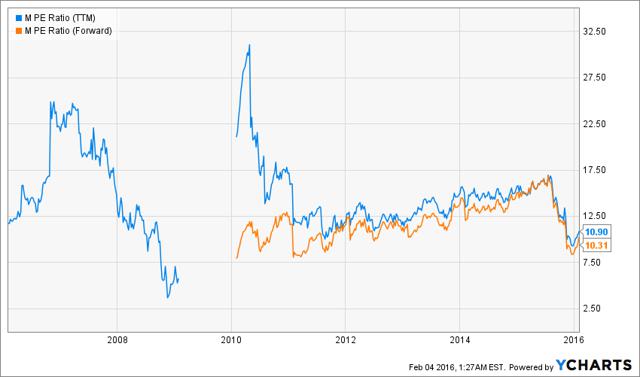 Click to enlarge
Priced at 12 times earnings, which we deem to be fair, would have the stock trading at $47.40, or 13.9% higher than the last close price. 12 times earnings is very conservative, as you can see from the chart above, but perhaps appropriate given the economic conditions. Given the strong balance sheet the company possesses, you could argue that 13 times earnings is still reasonable, but we are more comfortable sticking at 12 for now.
We see Macy's earnings continuing to grow year on year for the next few years, which makes it a great candidate for investment now. We are long Macy's, but fully acknowledge that earnings season may be a volatile one. We would suggest those with low risk tolerance to sit out this particular earnings report.
Getting back to the boxing analogy… we think consumer spending might just give Macy's that knockout punch in fiscal 2017.
Disclosure: I am/we are long M.
I wrote this article myself, and it expresses my own opinions. I am not receiving compensation for it (other than from Seeking Alpha). I have no business relationship with any company whose stock is mentioned in this article.