Click to enlarge
According to the CEO Mathrani of General Growth Properties (NYSE:GGP), Amazon (NASDAQ:AMZN) is in the process of planning the opening of between 300 and 400 Amazon Books locations. Although there has been some pushback since Mr. Mathrani stated this, new details have emerged that, while Amazon's rollout may not be that large, some initiatives are being planned that the company hopes to leverage its resources for the sake of its investors. In what follows, I will detail my own thoughts on the issue and discuss that, while potential does exist here, I don't think any move by the company to open stores will be all that it's cracked up to be.
What Amazon likely hopes
The first Amazon Books retail location was opened in Seattle, Washington. On its company website, the online e-tail giant states that its store offers books - many of which are rated 4 stars or higher - that also appear on its website. The prices of these books change to reflect the change of prices on the business's website, so that customers never have to pay more than they would on Amazon.com. In addition to this, Amazon offers reviews from its website throughout the store, an image of which you can see in the picture below.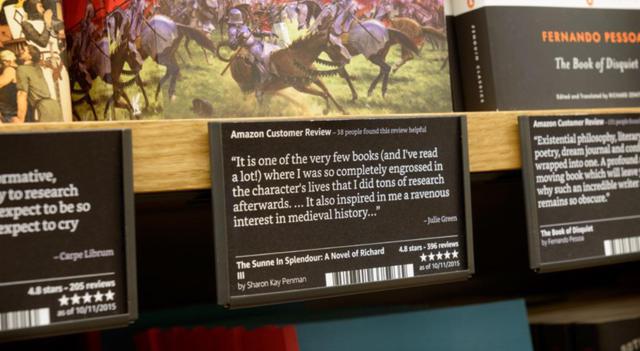 Click to enlarge
More likely than not, the company is probably hoping to use its strong logistics operations to undercut other physical retailers on price, while simultaneously increasing its profit margins. This would, most certainly, have a major negative impact on rivals like Barnes & Noble (NYSE:BKS) and the now private Books-A-Million (NASDAQ:BAMM). What success in this category will possibly look like, though, is something I will delve into shortly. More importantly, I think the main objective for Amazon will be to eventually try to replicate the success Apple (NASDAQ:AAPL) has had with retail.
In 2000, Steve Jobs hired Ron Johnson, the man who would nearly destroy retail giant J.C. Penney (NYSE:JCP) many years later, to begin work on the first Apple retail outlet. Despite pushback from his board, Jobs eventually opened the first store in 2001. From there, the concept exploded, with the coup de grace - the company's Fifth Avenue location in Manhattan - eventually opening in 2006. With around 50,000 visitors per week in its first year, the store became the largest-grossing (both in terms of per square foot and in absolute dollars) store in the world. By 2010, Apple Store locations were generating an average of $34 million per year apiece ($9.8 billion collectively each year), and today, the business has 463 locations, making up 5.3 million square feet of retail store space.
My own personal opinion is that this is, to some degree, Amazon's aim. While the company is primarily focusing on the sale of physical books in its Seattle location, it does currently push its own devices, such as the Kindle, Echo, FireTV, and Fire Tablet, in its stores. Of course, I doubt that the business expects to have the same kind of market grab that Apple has had, just because Amazon is more focused on logistics than products; but using its core strengths to sell books, while maintaining a physical existence for its technology-oriented products would be a wise and potentially profitable move.
What is likely to happen
This is a great aim no matter how you stack it, but selling technology products within bookstores has been tried, and with little material success. Today, both Barnes & Noble and Books-A-Million provide a wide array of technology-oriented products as well as non-tech consumer goods. In the case of Books-A-Million, the technology has been diversified quite a bit. As I covered in a previous article, the picture hasn't been quite the same with Barnes & Noble, which has also placed a heavy emphasis on its own technology products, namely the Nook. Although I was supportive of the company at that time, the fundamental changes in its operations as well as this news from Amazon leave me feeling less comfortable than before.
Whether or not this is the aim of Amazon doesn't really matter, because the outcome of physical locations for the company will likely be the same, regardless: failure in this endeavor. You see, in the last three quarters for which public data exists, Books-A-Million, which operates 256 retail locations, generated revenue associated with its bookstores totaling $304.38 million, but saw its operating loss come in at a hefty $17.85 million. This is worse than the $15.15 million the company saw a year earlier, with higher sales.
Some investors may think that Barnes & Noble is a different story, since the company's market share is much larger than that of Books-A-Million. During its latest year-to-date results, the retailer operated a whopping 647 stores, and despite seeing sales associated with this segment total nearly $1.80 billion, the company's operating loss came in at $5.14 million. This represents a major reversal from the greater-than $34 million gain seen the same period a year earlier, and is at least partially related to a change in structure, but the margins (if operating income happened to be positive) would be minuscule at best.
Takeaway
Given its strong logistical position, I suspect Amazon will be able to undercut the competition in terms of price, but I have to wonder whether opening any physical locations - whether it's 10 or 1,000 - will be something that can or will add to shareholder value in any way. Regarding the company as a whole, I do believe Amazon represents one of the most interesting (and potentially most rewarding) long-term growth stories ever seen, but I think it would be in the best interest of shareholders for the online giant to allocate any capital used for stores toward research & development activities - something that is more likely to add greater value many years from now than a physical retail presence.
Disclosure: I/we have no positions in any stocks mentioned, and no plans to initiate any positions within the next 72 hours.
I wrote this article myself, and it expresses my own opinions. I am not receiving compensation for it (other than from Seeking Alpha). I have no business relationship with any company whose stock is mentioned in this article.