General Motors (NYSE:GM) and Ford Motor (NYSE:F) can both look back on a successful 2015 in which U.S. sales of cars, utilities and trucks gained momentum all throughout the year. In one of my last pieces on Ford Motor, "Can Ford Motor's Stock Regain Its Mojo In 2016?", I contended that strong sales of auto companies in December will likely extent into 2016.
Just like Ford Motor, General Motors capped off 2015 with a strong Q4. General Motors Q4 revenues may have been flat year-over-year at $39.6 billion, but the auto maker's restructuring has paid off with net income surging from $1.1 billion in Q4-14 to $6.3 billion in Q4-15. On a per-share basis, General Motors earned $3.92 in the last quarter of 2015 as compared to just $0.66 in the year ago quarter. Excluding special items GM brought in $1.39/share in adjusted profits as compared to $1.19/share last year. Analysts were expecting $1.21/share in adjusted profits.
Things looked just as good for General Motors on a full-year basis.
GM's full-year profits climbed to $9.7 billion, or $5.91/share. In 2014 General Motors pulled in $2.8 billion, or $1.65/share. GM's numbers for the fourth quarter and for the full-year attest to strong economic fundamentals that continue to play into the hands of U.S. auto manufacturers in 2016.
North America in particular is doing well for General Motors right now, producing the biggest profits for the auto maker by far. General Motors and Ford Motor really do rise and fall with the broader U.S. economy.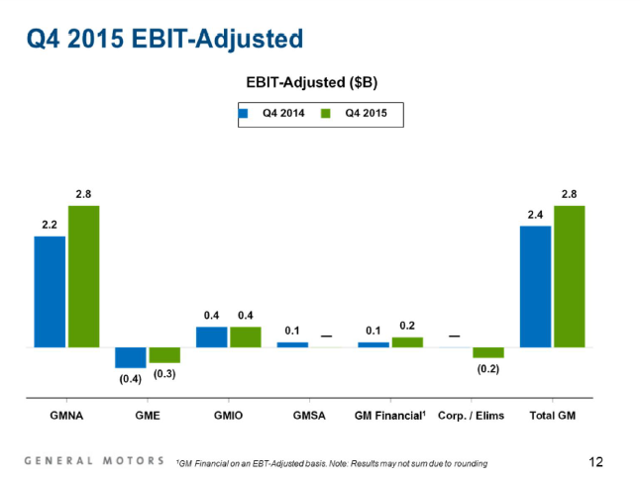 Click to enlarge
Source: General Motors
Encouraging outlook
General Motors forecasts a very profitable 2016 on the back of continued robust vehicle demand in the United States and China.
General Motors has guided for adjusted profits of $5.25-$5.75/share in 2016, which is up from its earlier guidance of $5.00-$5.50/share. GM's adjusted full-year profits were $5.02/share in 2015, and $3.05/share in 2014. The reaffirmed guidance represents 5-15% profit growth Y/Y.
GM is a capital return king in the making
GM's financial results for 2015 and higher expected profits for 2016 translate into accelerated capital returns for GM shareholders.
In January, General Motors said it would raise its first quarter dividend from $0.36 to $0.38/share, which is a ~6% raise. Based on this new quarterly dividend payout, General Motors' stock yields 5.26%. A great yield for an S&P 500 company.
Further, General Motors is going on the offensive in terms of buying back a boatload of shares in 2016/7: It has added $4 billion to its share repurchase authorization, bringing its planned stock buybacks to $9 billion. In 2015 GM returned ~$3.5 billion through stock buybacks.
General Motors is not the only U.S. auto company looking optimistically into the future. Ford Motor also guided for strong profit potential in 2016, and declared a $1.0 billion special dividend in January.
Your Takeaway
GM's raised earnings guidance, higher dividend payout and boosted buyback program demonstrate General Motors' confidence in its earnings potential in the United States and abroad. GM's 2016 profits will be driven by its North American operations, first and foremost, and as long as the U.S. economy chugs along, U.S. automakers are going to be fine.
General Motors will also drop a load of cash on shareholders this year: The authorized buyback has now reached a volume of $9 billion. Further, GM has raised its dividend by 6% to start off 2016, and will let investors participate in what is shaping up to be a great year for the auto company. GM yields 5.26%.
Disclosure: I am/we are long F.
I wrote this article myself, and it expresses my own opinions. I am not receiving compensation for it (other than from Seeking Alpha). I have no business relationship with any company whose stock is mentioned in this article.