Dow Chemical (NYSE:DOW) has been amazing investors since the start of 2015 with its elegant strategies and wise moves. The company has made several changes to its business model, the most effective being its focus on high-growth, high-margin markets. The company completed its new single-instance IT platform. It is celebrating the first polyethylene product shipped from its Sadara joint venture plant, along with celebrating the startup of the globe's largest propylene facility.
Fiscal 2015 was a watershed transformative year for the Dow Chemical on all strategic fronts. The company sold its direct ownership of MEGlobal. It announced a restructuring of its ownership of Dow Corning Silicones. In addition, the company successfully split off its Dow Chlorine Products and sold the AgroFresh, Sodium Borohydride and ANGUS businesses.
These disposals and portfolio-enhancing moves are strengthening the company's financial numbers. Dow has been successfully growing its margins over the past 13 consecutive quarters, enlarging its earnings and strengthening its cash position. Recently, it posted strong results for the final quarter and the full year of 2015. Last year, DOW generated an earnings-per-share growth of 9%, up to $2.94 when compared to the previous year. The company's operating EBITDA margin grew to 20.9%, with excellent growth showing in all segments.
Moreover, its cash generating potential has expanded, thanks to the growth in earnings and a strategic disposal of assets. The company's full-year operating cash flows increased by 16%, up to $7.5 Billion compared with the last year. DOW's dividends are safe, with operating cash flows more than enough to match its capital investments. In the final quarter of 2015, the company returned $2.7 billion to investors through share buybacks and dividends.
Following its portfolio-enhancing strategy, the company sought to take a leadership position in agriculture, material science, and specialty products by effecting a merger with DuPont (NYSE:DD). This may well be the largest merger in the history of the stock market. Many analysts are citing it as an opportunity to unlock even greater value for both companies. They expect the merger to cut costs by more than $5B in the coming days. I share their opinion. I believe the combined companies will demonstrate greater potential to expand their market share as well as to perform well against both domestic and international competitors.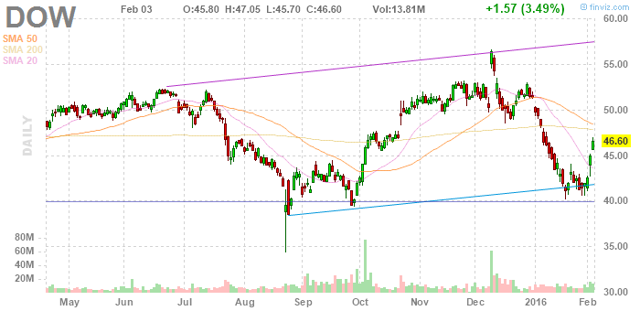 Over the past two months, the company's share price has remained under pressure amid uncertainty in the overall stock market environment. However, the principal of buying on the dip and selling high is clearly applicable to Dow Chemical. I believe the current dip in share price is creating a healthy buying opportunity, as the company also shows strong business fundamentals. Its business strategy is working to expand its margins and cash flows. DOW's share price will receive a lot of support ahead of its merger with DuPont.
In Conclusion
Other than negative currency translations, Dow Chemical shows no risk to its business model. With the disposal of several low-performing assets, the company's operating earnings have shown notable improvement. Its cash balance expanded by $1B in the past year. In addition, its balance sheet has grown much stronger with the cash infusion from recent disposals. In Q4, it reduced its net debt-to-cap to 24.8%, which is well under its average of 35.9% over the last ten years. Cash and cash equivalents increased by $2.9 billion while its net debt-to-operating EBITDA declined to only 0.9x versus 1.5x.
Dow appears to be in a strong position. The merger with DuPont will make it a leader in agricultural, material science, and specialty products. On the back of these and other positive indicators, I'm anticipating major upside potential for its stock.
Disclosure: I/we have no positions in any stocks mentioned, and no plans to initiate any positions within the next 72 hours.
I wrote this article myself, and it expresses my own opinions. I am not receiving compensation for it (other than from Seeking Alpha). I have no business relationship with any company whose stock is mentioned in this article.