For ArcelorMittal (NYSE:MT), a turnaround has been difficult to come by. The stock has underperformed the stock market for the past five years as it seems to be engulfed in a never-ending whirlpool due to persistent oversupply in both the steel and the iron ore markets. Throw in a high level of debt that stands at almost $20.4 billion (though it was down $1 billion year over year) as compared to a cash position of just $3.64 billion, and it is clear why investors haven't reposed much faith in ArcelorMittal.
In fact, as seen in the chart below, the oversupply in the steel industry has created massive pressure on ArcelorMittal's financials and cash flow, with the oversupply in the end market due to the production of cheap steel in China presenting another headwind.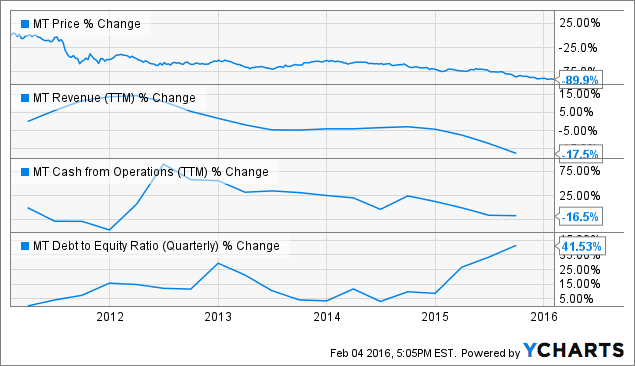 MT data by YCharts
As such, it does not surprise me to see that the stock has started 2016 on a weak footing as it is believed that an economic slowdown in China will lead to dumping of more cheap steel into the international market. But, will ArcelorMittal be able to come out of its slump in the New Year? Let's find out.
Duty impositions on Chinese steel will give a shot in the arm
China has become notorious for dumping cheap steel into international markets such as North America and Europe, and this has negatively impacted steelmakers in these regions. As a result, governments across both continents have imposed tariffs on Chinese steel. For instance, in the U.S., steel imports have started coming down. In the month of November last year, steel imports had declined 23% from the preceding month.
This drop can be attributed to the countervailing duty imposed by the Department of Commerce on the import of corrosion-resistant steel in November. Now, in December, the department slapped an import duty of almost 256% on Chinese corrosion-resistant steel, leading to a massive increase in prices in the domestic market.
On the other hand, back in September last year, the European Union also proposed setting a minimum price for a period of five years on imports of grain-oriented electrical steel from China and other Asian countries so as to make producers such as ArcelorMittal more competitive. As per a Reuters report:
"The European Commission in May set provisional tariffs of 21.6 to 35.9 percent on imports of grain-oriented flat-rolled electrical steel (GOES) following a complaint lodged in June 2014 by the European steel producers association, Eurofer.

The definitive duties proposed by the Commission, which would normally continue for five years, would be between 21.5 and 39.0 percent and be set by mid-November. The proposed rates are 21.5 percent for imports from China's Baosteel and 36.6 percent for Wuhan Iron and Steel Corp, and of 22.5 percent from South Korean producers such as Posco (NYSE:PKX)."
The imposition of these duties late last year will provide another entry barrier for cheap Chinese steel into the European market and help ArcelorMittal compete on a better footing in this market. This is because Europe and North America are two of the biggest markets where ArcelorMittal plies its trade. More specifically, the company gets 28% of its revenue from the North America region, while Europe accounts for almost 50% of its sales.
Now, last quarter, revenue from both these regions dived substantially on the back of lower realized prices and weak shipments. For instance, in Europe, ArcelorMittal's average selling price of steel was down around 20% year over year, while shipments were down almost 2%. Similarly, in the NAFTA region, the average selling price of steel was down 18% from last year, along with a 4% drop in shipments. ArcelorMittal categorically blames weakness in the Chinese domestic market as the reason why cheap exports have come into Europe and North America, which is why lower steel production in the country will be a boon for the company.
Less pain from China due to lower production
As already mentioned, a key reason behind ArcelorMittal's undoing has been the cheap steel dumped by Chinese players into the international markets. As economic growth in China has slowed down, steelmakers in the country have explored markets abroad to sell their steel. As a result, in 2015, the country's steel exports ballooned 20% from the preceding year to a record 112.4 million tons, as per data from the General Administration of Customs.
The increase in Chinese imports has also been aided by the devaluation of the yuan, as a result of which Chinese steel is cheaper for international buyers. However, in order to counter the oversupply in the Chinese steel market and also to bring supply more in line with demand, Chinese steel producers have decided to slash the production of steel this year. According to a report in Reuters:
"China's government is pushing to erode overcapacity in the steel industry, as the country aims to shift economic growth towards more consumption rather than heavy investment. The nation's massive steel sector is said to have surplus capacity of about 300 million tonnes.

China will cut crude steel production capacity by 100-150 million tonnes and reduce the size of the coal industry to fight a capacity glut, the government said on Sunday."
Thus, China is looking to slash its overcapacity in half this year after reducing output by just 2.3% in 2015. Hence, on the back of lower production in China, there is a probability that the supply of cheap steel into the international market will act as a tailwind for ArcelorMittal. However, as Bloomberg points out, a capacity cut of 230 million tons of steel is needed in China to bring the market into balance, but this could happen as Chinese steel finds fewer takers outside the domestic market due to duty impositions.
Conclusion
The primary reason why ArcelorMittal has struggled in the past year is due to the oversupply in the steel market and the flooding of cheap Chinese steel into the international markets. Of late, both these factors seem to be taking care of themselves, which is good news for investors. So, in my opinion, it might be a good idea to give ArcelorMittal a thought as it could make a comeback due to possible improvements in the end market.
Disclosure: I/we have no positions in any stocks mentioned, and no plans to initiate any positions within the next 72 hours.
I wrote this article myself, and it expresses my own opinions. I am not receiving compensation for it (other than from Seeking Alpha). I have no business relationship with any company whose stock is mentioned in this article.