LinkedIn (NYSE: LNKD) recently announced its fourth quarter results and full-year 2015 results. The results beat the street on revenue and EPS estimates. But the soft outlook for Q1 and for entire 2016 is spooking the markets; the stock traded 28.69% down in after-hours trading. Ouch!

Click to enlarge
The above data has been taken from Yahoo Finance which tells that the stock might open at $137.11, lower by $55.17, if nothing changes. So, is this an opportunity to add more shares of the world's largest professional network or a time to jettison the holdings? We will find that out in a while, but before that, let us discuss what LinkedIn (NYSE:LNKD) really gave us in Q4, and its expectations for the coming quarter and the year.
Result Highlights:
· Q4 EPS of $0.94 beat the estimates by $0.16.
· Quarterly revenue of $861.9M surpassed street expectations by $4.31M.
· Soft revenue guidance for Q1, 2016. The Company expects to see lower revenue of $820M, compared to $862 in Q4, 2015, and well below the street estimates of $866.7M.
· For the full-year 2016, the Company expects revenue of $3.6B-$3.65B, missing the street estimates of $3.91M.
· Non-GAAP EPS for 2016 has been projected to be $3.05-$3.20, below the consensus of $3.67.
· Core field sales expected to slow down in 2016. The Company witnessed a 30% YoY growth in this segment in 2015, but forecasts a mid-20% growth for 2016. The official press release said, "This outlook reflects continued pressure in EMEA and APAC given current global economic conditions."
· The Company will take a $50M hit in Q1 as it phases out Lead Accelerator and incorporates it into Sponsored Content throughout 2016. The Company says, "Sponsored Content is our fastest growing and most profitable ad product, so we will increasingly focus our efforts here to scale our B2B capability in the fastest, most sustainable way."
Should You Buy LinkedIn Post the Results?
I believe that LinkedIn can be a safer buy if the stock opens near $136. There is a couple of reasons to suggest that: one technical, one fundamental.
It needs to be noted that the market cap of the company will shrink to $17.70 billion at a price of $136.
Now, let us discuss the financial standing as of December 31, 2015. As can be seen from the data below, the Company has total current assets of $3.94 billion and total current liabilities of $1.19 billion, which puts the net current assets at $2.75 billion. The market-cap of $17.70 billion will be roughly 6.43 times the net current assets. For a company that has posted stellar results barring the weak guidance, the valuation is attractive according to this measure.
LinkedIn's total liabilities stand at $2.5 billion. As can be seen, the Company can boast of a strong balance sheet that covers total liabilities with just its current assets, and still be left with $1.44 billion.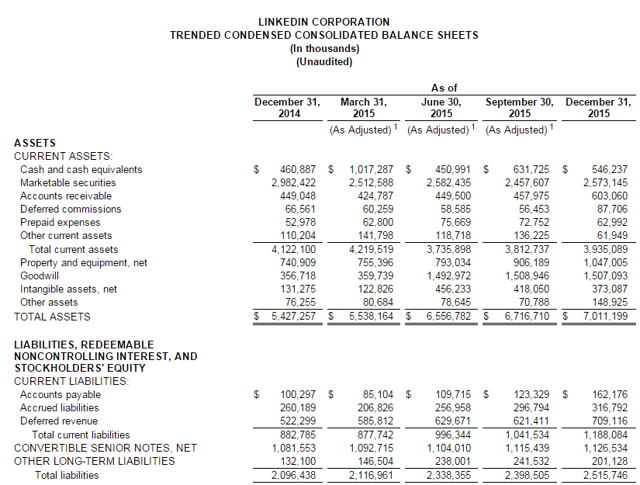 Click to enlarge
Now, let us take a technical view on the stock. The market is suggesting a disastrous opening at around $137, which is just a dollar away from its nearly two-year low of $136.02 - a strong technical support. Take a look at the weekly LinkedIn price chart presented below.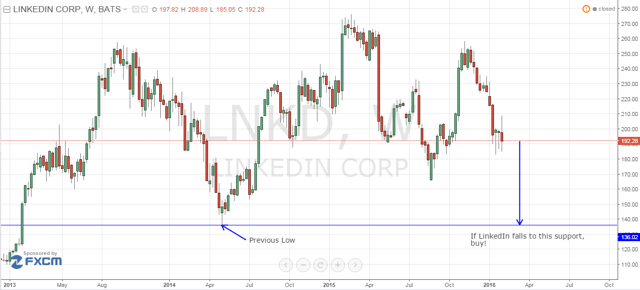 Click to enlarge
Near these levels, the stock also will be 50% off from its all-time high of $276, and a powerful rebound cannot be ruled out.
I Can Be Proved Very Wrong Too!
LinkedIn's bleak outlook will be adjusted in the stock price today. While I expect LinkedIn to find its near-term bottom today, I can be proved very wrong in the longer term.
With management projecting an annual EPS of $3.20 (higher end), the stock is expensive even at $136, 42.5x the projected EPS. The Company will have to accelerate its revenue growth and EPS numbers if it has to sustain at lofty valuations. The market can be a very harsh teacher, and LinkedIn needs to up its game faster than before.
Disclosure: I/we have no positions in any stocks mentioned, and no plans to initiate any positions within the next 72 hours.
I wrote this article myself, and it expresses my own opinions. I am not receiving compensation for it (other than from Seeking Alpha). I have no business relationship with any company whose stock is mentioned in this article.