Background
Flexsteel Industries, Inc. (NASDAQ: FLXS) was incorporated in 1929 and is one of the oldest and largest manufacturers, importers and marketers of residential and commercial upholstered and wood furniture products in the United States. Product offerings include a variety of upholstered and wood furniture including sofas, love seats, chairs, reclining and rocker-reclining chairs, swivel rockers, sofa beds, convertible bedding units, occasional tables, desks, dining tables and chairs and bedroom furniture.
The company's collections - Metropolitan, Big Horn, Timeless Traditions, and Casual Classics - can be found in 259 Flexsteel Galleries located in retail stores across the United States. Flexsteel's products are used in home, office, hotel, healthcare and other commercial applications, and the company operates manufacturing facilities that are located in Arkansas, California, Georgia, Iowa, Mississippi and Juarez, Mexico.
Strong Financials
Flexsteel Industries kicked off Q1 of 2016 reporting record top and bottom line numbers. Before I dig into the specifics, let me just say that what makes Flexsteel a rock in my portfolio is that it is incredibly well managed while deploying a conservative business model. The company is solid all the way across the board. The company has grown revenues, EBITDA, and net income like a machine the past 5 years, and is in the middle of several key initiatives that will continue to enhance growth.

(Source: Onesource)
Onto 2016 Q1 numbers… Flexsteel reported a record first quarter at the end of September. Revenues reached $127m, up 16.4% from the year prior. The company saw virtually equal gains in both residential (roughly 85% of the business) and commercial markets. Net income also saw a healthy gain of 18.1% up to $5.8m. The company notes that it is making long-term strategic investments to expand their distribution network to help meet customer's needs. One of these investments is the opening of a new distribution center in Edgerton, Kansas (their third largest) in 2015, which will improve logistics to their Midwest market.
The company also boasts a very impressive balance sheet. Flexsteel has almost $170m in current assets vs. just $49m in total liabilities. They hold zero long-term debt, and all of their assets are tangible. Operating cash flows came in at $8.5m for Q1 2016, which was more than double the year prior. The company also projected a positive outlook for its second quarter, stating that continued growth is expected due to "strong order trends and backlog of unshipped orders."
Home Construction
Sure Flexsteel has stellar financials, but the biggest catalyst I see to their stock price is the rise in home construction here in the US. Total US construction spending in the US saw its highest level in 8 years in 2015. Mortgage rates will continue to remain fairly low this upcoming year, and mild weather should continue to incite gains in residential housing spending. As housing starts and consumer confidence continue to increase, so should Flexsteel's top line. There's no doubt that housing, although more sluggish than we would've hoped coming out of the recession, has seen steady increases since 2011 in both existing home sales and housing starts here in the US.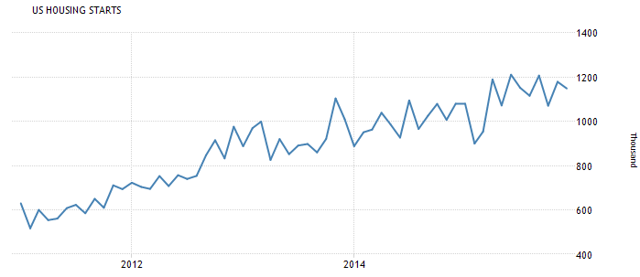 Click to enlarge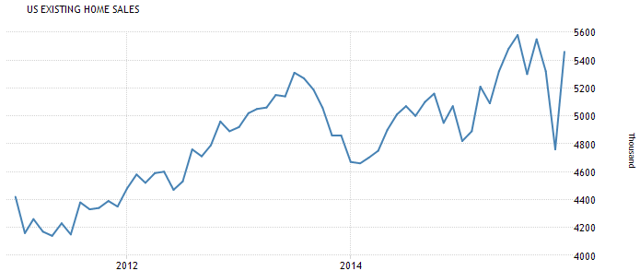 Click to enlarge
(Source: tradingeconomics.com)
Even if you're not sold on an increase in home construction into the future, go ahead and Google "Rent prices in the US." Time Magazine predicts that average rent could rise by as much as 8% in 2016. As rent continues to skyrocket across the United States, Millennials and Generation Y will have a harder and harder time justifying forking up a hefty chunk of their paycheck each month for rent. It's my hunch that although we have seen the average age of home buying steadily increasing since the beginning of the recession, this number will start to drop in the next 3-5 years as people in their 20s start to realize the advantages of buying vs. renting. Flexsteel is well positioned to take advantage of this increase in home buyers.
Possible Downsides
The furniture industry is very competitive, and if Flexsteel can't keep up with trends in the marketplace, they can lose market share rather quickly. Fortunately, the company has been around for over eight decades and has shown they can keep up with ever-changing tastes in the industry. The biggest risk to Flexsteel is a downturn in the overall economy. Furniture is a deferrable purchase in times of distress, and if we see consumer spending habits beginning to dip, this will have an immediate impact on Flexsteel's financials.
Conclusion
There isn't a lot not to love about the way that Flexsteel runs their business. They are financially disciplined with a seasoned management team that knows how to increase both the top and bottom line year over year. They have worked to improve logistics and business information systems and are well positioned to take advantage of growth in the housing sector. The company has seen strong order trends and an increasing backlog and expects more of the same through the second quarter all the way through fiscal 2016. Whether you're looking for a stable company with solid financials and a great product, or trying to find a safe way to invest in a continued housing recovery, Flexsteel Industries is the way to go.
Disclosure: I am/we are long FLXS.
I wrote this article myself, and it expresses my own opinions. I am not receiving compensation for it (other than from Seeking Alpha). I have no business relationship with any company whose stock is mentioned in this article.