Just when we thought prices couldn't dip any lower, they did. The oil industry is the worst it's been since the 1990s. The New York Times reports that the price of a barrel of oil has been cut by more than 70% since June 2014. Exxon Mobil Corp. (NYSE:XOM) has been forced to cut its drilling budget to the lowest amount it's been in nearly 10 years. Oil rigs are being decommissioned, and nearly 250,000 oil workers have lost their jobs. There are even conspiracy theories surfacing. You know, like the U.S. and Saudi Arabia teaming up and inducing the oil slump to take down Russia and Iran. While the latest drop in energy prices (national average of $1.82 a gallon) is helping lower-income groups heat their homes, they are also having a few major impacts on the CRE industry.
The ongoing oversupply of oil has impacted market fundamentals drastically. However, this impact varies in severity depending on region and sector. In metro areas, the oil price drops have encouraged consumer spending. In addition, Urbanland notes: "Lower oil and energy costs will also reduce certain construction, manufacturing, and logistics costs. This aids business investment and expansion, which, in turn, increases demand for industrial and manufacturing space."
Many U.S. economists believe the slump in oil prices will be beneficial to the retail and hotel sectors. Robert Bach, director of research at Newmark Grubb Knight Frank, told BisNow:
"Lower oil prices function like a big tax cut for consumers, so in theory they should boost retail sales and the outlook for shopping centers and retail-oriented distribution facilities such as fulfillment centers. It should also help the leisure and hospitality sector to the extent consumers use their windfall to travel."
This can't be said for all CRE sectors, of course. Office and industrial leasing in energy-dependent regions are suffering.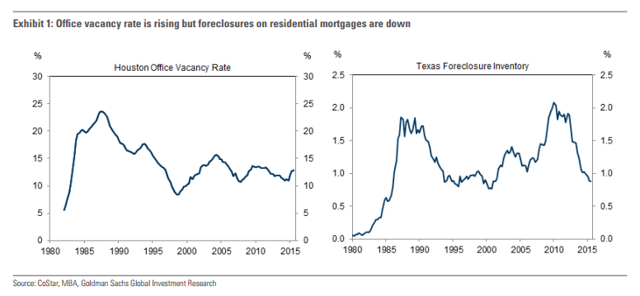 Click to enlarge
Take Houston, for example: 23.2% of office space in the area was reported as vacant in the fourth quarter of 2015. Goldman Sachs compared Texas' current economic situation to the global oil price fall in 1984-1986, when the lone star state had an unemployment rate of 9.2%, while bankruptcy filings doubled. Unfortunately for Houston, Transwestern predicts that the city's commercial real estate market will continue to soften throughout 2016.
Across the seas, however, investors in countries with oil-dependent economies are starting to push their money into U.S. commercial properties. These investors are focusing their money into multi-family and mixed-use buildings, all of which they view as long-term investments, according to The Real Deal. Shekih Khalifa bin Zayed al Nahya, ruler of Abu Dhabi, and Norges Bank's recently appointed CEO Karsten Kallevig have both cashed in on U.S. commercial real estate.
Where in the U.S. are these foreign investors focused on? Well, primarily New York City, and more specifically, the area surrounding Central Park. Cushman & Wakefield noted that the office vacancy rate in Manhattan dropped nearly 8.5% in 2015, mimicking pre-recession lows. Much different from the current state of the Houston office market.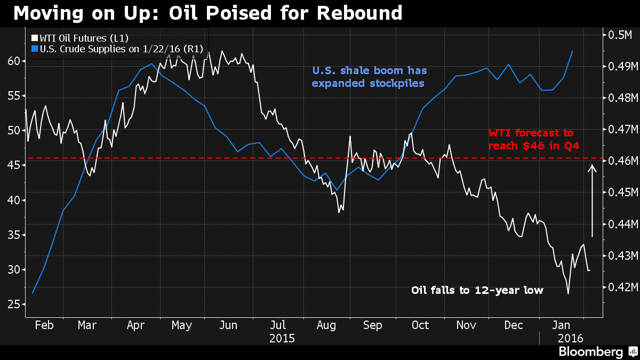 Click to enlarge
Like most industry disruptors, explaining the impact the oil price slump has on CRE is complex and constantly changing. Bloomberg reports that analysts predict oil prices will climb upwards of $15 and U.S. oil production will drop 7% (620,000 barrels per day) by the end of the year. So, market fundamentals should be normalizing somewhat soon. By that time, I'll be driving an electric car.