The beginning of 2015 is not good for junk bond closed-end funds, with across the board declines. However, it's an even worse year for the market as a whole, and many junk bond CEFs are actually outperforming the S&P 500.
This is no time to crow, however. That outperformance is a bad thing, and is actually a sign that the CEF market is continuing to be irrational and refusing to price in the two biggest threats to the junk bond market right now: rising default rates and lowering liquidity.
The Story So Far
Junk bond CEFs are down low single-digits year-to-date, with the best performers yielding holders negligible paper losses. The PIMCO High Income Fund (NYSE:PHK) is doing the best, but close behind is UBS's (NYSE:UBS) Managed High Yield Plus Fund (NYSE:HYF). We also see decent performance from the BlackRock Corporate High Yield Fund (NYSE:HYT), the Pioneer High Income Trust (NYSE:PHT), the Western Asset Global High Income Fund (NYSE:EHI), the Western Asset High Yield Defined Opportunity Fund (NYSE:HYI), and the Credit Suisse High Yield Bond Fund (NYSEMKT:DHY):

Click to enlarge
The market price return of these funds is only one side of the story, since one has to consider their high distributions. The picture becomes much rosier when we take into account payouts: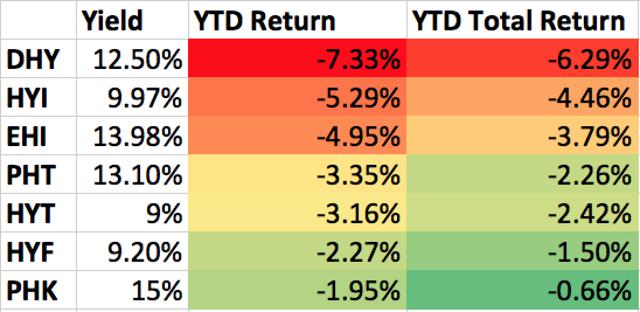 Click to enlarge
With payouts, PHK is essentially flat YTD and HYF, HYT, PHT are down modestly; only DHY is underperforming the S&P 500 by about 60 basis points. On the surface, this all sounds good-but is actually quite alarming for two reasons.
Reason #1: The NAV Discount Disconnect
The first and biggest reason that this outperformance is not a good thing is that it has resulted in discounts to NAV shrinking for these funds; after hitting their 52-week lows in January (save PHK and HYT, which hit their lows during the corporate debt scare of September 2015), some funds have actually appreciated to reach a premium: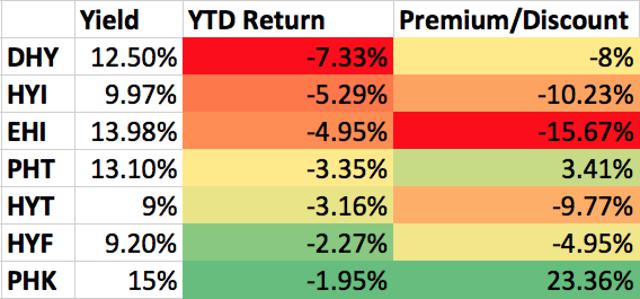 Click to enlarge
While PHT's premium is modest and low relative to what it has been in the past, PHK's is high, as it has been for years. Likewise, I would also argue that the discounts in HYF, DHY, and HYT are too small, which brings me to the second reason why these funds' relatively solid 2016 performance is worrying.
Reason #2: Defaults are Rising
Defaults are of course a concern for junk debt funds that invest in below-investment grade debt and hope to avoid loss of capital or coupon payments due to corporate defaults and bankruptcies. The more defaults, the harder this becomes. Additionally, rising defaults lowers the NAV of junk bond funds, because less investors become willing to buy junk bonds. With less demand, prices fall.
This is a problem because this is exactly the trend that we saw at the beginning of 2015. Back then, corporate default rates began to rise. In January, defaults were 2%; in February, they rose to 2.3% and stayed around that level until a jump in September-and a concomitant fall in junk bond values that same month: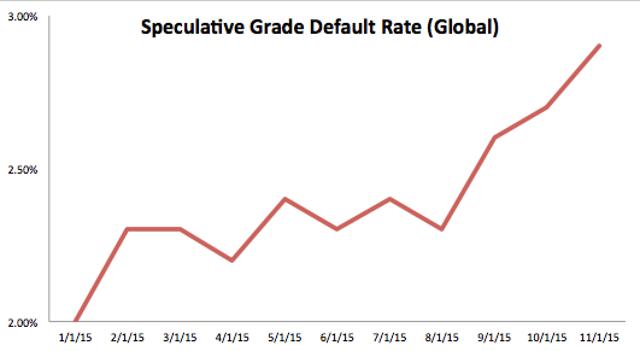 Click to enlarge
But back then, the junk market-at least from the perspective of CEF investors-was just fine:

Click to enlarge
The real outlier here was PHT because it cut its dividend in early 2015 (one should also note Stanford Chemist's incredibly prescient article on the fund from a few days before the cut). Other than that, dividend cuts, lowering NAVs, and rising defaults were not a serious concern for CEF investors, although Moody's was clearly ringing the alarm bell.
Worse than 2015
So far, 2016 is starting off much worse than 2015. Default rates ended last year at 3.4%, with nearly double the defaults in 2015 as in 2014. Moody's also expects a much higher default rate this year-in fact, at 4.4%, junk bond defaults will hit a six-year high. Meanwhile, liquidity is leaving the junk bond market-and this isn't just an energy problem. Creditors fear contagion, and that is compelling them to take money out of the junk bond market and seek returns elsewhere.
Conclusion: Discounts Need to Rise, Distributions Need to Fall
With a decline in liquidity, rising defaults, high payout-to-NAV ratios, and skittish investors, junk bond CEFs need to tread lightly. They have an opportunity to buy new issues at attractive rates, but there is a slipping knife issue with NAVs if defaults continue to rise and liquidity continues to fall. With lower and lower NAVs, the flexibility to churn the portfolio to fund payouts will disappear. If that happens, funds will face a tough choice: cut the distribution, sell undervalued assets to maintain distributions, or increase leverage.
None of these are attractive in the current environment, which means the junk bond portfolio manager's job is going to be a lot harder in this year. The temptation to cut distributions will also be much more tantalizing. The market should realize this and price these funds at a steeper discount in the anticipation of more dividend cuts. It is not.
Disclosure: I/we have no positions in any stocks mentioned, and no plans to initiate any positions within the next 72 hours.
I wrote this article myself, and it expresses my own opinions. I am not receiving compensation for it (other than from Seeking Alpha). I have no business relationship with any company whose stock is mentioned in this article.