Introduction
Baron Rothschild, an 18th century British nobleman and member of the Rothschild banking family, is credited with saying that "The time to buy is when there's blood in the streets."
With just 5 weeks into 2016, the US financial sector has already taken a beating thanks to chatter pointing to diminishing prospects of rate hikes this year. This has caused the whole financial sector to sell-off indiscriminately.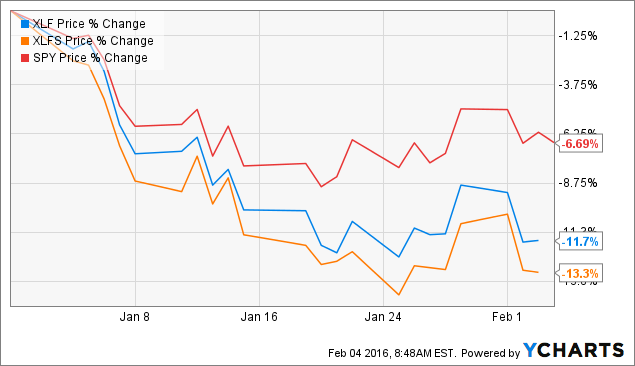 Is it a good time to buy? At least according to an article published by Barron's and cited by Seeking Alpha. We have also highlighted value in this sector in a previous article, "Move Out of Momentum and Into Value". The recent sell-off may provide investors an even more attractive entry point into what is already a cheap sector. Barron's point to these 10 stocks, which have at least 20% upside from a valuations perspective (which does not take into account the potentially accretive effects on earnings of additional rate hikes):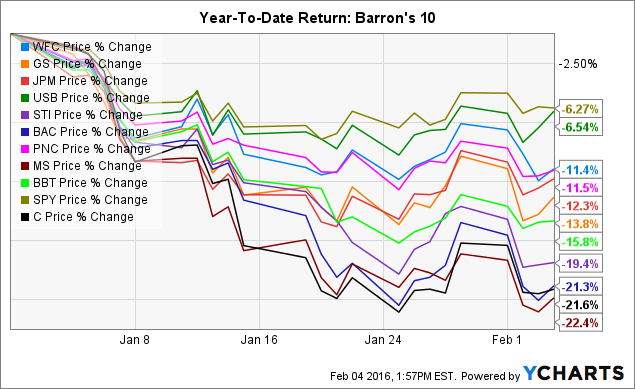 While it may be tempting to buy single names, but given the high correlation between companies within this sector we believe investors will be better off buying a broader basket of stocks without over-exposure to any particular company, or any type of bank. After all, this is a valuations/rate-hike play and banks are highly unpredictable - think regulatory fines, exposure to energy to name a few.
ETFs At A Glance
The following is the Top 10 ETFs by AUM in the US financial services sector that are not actively managed, leveraged, or inverse:
There is a long list. To narrow this down, we perform a simple X-Ray on each ETF to see the % weighting of each company in the ETF:

Click to enlarge
It's clear that KBWB, IYG and XLF provides the best coverage in terms of both the number of names and percentage weighting. How about return and risk? To assess this, we compare the trailing 3 year performance of the ETFs to an equally-weighted basket of the 10 companies above ("Reference Portfolio"), which is re-balanced on a quarterly basis:
| | | | |
| --- | --- | --- | --- |
| 02/13-01/16 | Annualized Return | Annualized StDev | R-Squared to Ref. Port. |
| Reference Portfolio | 8.9% | 16.7% | -- |
| IYG | 9.7% | 15.7% | 96% |
| KBWB | 7.5% | 16.0% | 93% |
| XLF | 9.6% | 13.1% | 90% |
All three ETFs behaves quite similar to our Reference Portfolio, but it appears that the IYG provides the best fit, as well as besting everyone else in terms of returns. The XLF has also delivered good returns and at far lower volatility. The KBWB has generated the lowest returns of the lot.
A More Detailed Comparison
With the best-of-fit suggesting that IYG is the way to go, let's also put the ETFs side-by-side for a more detailed comparison: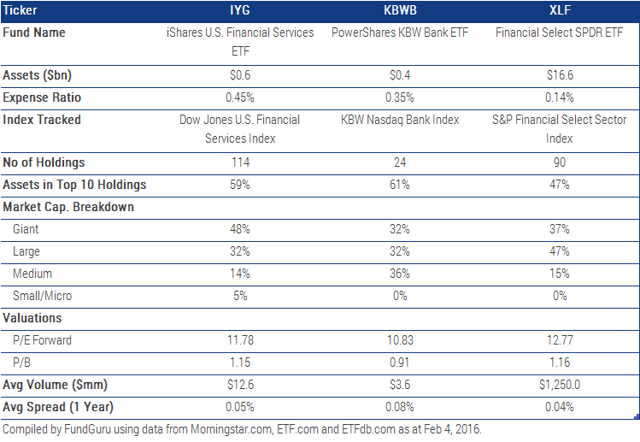 Click to enlarge
Pricing
From a pricing perspective, all ETF providers appear to be charging a premium for these sector ETFs despite their simpler composition vs. broad market indices. The IYG is the most expensive out of the three, while the XLF is by far the cheapest.
Portfolio
The key observation here is that the KBWB tracks a very concentrated benchmark covering just banks, and not financials more broadly. This may explain why it has lagged in terms of returns, as banks have fared worse of late than the broader sector. Despite its concentration, the sum of its Top 10 holdings is not wildly different to other ETFs, with a long tail of smaller positions. The IYG is the most diversified and large cap focused; KBWB more evenly distributed; and XLF more mid-cap focused. On the valuations side, as one would expect the KBWB has the cheapest portfolio, given it holds just banks.
Practicality
The XLF is by far the most tradable with the highest average $ volume and lowest spread. The KBWB is much more thinly traded.
Summary Thoughts
Investors should consider buying an ETF for exposure to the financial sector, and not individual names given they tend to move in lock-step. On balance, we favor the XLF given its lower fees and higher liquidity. Its historical performance has also been superior to our Reference Portfolio at much lower volatility. However, if investors firmly believe that banks will outperform the broader group going forward, then KBWB may be the way to go, if you believe potential returns will justify the higher costs.
Disclosure: I/we have no positions in any stocks mentioned, but may initiate a long position in XLF over the next 72 hours.
I wrote this article myself, and it expresses my own opinions. I am not receiving compensation for it (other than from Seeking Alpha). I have no business relationship with any company whose stock is mentioned in this article.