Many stock market pundits have been lamenting that the economy is in serious trouble. There have been claims that low interest rates and change in monetary policy are the main threat while others are still focused on oil prices and China.
These issues are all important but it's what you don't see that usually gets you. In this case it's the resilience of the US economy and its ability to adapt to market stresses. Short term concerns have made it difficult for many investors to see what has been occurring under the radar. Consequently, investors need to be reminded of the more important trends, which include long term GDP growth, earnings growth, various yields (including earnings and treasury yields) and inflation.
GDP
Long term GDP growth has averaged between 2.41% and 2.83% over the last 20 and 40 years respectively. GDP growth for 2014 and 2015 have both come in at about 2.4% which, although is not great, isn't that bad either. The 7-year average GDP growth is now trending upwards and currently averaging at 1.4%. This is a significant improvement since the 7-year average declined as low as .9% following the financial crisis. The US economy is still moving along at a decent pace and it will take a lot more than just sluggish growth to change the trend.
The chart below illustrates annualized percentage GDP growth and actual GDP figures from 1930 until 2015.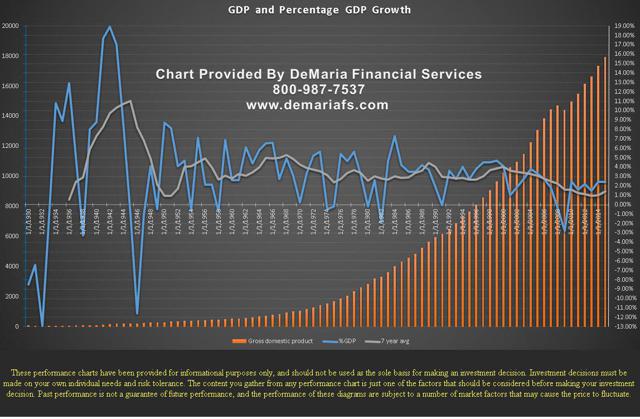 Earnings
Despite concern over earnings, many of the companies reporting are actually not doing all that bad. As of January 29th, with 40% of companies in the S&P 500 reporting Q4 2015 earnings, over 70% have reported earnings above their mean estimate. When we compare that with the longer term trend, it's hard not to be optimistic.
The following chart shows the cumulative earnings value of the S&P 500 companies between 1930 and the beginning of 2016. The earnings are compared to P/E values and a logarithmic chart of the S&P 500. Despite short term variability, earnings are continuing to trend upwards.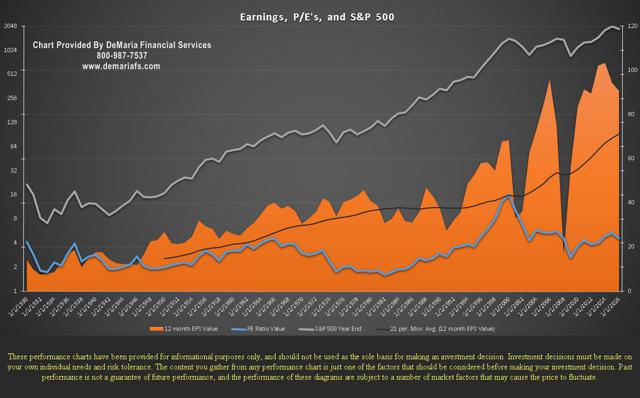 Earnings, Yields, GDP and Inflation
The chart below shows a combination of data ranging from 1930 until January 2016. Some of the points include the S&P 500 and its respective earnings yield, 10-year treasury yields, annual percentage GDP growth, productivity, and average annualized inflation. After examining the chart below you might notice a potential relationship between the earnings yield and treasury yield, mainly the spread between them. There are some other interesting observations that can be inferred and even though inflation is a lagging indicator, the relationship between oil prices and extremely low rates of inflation may be telling us something.
The earnings yield had been overshadowed by 10-year US treasury yields since the early 1980's. It emerged again in 2004 as a result of increased earnings and as treasury yields continued to decline. The spread between the earnings yield and the treasury rate has continued to expand (4.76% vs. 1.88% on 2/3/16) and suggests that equities are more favorable than bonds lower yielding cash.
Inflation, or the lack of inflation appears to one of the underlying reasons why the markets are spooked, even though everybody is watching oil (among other things). Why? Because inflation is directly tied to oil prices and consequently, when oil drops, inflation drops and nobody wants to see the debt burdened consumer in a deflationary environment. The effects of oil on inflation are expected to be short lived and inflation rates should normalize over the ensuing months. Interestingly enough, many of the recessions over the preceding 45 years have been tied to a spike in oil prices and not a decline.
Drilling down a little further, technological advancements and productivity in the energy sector are causing near term disruptions. These disruptions are related to the lower costs associated with extracting oil and the availability or supply of oil. This supply is being met by a somewhat inelastic demand as the consumer is not going to need to use a significantly higher amount of fuel simply because the price is lower. In the short term, this can potentially cause job displacements as fewer workers and resources are needed to extract oil from the ground.
The longer term economic implications are actually very positive as the world economy becomes more efficient with its resources. A historic example that comes to mind is pre-1800 agriculture in the USA and at that time, over 90% of the labor force worked in some form of agriculture. Advancements in technology and productivity have drastically changed the landscape over time and in 2015, only about 1% of the US labor force works in Agriculture. The transition, fueled by productivity growth, has been quite remarkable as only a fraction of the labor force is now producing enough for the entire US population and additionally for exports.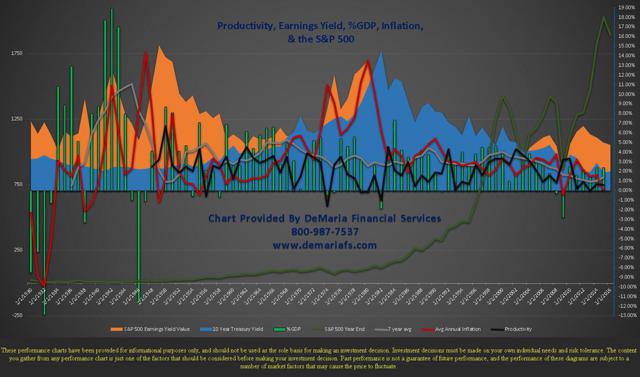 Leading Sectors and Asset Classes
Keeping up with leading sectors is an ongoing process. This is done by identifying how the market is performing versus a number of different variables. For example, one can compare the S&P 500 index to cash or bonds to determine whether one asset class is performing better than another. If equities are performing better than cash or bonds, then further comparison into the market versus other categories would be the logical progression. By drilling down further, the S&P 500 index can be compared to any number of other categories including, foreign versus US equities, or whether there is a particular sector that should be held or not.
The diagram below illustrates the categories that are in favor versus the S&P and there are a few points of interest. First of all, the S&P 500 recently turned negative against both bonds and cash. The was discussed in a recent article "The Lows Appear to Be In..." and will be closely monitored going forward.
Technology and Utilities are continuing to remain strong at these levels. The energy sector has recently crossed over into favored status compared to the S&P 500. Conversely, the S&P 500 has gained strength against financials has moved the financials out of favor. Basic materials are being watched closely as they are about to cross over.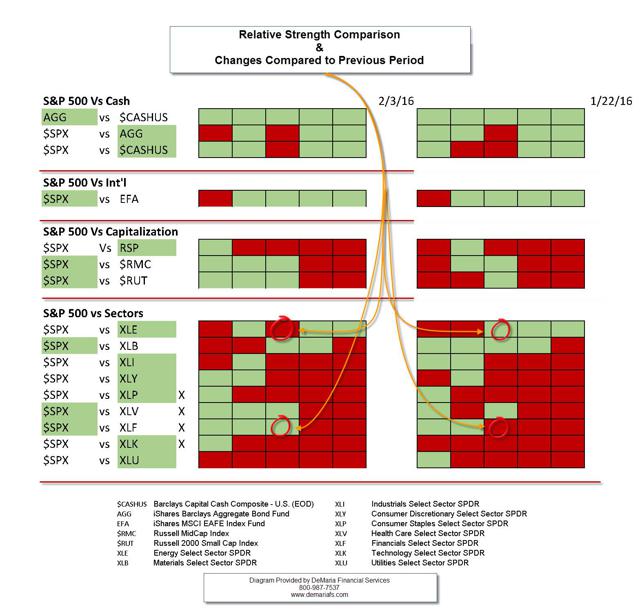 Sector Charts
Financials moved out of favor on 1/29/2016. This implies that financial sector is not performing as well as the S&P 500. Although this is not a sell signal, it implies that there may be better opportunities in other sectors.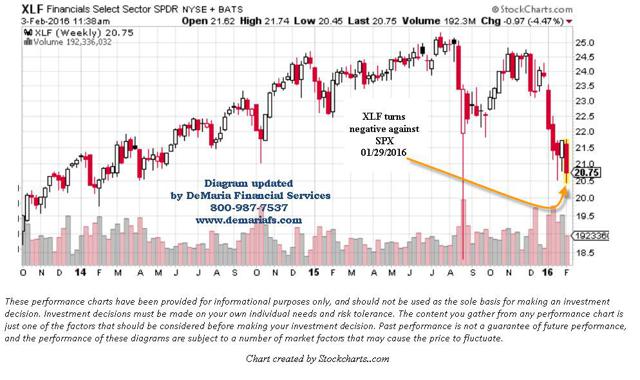 Energy moved to favored status on 1/29/2016 and anyone looking at this sector should attempt to identify leadership within the sector or try to diversify through ETFs or mutual funds. Concho Resources (CXO) and Halliburton (HAL) may be of interest.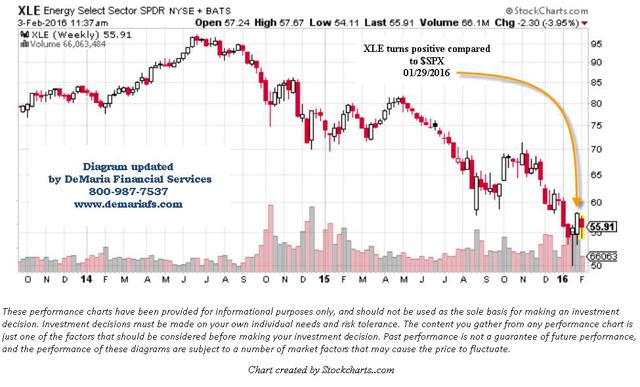 The Dow Jones Transportation average $TRAN is very close to crossing over to favored status when compared to the S&P 500. You can find more about this in the article "How Can You Identify Market Turning Points?... Reloaded". Swift Transportation (SWFT), Union Pacific (UNP) and United Parcel Service (UPS) may be of interest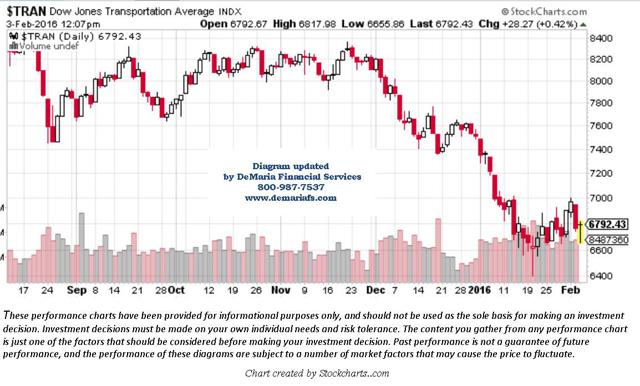 Treasury yields appear to be bottoming and this is potentially good news considering some of the biggest concerns are related to deflation, oil and the banking sector.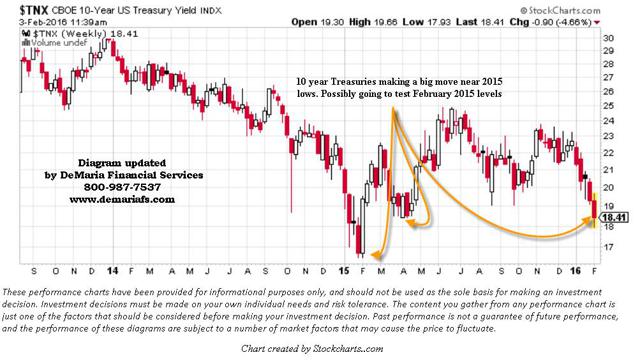 Market Risk Meter
This is a much lower risk environment than what the markets were experiencing at the end of 2015. Volatile market activity throughout January has not only released a significant amount of risk but, has also confirmed a lower risk entry point. We still remain in lower risk territory as February begins.
The Market Risk Meter is a proprietary tool designed to measure inherent risk in the overall market. The upper end of the diagram indicates higher risk and conversely, the lower end of the diagram indicates lower risk. When risk drops below -20 and when complimented with a disciplined buy strategy, the Market Risk Meter can be used to identify "Lower Risk Entry Points" for the purchase of equities. When risk exceeds +20 caution is warranted.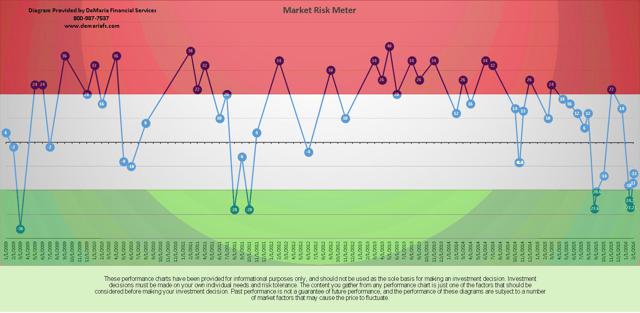 We Still Appear to be In a Secular Bull Market
A secular market trend is driven by forces that could be in place for many years, causing the price of a particular investment or asset class to rise or fall over a long period of time. In a secular bull market, strong investor sentiment drives prices higher, as there are more net buyers than sellers. In a secular bear market, weak sentiment causes selling pressure over an extended period of time.
The market appears to be in the early to middle stages of a "secular bull market" which, on average, can last 10-15 years. Investors in a secular bull are typically rewarded for holding investments until the secular trend changes.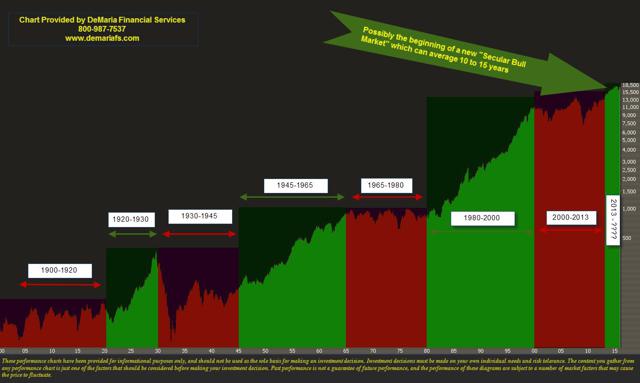 Interesting Side Note
The Fannie Mae OTCQB:FNMA court cases have greater implications than ultimately deciding whether the GSE's [Fannie Mae and Freddie Mac (OTCQB:FMCC)] should be released from government conservatorship. They represent more than just shareholder's rights and their ability to participate in the success of the companies they have invested in. These cases are also about homeownership in America and how we can reduce the steady decline experienced since the housing market bubble.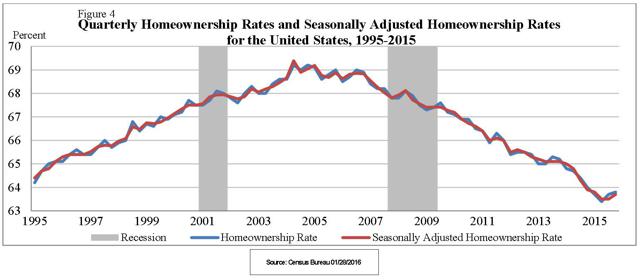 The GSE's support the American dream by providing access to financing through the securitization and guaranteeing of mortgage portfolios. This benefits many homebuyers, including some of our nation's neediest, and we have a great responsibility to ensure these opportunities remain available for future generations. The circumstances surrounding Fannie and Freddie symbolize the war on the American Dream. Hence, Fannie and Freddie are Americas Underdogs.
Multiple lawsuits, attempting to free the GSEs, remain in place and one of interest is Jacobs & Hindes V. the FHFA. Glen Bradford describes this well in his article Fannie Mae Lawsuit Updates Bode Well For Shareholders
Conclusion
We are in a lower risk market environment, despite recent volatility, as indicated by the market risk meter. Long term growth trends in earnings and GDP are still moving along at a very reasonable pace, and this bodes well for equity investors. We still appear to be in the early stages of a secular bull market which can average 10-15 years. New leadership is emerging from this correction and there are many opportunities.
Everyone is looking at all the bad news while ignoring much of the good. It's what you don't see that gets you.
Disclosure: I am/we are long FNMA.
I wrote this article myself, and it expresses my own opinions. I am not receiving compensation for it (other than from Seeking Alpha). I have no business relationship with any company whose stock is mentioned in this article.
Additional disclosure: The information contained in this report or information provided does not purport to be a complete description of the securities, markets, or developments referred to in this material. The information has been obtained from sources considered reliable, but we do not guarantee that the foregoing material is accurate or complete. Expressions of opinion are as of this date and are subject to change without notice. This information is not intended as a solicitation of an offer to buy or sell any security referred herein. Past performance may not be indicative of future result. No buy or sell orders may be given using the email, please call the above number to contact your Advisor. Christopher DeMaria is registered with and securities offered through Kovack Securities, Inc. Member FINRA/SIPC. 6451 N. Federal Highway, Ste 1201, Fort Lauderdale, FL 33308 (954) 782-4771. Investment Advisory services are offered through Kovack Advisors, Inc. DeMaria Financial Services is not affiliated with Kovack Securities, Inc. or Kovack Advisors, Inc.
Editor's Note: This article discusses one or more securities that do not trade on a major U.S. exchange. Please be aware of the risks associated with these stocks.