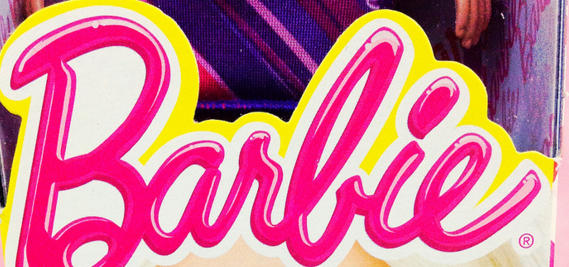 (source: Flickr - commercial use & mods allowed)
To the parent of a teenage daughter, there's nothing more frightening than advances from the high school quarterback. Mattel Inc. (NASDAQ:MAT) executives likely have similar feeling toward Hasbro Inc. (NASDAQ:HAS), whose management team is apparently interested in acquiring the Barbie franchise along with Mattel's other lucrative toy brands and licenses.
This week, Bloomberg reported that the two companies spent some time last year discussing potential for a merger. According to the unnamed sources, the potential for a deal has been "on again, off again" which likely means that Hasbro continues to be interested but has not made an offer that Mattel executives are comfortable with.
Generally speaking, Mattel executives have a fiduciary duty to investors to consider any reasonable buy out offer that Hasbro or any other company presents. But considering the turnaround prospects for Mattel, it is hard to see how MAT investors could be in favor of a buyout or merger at this stage of the game.
Mattel's Dramatic Turnaround Story
It's been a long, hard road for Mattel investors over the last two years. The company has been plagued by a lack of creativity, and some very poor management decisions regarding the company's merchandise.
In one of the most stupid business moves ever, Mattel introduced its own line of princess dolls whose characters were told to be the children of well known Disney Corp. (NYSE:DIS) princesses like Snow White or Sleeping Beauty. Keep in mind, Mattel had a contract with Disney to sell toys under the Disney Princess lines. So Mattel was literally competing against one of its best customers.
As could be expected, Disney took offense and pulled the princess contract from Mattel. Starting this year, Mattel no longer has the right to sell Disney princess toys. The loss of this contract was particularly troublesome because Mattel's Barbie franchise had already lost shelf space to Disney princess toys. Now with the Disney contract gone, Mattel had a softer Barbie franchise to fall back on.
The management missteps caused a decline in revenue and sent the share price spiraling. As the fourth quarter of 2015 began, MAT bottomed out at $19.44, nearly a 60% decline from the 2014 peak of $47.94.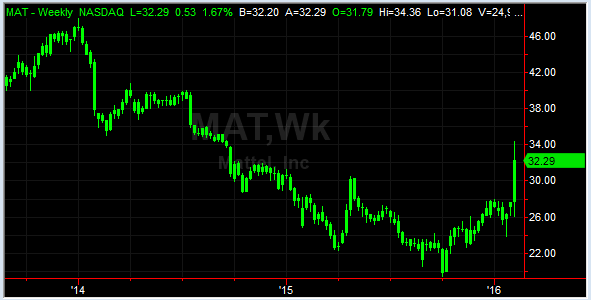 (source: TradeStation)
But today, the picture has improved dramatically. According to Barron's, Mattel has replaced two-thirds of its management team and has been focusing on re-tooling its merchandise to be more in-tune with today's children.
During the holiday season, Mattel's "Creepy Barbie" got some bad press due to a security risk with the toy's wifi connection. But the company managed to stem more than two years of revenue contraction and post its first year-over-year sales increase since 2013.

(source: YCharts)
More importantly, the company managed to impress Wall Street analysts who have recently upgraded their expectations for Mattel for the next two years. Today, analysts project earnings of $1.41 per share for 2016 which represents 12% growth over last year. In 2017, expectations are for 23% earnings growth to $1.74 per share

(source: Yahoo Finance)
Looking at the company's product line, Mattel should get a boost from two specific opportunities.
First, the company just introduced three new body types for its iconic Barbie line. This year, Barbie dolls will be available in curvy, petite, and tall styles. Mattel hopes that the new styles will not only resonate with shoppers around the world, but will also take up more shelf space that the company has lost with the Disney princess license now expired.
Speaking of Disney, Mattel appears to have mended the relationship with the company and has landed a contract to license toys for Disney's Toy Story 4 film which comes out in 2017.
Mattel shares have responded to the positive outlook, rallying 63% above the 2015 lows even before news broke regarding the potential for a merger with Hasbro. Mattel's Tuesday announcement that Barbie doll sales increased by 1% and Fisher-Price sales increased by 7% during the fourth quarter certainly helped to boost investor confidence.
Why Sell Out Now?
The question Mattel investors should be asking of management today is "why sell out now?"
After all, long-term investors have endured two years of poor performance due to mismanagement of the company's brands. As we enter 2016, things are finally starting to turn around and the future for Mattel's products is brightening.
As an international retailer, Mattel could also benefit from a decline in the U.S. dollar. This is another trend that is just getting started and could provide a material boost for Mattel's reported profits over the next several quarters.
This is hardly the time to entertain a buyout offer which almost certainly will not give Mattel full credit for the potential rebound in sales growth and popularity of its new toy creations.
I would much rather see Mattel's management team see the turnaround strategy through (for a period of at least two years) before entertaining a merger opportunity. That way any buy out would value Mattel based on a fully-functioning product line of attractive toys, instead of a valuation based on two years of mismanagement.
No one can blame Hasbro for trying to pick up this turnaround opportunity. Mattel would certainly be a good investment considering the potential for rising sales and considering Hasbro's potential ability to cut costs through sharing distribution and manufacturing facilities.
But a merger of the two largest global toy makers would be sure to attract anti-trust concerns, and would likely be messy as product lines are merged or cut. Better for these two companies to remain competitive and for Mattel to follow through on its successful turnaround plans.
Disclosure: I/we have no positions in any stocks mentioned, and no plans to initiate any positions within the next 72 hours.
I wrote this article myself, and it expresses my own opinions. I am not receiving compensation for it (other than from Seeking Alpha). I have no business relationship with any company whose stock is mentioned in this article.