Dividend strategies occupy a unique space in the stock market. Unlike most investing styles, they generally prioritise the yield on a share rather than pinning all their expectations on a rising price. Part of the attraction of this approach is that it can help to ride out bouts of market volatility. If the market dips and prices fall, the dividends from those shares should largely stay intact, and the yields may even rise. But that's not to say that dividend strategies are entirely immune from market falls. A number of the nine guru-inspired income models tracked by Stockopedia undershot the market over the past year, and the worst performer was one of the most popular strategies around - Dividend Dogs.
Dogs in more ways than one
Dividend Dogs is a strategy that buys a basket of 10 of the highest yielding stocks in the blue chip FTSE 100 index. It was originally introduced by Michael O'Higgins and John Downes in the early 1990s as a way of picking high-yielding shares from the Dow Jones industrial index. It's a strategy designed with simplicity in mind. The main safety net is that high-yielding blue chip stocks tend to be mature, stable businesses that don't often pull shocks on their shareholders. Things can go wrong of course, as investors found during the financial crisis when the otherwise reliable bank dividends were slashed.
Part of the problem with the Dogs strategy, particularly in the UK, is the limited ability to diversify. Hunt around for high yields in the FTSE 100 and you'll frequently bump up against oil giants, miners, supermarkets and financial stocks. And this is where the problems started in 2015. The quarterly-rebalanced Dividend Dogs portfolio regularly held stocks like BP (BP, OTCPK:BPAQF), Royal Dutch Shell (RDS.A, RDS.B), BHP Billiton (BHP, BBL), Tesco (TESO, OTCPK:TSCDF, OTCPK:TSCDY), Wm Morrison (OTCPK:MRWSF, OTCPK:MRWSY), HSBC (NYSE:HSBC) and Aberdeen Asset Management (OTCPK:ABDNF, OTCPK:ABDNY). Many of these shares performed badly in 2015, driving the strategy's performance over the past year to a shocking return of -34.8%. That compares to 6.3% in 2014.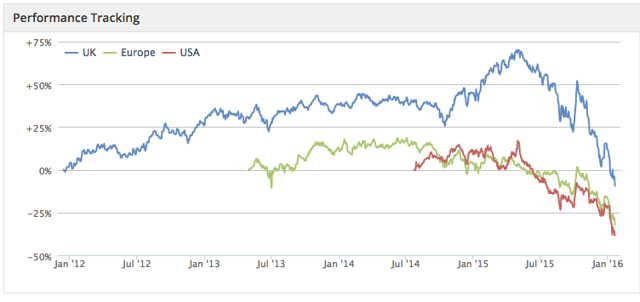 Click to enlarge
As a result of falling valuations in parts of the FTSE 100, the yields on offer have improved. The current batch of 10 stocks qualifying for the strategy offer a median yield of 9.4%. At the close of 2014, the figure was 6.3%, and a year earlier it was 5.3%. Yet the qualifiers are still dominated by the oil, mining and finance sectors that have caused investors so much pain in recent years. So anyone considering a high yield, blue chip strategy would probably want to be looking for much broader diversification than you'd ordinarily get with the Dividend Dogs approach.
The sister screen of the Dividends Dogs strategy, the Forecast Dividend Dogs, has hardly done much better during the past year, with a return of -20.1%. It also suffers the same diversification problems, although the median average yield on offer now has risen from 6.3% to 8.3%. We warned of the dangers of these strategies last year, and the same goes that the stocks on offer should be checked carefully to ensure they aren't dividend traps.
Income Strategy

1-Year Return

(to 03/02/15)

Median Yield % of stocks qualifying now

19.2%

5.0%

6.9%

3.1%

6.5%

2.2%

-1.6%

2.7%

-3.1%

4.3%

-20.1%

8.3% (forecast)

-25.1%

6.5%

-32.2%

3.1%

-34.8%

9.4%
Growth and income pays off...
Elsewhere in the dividend strategy performance table, the best capital return over the past year was Winning Growth & Income, with an impressive 19.2%, up from 6.2% in 2014. This is a strategy that focuses on good quality growth companies that also pay above-average yields. A year ago, the median forecast yield of the stocks on the list was 4.7%, which has now edged up to 5.0%. Through the year, it did particularly well from positions in stocks like Redde, Hansard Global and Penna Consulting.
After hitting top spot last year for capital growth, the Best Dividends strategy slipped to second place over the past year, with a 6.9% return. It's an approach that looks for companies with a track record of not only making dividend payments, but also growing them over time. A year ago, companies qualifying for the screen offered a median yield of 2.7%. That's now risen to 3.1%. Some of its big winners over the past year were Bioquell (OTCPK:BIOQ, OTCPK:BIQLF), Xaar and RWS Holdings.
The only other dividend strategy to register a positive capital gain over the past 12 months is Dividend Achievers, which ended up 6.5%. This looks for companies that have grown their dividends for more than five consecutive years. They also need to have a history of earnings growth and strong cash reserves. However, the strategy has the lowest current median yield at just 2.2%.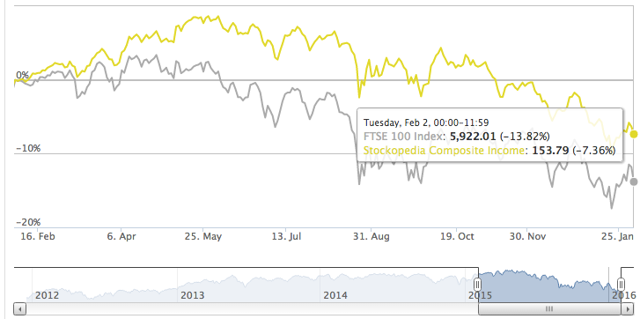 Click to enlarge
...but large caps drag on performance
In addition to the two Dividend Dogs strategies, the Geraldine Weiss-inspired screen and the PYAD strategy also slumped to double digit losses last year. PYAD is based on an approach used by Stephen Bland in his Dividend Letter, who pays little attention to market movements as part of his long-term investing approach. Meanwhile, the Large Cap Dividend Attraction screen slipped to a 1.6% loss, following its -17% slump in 2014. Finally, Quality Income started strongly in 2015 but eventually ended with a -3.1% loss, not helped by holdings in losing shares like Glencore (OTCPK:GLCNF, OTCPK:GLNCY) and Pearson (PSO, OTC:PSORF).
Dividend uncertainty for 2016
UK dividend payouts hit £87.6bn in 2015, which was down around 10% on a very strong 2014, when Vodafone paid a record-breaking £16bn special dividend. According to analysis by Capita, which tracks UK dividends, the outlook for 2016 is uncertain. With cuts to payouts across the supermarket sector, oil and commodities, some of the biggest dividend stocks are under pressure. Meanwhile, analysts at SocGen recently pointed to the fact that UK dividend cover is at its lowest since the early 1990s recession and that only 24% of companies now have a dividend yield above the market. As a result, the highest yields are found among a limited number of stocks. Evidence from Stockopedia's income strategy tracking suggests that a blended approach - mixing dividends with company growth - has generated the strongest total return. Under the circumstances, it's hard to see that changing in 2016.
Editor's Note: This article covers one or more stocks trading at less than $1 per share and/or with less than a $100 million market cap. Please be aware of the risks associated with these stocks.