The Large-Cap-Blend invest­ment style ranks first out of the 12 invest­ment styles. It gets my Neu­tral rat­ing, which is based on aggre­ga­tion of fund rat­ings of all 1222 funds in the style. Arti­cles on all style and sec­tor funds are here.
Per Fig­ure 1, 385 out of the 1,804 stocks (nearly 50% of the mar­ket cap) held by Large-Cap-Blend funds get an Attractive-or-better rat­ing. How­ever, only 4 out of 1,222 funds (less than 5% of total net asses) in the style get an Attractive-or-better rat­ing. There are two rea­sons that funds do not get Attractive-or-better rat­ings: (1) they do not allo­cate enough cap­i­tal to Attractive-or-better stocks, too much to Neutral-or-worse instead and (2) their costs are too high.
As detailed in "Cheap Funds Dupe Investors", the fund indus­try offers many cheap funds but very few funds with high-quality stocks, or what I call good port­fo­lio man­age­ment. Over 95% of all style funds do not jus­tify their costs and over­charge investors.
Investors can­not assume that cheap funds are good invest­ments. Research on the under­ly­ing hold­ings of a fund is nec­es­sary for an informed decision.
Fig­ure 1: Large Cap Blend Style Land­scape For Funds & Stocks


Charts Source: New Con­structs, LLC and com­pany filings
There are 1222 funds to choose from within Large-Cap Blend, and they are all very dif­fer­ent. Per Fig­ure 2, the num­ber of hold­ings varies widely (from 11 to 1318), which cre­ates dras­ti­cally dif­fer­ent invest­ment impli­ca­tions and rat­ings. Here is the full list of 1222 funds.
How do investors pick the right fund out of the sea of choices that will deliver the best returns?
Fig­ure 2: Funds with Most & Least Hold­ings - Top 5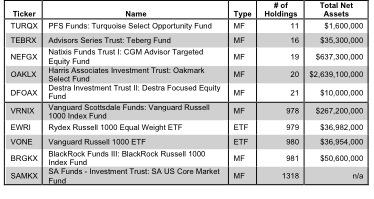 To iden­tify the best funds within a given cat­e­gory, investors need a pre­dic­tive rat­ing based on analy­sis of the under­ly­ing qual­ity of stocks in each fund. See Figure 2.
Our pre­dic­tive fund rat­ings are based on aggre­gat­ing our stock rat­ings on each of the fund's hold­ings and all of the fund's expenses. Investors deserve forward-looking fund research that is com­pa­ra­ble in qual­ity to stock research.
Investors should not rely on backward-looking research of past per­for­mance for invest­ment decisions.
Fig­ure 3 shows the five best and worst-rated funds for the style. The 4 best funds earn our Very Attrac­tive rat­ing by hold­ing qual­ity stocks and charg­ing low total annual costs. On the other hand, the five worst over charge investors for poor port­fo­lio man­age­ment.
One of my favorite stocks held by a Large-Cap-Blend fund is Apple (NASDAQ:AAPL), which gets my Very Attrac­tive rat­ing. Most peo­ple con­sider AAPL a growth stock, but I see it as a value stock. The under­ly­ing eco­nomic earn­ings power of AAPL dwarfs its account­ing earn­ings. With its ROIC at a whop­ping 270%, AAPL needs very lit­tle growth to gen­er­ate loads of cash, which is why it has nearly $80 bil­lion in excess cash. The stock is cheap as it implies the com­pany will not grow its prof­its (NOPAT) more than 8% over its remain­ing life. I think it is a safe bet that AAPL has a lit­tle more growth left in it than 8%.
One of my least favorite stocks held by a Large-Cap-Blend fund is Gen­eral Elec­tric (NYSE:GE), which gets my Dan­ger­ous rat­ing. The com­pany reported mis­lead­ing earn­ings in 2010, which means they showed pos­i­tive and ris­ing account­ing earn­ings while eco­nomic earn­ings are neg­a­tive and declin­ing. Jack Welch used to brag about how he was able to lever­age account­ing loop­holes to always beat esti­mates by a penny, and I think the cul­ture of man­ag­ing super­fi­cial account­ing results instead of the cash eco­nom­ics of the busi­ness per­sists. Accord­ingly, I am not com­fort­able with a val­u­a­tion that implies the com­pany will grow its prof­its at over 6% com­pounded annu­ally for 35 years. 6% (organic) growth is a big num­ber for a com­pany as large as GE. Growth over the last 5 years is neg­a­tive. This stock is not a good bet now.
Fig­ure 3: Funds with the Best & Worst Rat­ings - Top 5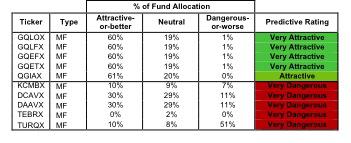 * MF des­ig­nates Mutual Funds and ETF des­ig­nates Exchange-Traded Funds
Investors need to tread care­fully when con­sid­er­ing Large-Cap-Blend funds, as 96% of funds are not worth buy­ing. Only 49 of the 1222 funds allo­cate enough value to Attractive-or-better-rated stocks to earn an Attractive-or-better rat­ing. Fig­ure 3 shows the rat­ing land­scape of all ETFs and mutual funds in this fund style.
My style roadmap report ranks all styles and high­lights those that offer the best investments.
Fig­ure 4: Sep­a­rat­ing the Best Funds From the Worst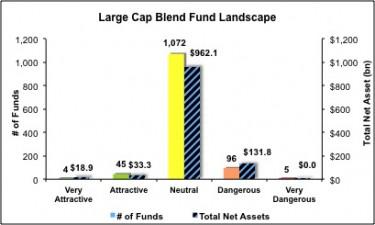 Fig­ure 5 lists our Pre­dic­tive Fund Rat­ing for the 5 largest and most pop­u­lar Large-Cap-Blend funds.
Fig­ure 5: Five Largest Large Cap Blend Funds


* MF des­ig­nates Mutual Funds and ETF des­ig­nates Exchange-Traded Funds
* Analy­sis uses the top-ranked class for each fund
Disclosure: I am long AAPL.