Who Is Elliott Management?
Established in 1977, Elliott Management is a US multi-strategy hedge fund founded by Paul Singer, a well-regarded activist investor. It is one of the oldest hedge funds today under continuous management. Singer is best known for waging activist battles against companies in the US and abroad. The firm currently manages north of $27bn in assets for institutional investors.
Why You Should Care About Elliott's Investment in Symantec (NASDAQ:SYMC)

The technology sector is Elliott's main expertise, where it has the longest track record in affecting corporate change. According to Elliott in a recent press release:
Within the technology sector, we have made approximately three dozen active investments and have successfully identified value-creating opportunities at companies such as Citrix (NASDAQ:CTRX), BMC, Informatica, Brocade (NASDAQ:BRCD), Riverbed (NASDAQ:RVBD), Juniper (NYSE:JNPR), Novell/Attachmate, Blue Coat and many others.
One key differentiating factor in Elliott's active investments, especially in the technology sector, is our deep focus on operations. Our team includes experienced and proven C-level executives with technical and operational capabilities from software and technology companies. These executives evaluate operations, products and markets within our investments and work to develop strategies to streamline operations, grow revenue and create value. We also have long-lasting engagements with leading operations consulting firms, sales and marketing specialists and technical consulting firms that we deploy on our investments. Finally, in addition to our public portfolio, we have significant investments in private technology companies, which provide important insights into operating best practices, market trends and general industry knowledge.
In the enterprise software industry, where Elliott has a long track record, consolidation has been an invaluable tool for low- or no-growth software companies. One pertinent example from Elliott's history is Novell. We originally invested in Novell at time when Novell was deeply underperforming and its installed base of customers was declining. Novell ultimately sold itself to private equity-backed Attachmate Group in November 2010 for a 45% premium to its unaffected stock price.
Familiar Patterns
After taking an activist stake in companies, Elliott typically makes demands, such as requesting board seats, push for more aggressive capital returns, and/or later use of its leverage on the company to explore strategic alternatives if no significant improvement in share price materializes. Elliott's campaigns have usually yielded positive results within a short period of time, generally under 1-2 years. Below are a few examples of the manager's past campaigns:
Informatica (early 2015-late 2015): Elliott built a 8% stake. The company began to explore a sale and was eventually sold to European private equity firm Permira Advisers and the Canada Pension Plan Investment Board for $5.3 billion. Shares were 27% higher since Elliott's initial disclosure.
Juniper (early 2014-early 2015): Elliott built a 6.2% stake and began pressing for changes. Juniper quickly reached a settlement, which led to new directors, buybacks, cuts in headcount and a first dividend. Despite all the changes, Elliott did not make money on this investment and ended its campaign in the second half of 2015.
Riverbed Technology (late 2013-late 2014): Elliott disclosed a 9% stake, then made an initial offer to buy the company at $19 a share. It later boosted its stake to 11% and increased its offer to $21. The company ultimately sold to private-equity firm Thoma Bravo for $21 a share.
BMC Software (early 2012-mid 2013): Elliott built a 5.5% stake and called on management to explore a sale and then launched a proxy fight for board seats. BMC eventually agreed to sell itself to Bain Capital, Golden Gate Capital and Elliott itself at about 15% above the price before Elliott arrived.
Compuware Corp (late 2012-late 2014): Elliott made an unsolicited bid at $11 a share. The following year, the company launched a sales process. Compuware at the end agreed to sell itself to Thoma Bravo for $10.92 a share.
Brocade Communications (mid 2011): After the activist showed up, Brocade hired bankers to explore a sale, but a deal was never reached. Elliott sold out of its position over the next few quarters, according to filings.
Active Campaigns
Although past campaigns have generally yielded positive share price performance since the initial stake, we take a look at the manager's more recent targets. The following table shows Elliott's active investments over the past year, as revealed by 13-D filings. To date, there appears to be clear positive excess returns, despite these investments still being a work in progress:

New Stake in Symantec
The WSJ reported late Thursday that Elliott has amassed a large stake in Symantec, becoming one of its largest shareholders. It is unclear what Elliott has planned for the firm, although we may soon find out. For now:
Silver Lake has invested $500m and will get a board seat
Symantec has declared a $2.3 billion share buyback and a special dividend of $4 per share
Symantec traded up 9.5% at $21 in extended trading on Thursday
Elliott is supportive of Silver Lake's current initiatives
We believe there will be more to come for Symantec. The firm's share price has flagged for the past few years as PC sales declined. Shares are down 25% over the past year and has underperformed the S&P 500 significantly over the past five years. Its share price is about where it was two years ago.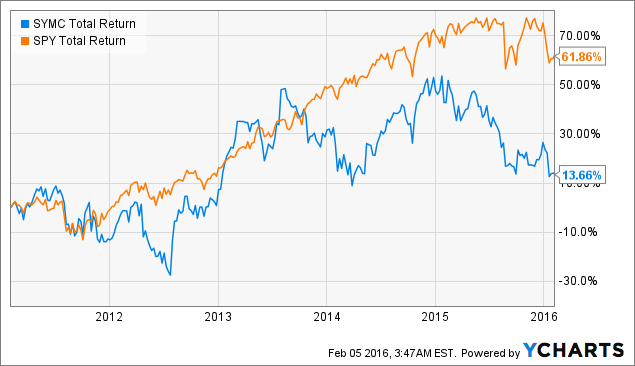 SYMC Total Return Price data by YCharts
Recommendation
For investors wishing to bet on Elliott's deal-making track record, we recommend initiating a half position in Symantec now and accumulate the other half on weakness. Activist targets have the tendency to pop immediately after announcement, fall in the weeks or months after, before making a final leg up when more catalysts are in sight.
Disclosure: I am/we are long SYMC.
I wrote this article myself, and it expresses my own opinions. I am not receiving compensation for it (other than from Seeking Alpha). I have no business relationship with any company whose stock is mentioned in this article.