LinkedIn (NYSE:LNKD) announced earnings after the close yesterday beating on both top and bottom line, yet the stock took a dive after the close. As of this writing (7:37am ET) the stock is down -30% at $136. This decline has been attributed to weak guidance that was below expectations with 2016E sales at $3.6-3.65b (vs $3.91b) and EPS at $3.05-3.20 (vs $3.67). It is my opinion that investors should not have been so shocked as sales have been on a declining trend, and the stock is pricey.
See the below table. When LNKD was starting out it naturally had very high growth rates (high double digits and triple digits) but for the last few years we can see a slow down in the growth rate. From 2012 to 2013, the growth rate was 29% lower (86%-57%). In the last two year (2013 to 2014, 2014 to 2015) this was 12% and 10% lower respectively. So if we were to guess 2016 then shouldn't we consider further slowing of the growth rate as the company has grown sales into the billions. So perhaps a 12% lower rate (same as 2013 to 2014) makes sense. This would imply a growth of 22.7% (34.8-12.1). Notice how Bloomberg estimates were (as of this morning) pointing to 26.9%.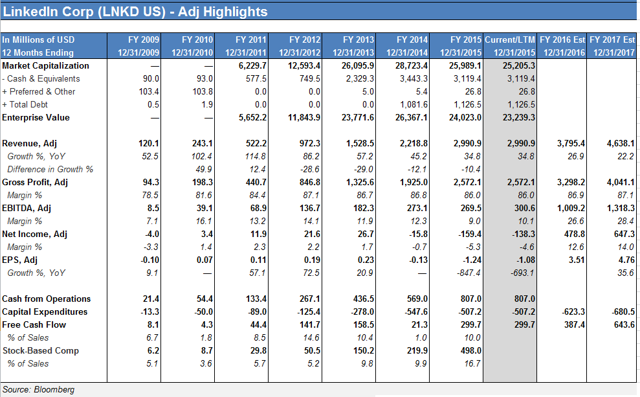 (Source: Bloomberg)
Using our 22.7% growth and multiplying by 2015 sales we get $3.67b. That's within reach of LNKD's high-end of guidance of $3.65b. The low-end of guidance ($3.6b) implies a 20.4% growth in sales which is also a 14.4% lower rate (34.8-20.4). Is that so unrealistic? So looking at the last few years provide some potential scenarios and I think the current guidance was among those.
What I believe is going on, is that the investment community is starting to realize that the 30%+ growth rates are gone and that the lower growth does not support the current stock price. Hence the correction.
LinkedIn is not Facebook (FB) as the table below shows. Growth is slower and margins are lower. So investors should not expect similar results both in operations and stock price. I'm showing this as I believe it may not be obvious to some readers, and I believe looking at both of these online social platforms is helpful.
Despite this, as I outlined in a previous article LNKD does have a very important product within its Talent Solutions. Its Recruiter platform is the headhunter's Bloomberg, and we see that "Hiring" among "Talent Solutions" has consistently grown 30%+ as shown below. This is what generates the most revenue, what makes LNKD different and creates value.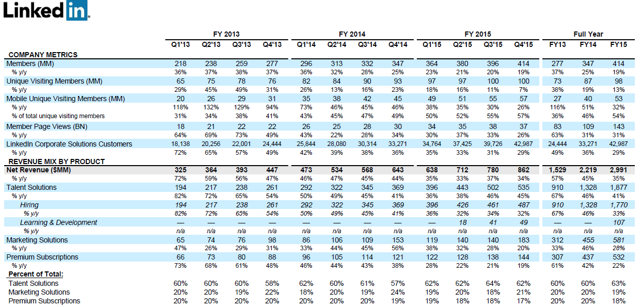 (Source: Company)
So is this an opportunity? If we look at the weekly stock chart, the stock is at a multi-year support level of $136. However we should note that the recent push higher failed and that this gap down will be through another swing low.
More importantly, what is the stock worth based on cash flows? So I ran a ballpark DCF which I believe is enough to give us an idea of where LNKD stands. I assumed that free cash flow is constant at 10% of sales. Perhaps crude but any gains are offset by increasing costs due to potential loss of stock currency (stock compensation is 17% of sales) as company matures. For sales I assumed that sales rise but at an incremental rate of 2.5% less per year. As the table below shows, I calculate the value of LNKD at $75. Note that at $75, the implied price to sales '16 is 2.4x and price to earnings '16 is 24x. Using non-GAAP EPS '15 of $2.84 as stated in LNKD's press release the P/E is 26x.
So the conclusion is that the guidance is no surprise and the stock is NOT a buying opportunity. I appears that value is much lower and investors should consider a short when the opportunity arises.
Disclosure: I/we have no positions in any stocks mentioned, and no plans to initiate any positions within the next 72 hours.
I wrote this article myself, and it expresses my own opinions. I am not receiving compensation for it (other than from Seeking Alpha). I have no business relationship with any company whose stock is mentioned in this article.