The Large-Cap-Value invest­ment style ranks fourth out of the 12 invest­ment styles. It gets my Neu­tral rat­ing, which is based on aggre­gation of fund rat­ings of all 821 funds in the style. Arti­cles on all style and sec­tor funds are here.
For too long investors have selected funds based on costs rather than qual­ity.
Fig­ure 1 high­lights investors' inabil­ity to buy funds with qual­ity hold­ings by show­ing that 98% of assets in Large-Cap-Value funds goes to funds with a Neutral-or-worse rat­ing. Investors are not entirely to blame for this mis­al­lo­ca­tion of cap­i­tal as the fund indus­try is not giv­ing them many good choices.
Though 375 out of the 1,686 stocks (43% of the mar­ket cap) held by Large-Cap-Value funds get an Attractive-or-better rat­ing, only 17 out of 821 (2% of total) of these funds get an Attractive-or-better rat­ing. The take­away is that fund man­agers are allo­cat­ing too much cap­i­tal to low-quality stocks.
Investors seek­ing expo­sure to Large-Cap-Value stocks should pur­chase a bas­ket of Attractive-or-better rated stocks and avoid pay­ing fund man­agers fees they do not deserve.
Fig­ure 1: Large Cap Value Style Land­scape For Funds & Stocks


Charts Source: New Con­structs, LLC and com­pany filings
The 821 Large-Cap-Value funds are all very dif­fer­ent . Per Fig­ure 2, the num­ber of hold­ing varies widely (from 14 to 1372), which cre­ates dras­ti­cally dif­fer­ent invest­ment impli­ca­tions and rat­ings. Review my full list of rat­ings along with free reports on all 821 funds.
How do investors pick the right fund out of the sea of choices that will deliver the best returns?
Fig­ure 2: Funds with Most & Least Hold­ings - Top 5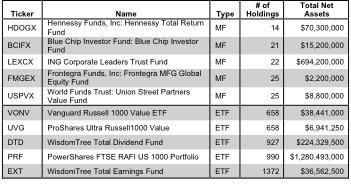 To iden­tify the best funds within a given cat­e­gory, investors need a pre­dic­tive rat­ing based on analy­sis of the under­ly­ing qual­ity of stocks in each fund. See Figure 3.
My pre­dic­tive fund rat­ings are based on aggre­gat­ing our stock rat­ings on each of the fund's hold­ings and all of the fund's expenses. Investors should not rely on backward-looking research of past per­for­mance for invest­ment decisions.
Fig­ure 3 shows the five best and worst-rated funds for the style. The worst funds allo­cate a sub­stan­tial amount of value to poor qual­ity hold­ings (Dangerous-or-worse-rated stocks) and have high total annual costs.
Fig­ure 3: Funds with the Best & Worst Rat­ings - Top 5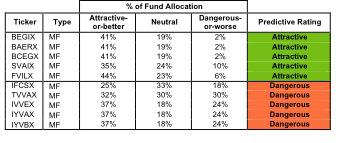 * MF des­ig­nates Mutual Funds and ETF des­ig­nates Exchange-Traded Funds
My top-rated Large-Cap-Value fund is Ster­ling Cap­i­tal Funds: Ster­ling Cap­i­tal Equity Income Fund (MUTF:BEGIX), which gets my Attrac­tive rat­ing. One of its largest hold­ings and part of the 41% it allo­cates to Attractive-or-better stocks is Bax­ter Inter­na­tional (NYSE:BAX), which gets my Very Attrac­tive rat­ing. I am bull­ish on the healthcare sec­tor and BAX is one of the best stocks in that sec­tor. The com­pany earns a top-quintile ROIC of 15% on over $16 bil­lion of invested cap­i­tal. Not once since 1998, which is far back as my model goes, has the company's ROIC been below its cost of cap­i­tal. Dur­ing the same period, the company's eco­nomic earn­ings have improved from $45 mil­lion to over $1.4 bil­lion, a 3000% increase.
The cur­rent stock price is bet­ting against the company's value cre­ation track record. At ~$57/share, the cur­rent val­u­a­tion of the stock implies the company's after-tax cash flow (NOPAT) will per­ma­nently decline by 9%. Assum­ing no future profit growth, this stock is worth over $62. Very attrac­tive risk/reward here.
My worst-rated of these funds is Ivy Funds: Ivy Value Fund (MUTF:IYVBX), which gets my Dan­ger­ous rat­ing. One of its largest hold­ings and part of the 24% it allo­cates Dangerous-or-worse stocks is Wells Fargo (NYSE:WFC), which gets my Very Dan­ger­ous rat­ing. I am bear­ish on the Finan­cial sec­tor and WFC is one of the worst stocks in that sec­tor. As detailed in prior arti­cles, the big banks are not above mon­key­ing with their account­ing to ensure they meet earn­ings expec­ta­tions even if it means sac­ri­fic­ing cash flows. For 2010, WFC reported pos­i­tive and ris­ing account­ing earn­ings while eco­nomic earn­ings were neg­a­tive and declin­ing. I will not know if that trend con­tin­ues for 2011 until the com­pany releases its 2011 10-K, the only place you will find a com­plete ver­sion of the Notes to the Finan­cial State­ments. Until I ana­lyze the foot­notes, I will not know if WFC bled its loan loss reserves to boost earn­ings by $1.5 bil­lion as it did last year or added to its $6.3 bil­lion in off-balance sheet debt from last year. Without read­ing the foot­notes, investors can­not gain a clear pic­ture of the finan­cials of a com­pany. And when I do that for WFC, the pic­ture is not pretty.
In con­trast, the cur­rent val­u­a­tion of the stock fore­casts a beau­ti­ful out­look for the company's cash flow. At ~$30.50/share, the stock price implies the com­pany will grow its prof­its at 13% com­pounded annu­ally for 10 years. That is a high hur­dle for man­age­ment to clear espe­cially con­sid­er­ing their track record and the unfriendly reg­u­la­tory envi­ron­ment they face.
Investors need to tread care­fully when con­sid­er­ing Large-Cap-Value funds, as 98% are not worth buy­ing. Only 17 of the 821 funds allo­cate enough value to Attractive-or-better-rated stocks to earn an Attrac­tive rat­ing. Fig­ure 4 shows the rat­ing land­scape of all large cap value ETFs and mutual funds.
Our style roadmap report ranks all styles and high­lights those that offer the best investments.
Fig­ure 4: Sep­a­rat­ing the Best Funds From the Worst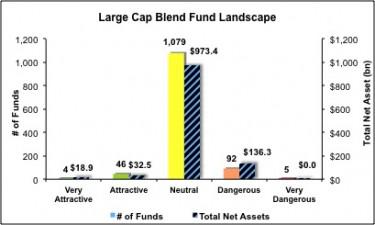 Fig­ure 5 lists our Pre­dic­tive Fund Rat­ing for the 5 largest and most pop­u­lar large cap value funds.
Fig­ure 5: Five Largest Large Cap Value Funds


* MF des­ig­nates Mutual Funds and ETF des­ig­nates Exchange-Traded Funds
* Analy­sis uses the top-ranked class for each fund
Disclosure: I have no positions in any stocks mentioned, and no plans to initiate any positions within the next 72 hours.