Trading in Gilead Sciences (NASDAQ:GILD) remains quite active as the share price continues to gyrate in a rather unpredictable fashion. The recent share price plunge came as a result of the approval of Merck's (NYSE:MRK) competing product into the marketplace as detailed in a recent post seen here. The article below will serve as an update to my fair value model on GILD based on recent management guidance.
Key Takeaways from the Analyst Call
The Hepatitis C franchise (HCV) remains the key area of focus for the company over the short term. The general fear in the market/analyst community is we have seen peak HCV sales and will see a rapid decline due to the curative nature of the therapy. The following quote helps to dispel the fear:
Paul R. Carter - Executive Vice President, Commercial Operations

There are a number of variables to consider when thinking about HCV patient numbers and revenues for 2016. Patient starts in the U.S. will likely be similar to 2015 levels, both observed in the second half and extrapolated for the full year, while the Europe numbers will continue to grow as early launch markets stabilize and new markets ramp up treatment. In Japan, patient numbers are difficult to predict because launches are still in the early stages, and to some extent, we are likely seeing the impact of warehoused patients. In the rest of the world, we're excited to reach new patients in several new markets, notably in Asia-Pacific and in Latin America.
Certainly no cause for alarm although the fear of peak sales will linger for a while. The peak sales theorem is due to "the warehousing of patients," similar to what is being experienced in the Japanese marketplace. The next question revolves around the sustainability of the treatable patient population. The vast majority of therapies are intended for chronic use setting up a steady "annuity-like" revenue stream as long as the patent is active and enforceable. In many ways, the patent grants the drug manufacturer a quasi-monopoly status especially if the competing therapies are deemed inferior. The following quote speaks to the sustainability of the treatable US population.
John F. Milligan - President and Chief Operating Officer We still see about 30,000 patients coming into care every month. So that's been an interesting metric for us, because more patients are coming into care than are being treated. We don't know how many are newly diagnosed and how many are coming out of the bucket of diagnosed patients. But it is interesting to note that our most recent data still suggests there's about 1.5 million patients diagnosed in America, which means that - and that was about 1.6 million when we launched Sovaldi. So that implies that there has been a refilling of that bucket, a replenishment, if you will.
GILD also mentioned they believe there is a total of 3 million patients that are infected with HCV in the US. The marketplace will remain robust for the next five years, at least, showering GILD with a windfall of cash.
Guidance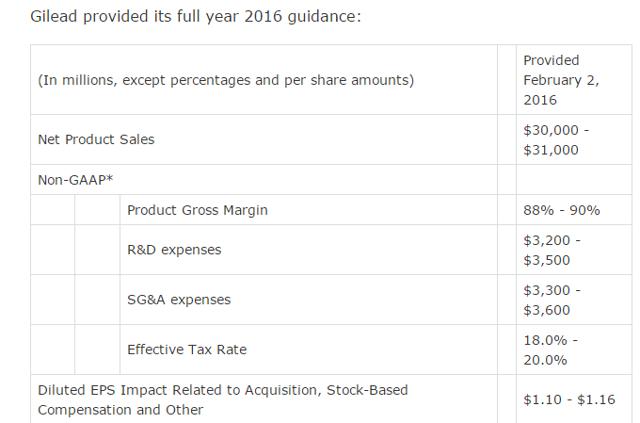 GILD reported total revenue for 2016 of over $32 billion. The initial 2016 shown above anticipates a drop in income for 2016. To provide some context to GILD initial revenue estimates, I would like to draw the audience's attention to the initial guidance for 2015 issued in February of 2015.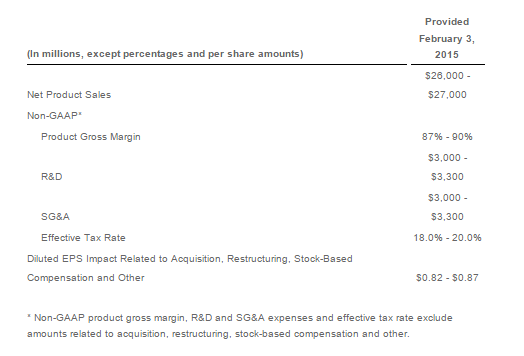 GILD somehow managed to generate over $5 billion in additional revenue than initial forecasts. I would like to caution against getting too excited about their preliminary revenue guidance. GILD thus far has an uncanny knack of beating revenue projections.
I have lowered my fair value target on GILD to $132 per share. Just to touch on a few points from the DCF shown above. For 2016 revenue, the low end of management guidance was used, I suspect the number will be revised higher as the year progresses. GILD EBITDA margin noticeably expanded in 2015, and my initial estimates was far too low. To compensate for the perceived lack of revenue growth, the GILD exit multiple was lowered to 10, hence the reduced price target.
Share Repurchase Plan Coupled With a Dividend Hike
GILD has approximately $20 billion remaining in its share repurchase plan, a hefty amount. Using the company's current market cap of $123 billion, the repurchase authorization equates to a share count reduction of over 15%. While I applaud the move to return capital to investors, the share repurchase plan does not impact the fair value model shown above. The model is based on continued revenue and EBITDA growth - share repurchases do not have an effect here. The main effect here is to offer some support for the share price - the equity market remains very turbulent here. It is essential for the company to develop new lines of treatment to diversify and grow the top line. The move to purchase an equity stake in Galapagos (NASDAQ:GLPG) is a step in the right direction. I anticipate further deals will unfold over the course of the next 18 months.
Conclusion
GILD remains a compelling choice for the long term investor. The revenue stream from the HCV marketplace remains firm with newly approved HIV products that should contribute additional top line growth. The share price remains under pressure along with the market as a whole. I plan on allowing the dividend to reinvest while patiently riding out the recent downturn. I would like to thank you for reading and I look forward to your comments.
Investors are always reminded that before making any investment, you should do your own proper due diligence on any name directly or indirectly mentioned in this article. Investors should also consider seeking advice from a broker or financial adviser before making any investment decisions. Any material in this article should be considered general information, and not relied on as a formal investment recommendation.
Disclosure: I am/we are long GILD.
I wrote this article myself, and it expresses my own opinions. I am not receiving compensation for it (other than from Seeking Alpha). I have no business relationship with any company whose stock is mentioned in this article.