Under Armour's (NYSE:UA) revenue growth in the last ten years is mind-boggling, as anyone even remotely interested in the company knows. They went from $281 million in 2005 to $3.08 billion in 2014, a tenfold jump in ten years. Year after year the company has returned double digit growth rates, with sales growing by more than 20% in all but two years. In 2016, the company is targeting 23% growth rate. Considering their past performance it will be tough to bet against the company's outlook for the year.
Some argue that as a company grows bigger, it gets harder to show the same kind of exponential growth it did when it was still a fledgling. While that's generally true, in the case of UA I'd have to disagree. This past quarter everyone was worried about the warm winter and what it would do to UA's cold weather gear sales, but when UA posted strong numbers, the stock popped and investors have once again affirmed their faith in CEO Kevin Plank and his team.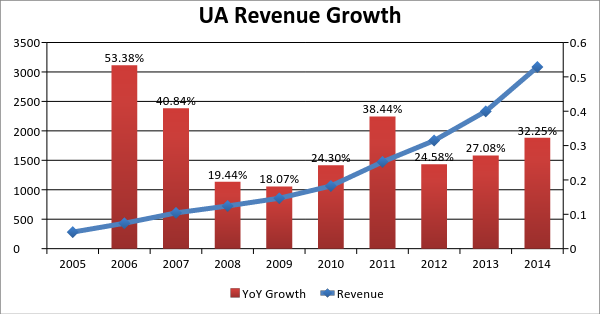 What's Going On With Stock Prices?
The big question on every UA investor's mind is "when will the limitations of exponential growth finally catch up with them?" After all, doubling $3 billion isn't the same as doubling $280 million, right? So, logically, growth should be slowing down already. Well, it isn't. So what's going on?
I have a different perspective on it. In my previous article on Under Armour, I covered their historical performance in detail. In that article I noted specifically that the drop in share price was merely a correction phase that would soon break. That's exactly what happened! When Q4 2015 results were out, the stock immediately popped back up to where it was around the second week of December - at about $85. As of writing this article it stands at the $80 mark and seems to be showing some signs of stability.
Business Case for Growth
I believe that further stability - and, indeed, a more consistent upward trend - will come from consistent growth. For 2016 UA has set a target of 23% revenue growth. Now, if they maintain even a 20% YOY growth, this is what their revenues will look like by 2020:

Even at that conservative growth rate, it will only take them up to $7.6 billion. While $8 billion by 2018 sounds far more aggressive, it still falls within the bounds of realistic expectations.
Let's look at it from another perspective.
Their direct and largest competitor, Nike (NYSE:NKE), is already at $30 billion and intends to take it up to $50 billion by 2020. Admittedly, NKE enjoys ten times the revenue of UA, but if they can realistically increase that by 66% in the next 5 years, why does everyone hem and haw when UA says it's going to take its revenue from $3 billion to $8 billion in the next three years?
They've already doubled in the past ten years, and they have far greater experience now and several successful products that are spearheading their growth. One such is wearable tech, which it markets under brand name UA Healthbox. Their connected tech line of wearable products now has a new ambassador - actor, producer and former WWE Champion Dwayne "The Rock" Johnson, who joins a star-studded group that includes Michael Phelps, Stephen Curry, Tom Brady, Cam Newton and several others.
In addition, footwear and international sales are two areas where there's ample opportunity for growth.
Footwear posted 95% increase in revenues for 2015, and now represents around 17% of total revenues. China also showed strong growth to the tune of 70% in the past year.
Both these segments have a relatively small base, so they're able to grow aggressively, and I see high two-digit growth in both areas to be a very realistic scenario for 2016 and beyond.
Based on these historical figures, I also see 20%+ growth Y-o-Y as an achievable goal over the next five-year period.
Outlook Provided by UA
2016 net revenues of approximately $4.95 billion, representing growth of 25% over 2015 and 2016 operating income of approximately $503 million, representing growth of 23% over 2015.
Interest expense of approximately $35 million, an effective full year tax rate of approximately 38.5%, and fully diluted weighted average shares outstanding of approximately 223 million for 2016.
By 2018, UA expects International business to be 18% of revenues.
Investor-speak: Don't Miss the Forest for the Trees
To be fair, both companies - UA as well as NKE - have thrown less-than-conservative estimates for growth at their investors over the next 5 years. That has resulted in skepticism across the board. However, both CEOs - Mark Parker at Nike and Kevin Plank at UA - have a firm vision of future performance; and I, for one, believe that a company is only as strong as its leader.
More tangibly, here's where I see the opportunities for UA in 2016 through 2020:
The global footwear market is set to grow by more than 11% from the current $198 billion to $220 billion by 2020.
Just the sports footwear market is currently at $80.5 billion and estimated to hit $87 billion by 2020 - an 8% increase.
The global sports apparel market is estimated to grow from the current $153 billion to over $184 billion during the same time - a growth of more than 20%.
UA is already positioning itself as "athleisure" wear or activewear, which is showing strong signs of trending over the past few years; I believe this will further strengthen their market share in sporting apparel.
UA now has an edge over Nike in terms of wearable technology after their $710-million acquisition of three key companies - MapMyFitness, MyFitnessPal, and Endomondo.
International Business: As of 2014, UA's international business accounted for less than 10% of overall sales or less than $300 million. The company is yet to enter into several key developing markets and has a huge runway here to add to their top line; in addition, China's stock market woes aren't expected to impact Under Armour's performance there.
North America Business has more room to grow: During the recent earnings call, CEO Kevin Plank noted that the company has 11,000 distribution points, while their biggest competitor has more than 24,000 distribution points just in North America.
Margin Expansion possibility: UA has only eight products priced above $100, while Nike has many products priced well above 150$. As UA adds more products at the premium positioning, their margins will steadily improve.
I believe UA is still very far from achieving the kind of critical mass that would force it into a performance plateau. There is untapped potential in nearly every segment of their business, and a strong business vision to get those gaps filled - ousting their rivals in the process.
Adidas (OTCQX:ADDYY) has already been subject to such treatment from UA when the latter usurped the former's Number 2 position in the U.S. sportswear market in 2015.
In the same year UA posted their first billion-dollar quarter, and they also showed significant growth in the Direct-to-Consumer and online retail segments in the past two years.
I believe all these factors played their unique roles in UA's success so far, and will significantly feature in future growth as well.
For investors looking to add UA to their portfolios or add to their position, I would recommend adding it gradually over the next two years as price corrections present themselves.
That opportunity came in January 2016, and my opinion is that it will rear its golden head every few months. With aggressive estimates come the possibility of missing those estimates by a sliver; and the way the market has been reacting to even the slightest negative deviation from expectations, those opportunities to buy in to UA are almost guaranteed.
To see more of my articles on companies in the consumer goods, retail, logistics and automobile industries, please visit my profile page.
Disclosure: I/we have no positions in any stocks mentioned, and no plans to initiate any positions within the next 72 hours.
I wrote this article myself, and it expresses my own opinions. I am not receiving compensation for it (other than from Seeking Alpha). I have no business relationship with any company whose stock is mentioned in this article.
Editor's Note: This article discusses one or more securities that do not trade on a major U.S. exchange. Please be aware of the risks associated with these stocks.