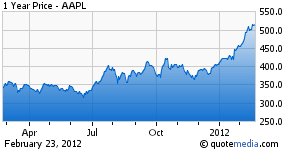 Apple (NASDAQ:AAPL) shares are trading near all-time highs. The total market capitalization is almost $500 billion. Despite the fact that the company is the world's largest firm by market capitalization, Apple stock is grossly undervalued. The company has approximately $100 billion in cash and equivalents and is expected to grow at an annual rate of 20% during the next five years. This implies a PEG ratio of 0.6. Excluding cash, the stock trades at 8.4 times FY 2013 earnings. Compare that to Netflix (NASDAQ:NFLX) and Citrix System (NASDAQ:CTXS) trading at 47 times and 21 times 2013 earnings, respectively with a projected long term growth rate of 18%. By every metric, AAPL shares appear cheap. If only the market would realize the insanity that is the current valuation of AAPL.
There are several things the company can do to correct the mis-pricing of its stock price. For starters, the company can return part of the $97 billion cash reserves to its shareholders, which will help in increasing the share price. Mr. Tim Cook, CEO of Apple, recently said at a conference that the company was internally discussing the best use of its cash. He said "I would be the first to admit the company had more cash than we need to run the daily business. So we're actively discussing it. I only ask for a bit of patience, so we can do it in a way that's best for the shareholders."
Apple will host its annual shareholder meeting on February 23, 2012. Some investors are hoping that the company will announce its maiden dividend. Although the dividend will be helpful in boosting the share price, I do not believe that it would be a good use of the company's cash. While I am a strong proponent of issuing dividends as a way to return cash to its rightful owners, in the case of AAPL, I would recommend the management to instead introduce a share repurchase program.
I have time again argued against share repurchase programs at companies such as Cisco (NASDAQ:CSCO) as they have largely been a failure. However, as I have demonstrated in recent articles, the fair value of AAPL ranges from $677 to $773 a share. Therefore, it makes more sense to buy back the stock as opposed to issuing a dividend as the investment could potentially lead to a return of 35% to 55%. Additionally, it will be the company's way of conveying to Wall Street that it believes the firm's shares are grossly undervalued. This is exactly the strategy adopted by Warren Buffett when Berkshire Hathaway (NYSE:BRK.A) announced that it may repurchase some of its Class A and/or Class B shares if the shares were trading at reasonable levels (up to 10% above book value). Not surprisingly, shares spiked on the news.
Apple currently has approximately $35 billion in U.S. cash reserves. The company could easily return $15 billion to its shareholders using share buybacks. The company could also issue debt at these incredibly low interest rates and use the proceeds for the share repurchase program. At the completion of this buyback program, the number of shares outstanding would have fallen from the projected 946 million to 916 million in 2013 (assuming average stock buyback price of $525 a share). The 2013 EPS would increase to $49. Assuming minor expansion of its P/E multiple from 14.3 to 15.3, the stock price could potentially jump from $500 a share to $750 a share implying a return of 50%.
In addition to the stock repurchase program, it is high time the company splits its stock. I recommend a 10:1 split. If you ask the average investor about AAPL stock, the common reply you hear is that the stock is overvalued (as I figured out in a very unscientific survey of some of my buddies). The most common reason they cite for their opinion is the fact that AAPL trades upwards of $500. Most people have no idea about AAPL's growth rates and the multiples at which the stock trades. They are just fixated with the share price.
Apple has, in the past, split its stock. The last split was a 2 for 1 split in February 2005. So splitting the stock is nothing new for the company. Now is as good a time as any to split the stock. Although technically a stock split should have no impact on the company valuation, small investors are more likely to buy a stock at $50 a share than at $500 a share. It would bring it new investors and help expand the multiple. Stock splits have been in existence for a long time now and have proven to be quite effective when used appropriately. Just in 2010 Baidu (NASDAQ:BIDU) had a 10:1 split when the stock was trading upwards of $700 a share. The stock has more than doubled since the split.
By employing a combination of share buybacks and stock splits, I predict that AAPL would trade on par with its average fair value of $725 a share.
Disclosure: I am long CSCO.