Johnson & Johnson (NYSE:JNJ) is down 3.50% today as of this writing. While 3.50% might not sound like a lot for most stocks, it is unusual for JNJ with no specific news concerning it. Is the stock over-valued? Maybe, depending on the person you ask and the metrics used. But we just bought more shares this morning using this pullback.
This article presents the thought process we used before adding more to this existing position. Let us get into the details.
More Bang For The Buck: This is the simplest but most important reason most people buy stocks like JNJ. Income. With the stock down 3.50%, the current yield is approaching the 3% mark. Before you laugh at the 3.00% yield, keep in mind the average yield has been 3.06% over the last five years.
Stocks like Coca-Cola (NYSE:KO) and JNJ have had a yield level of around 3% for many years. If you graze the headlines, you'd not look at them as good investments. But if you dive just a little deeper, why do these stocks always stay at the 3% yield level in spite of 50 plus years of dividend increases? The answer is simple: increasing dividends tend to increase the floor price of the shares, as long as the company's business is growing at a reasonable pace.

Click to enlarge
Source: YCharts.com
Upcoming Dividend Increase: JNJ goes ex-dividend on February 19th for its quarterly dividend of 75 cents. That would mark four consecutive payments of 75 cents each and that means only one thing for dividend investors in general and JNJ investors in particular. The company is about to extend its streak of 53 consecutive increases. Going by the recent trend, a 6% to 7% increase looks likely and that would put the new quarterly dividend at around 80 cents per share. That would give an annual yield of 3.20% based on the current share price. The 3.20% level has not been seen in the last three years as shown in the chart above.
Flight To Safety: Dow Jones is down 6% YTD. S&P is down 7.40%. Nasdaq is down almost 12%. JNJ is down 'only' 2.20% and only two stocks out of the 30 in the Dow Index have outdone it. One of them happens to be the stock referenced above, Coca-Cola. And the other is another traditional name, McDonald's (NYSE:MCD). If the current trend continues in the market, expect stocks like JNJ to get more favor from individual investors and funds alike. They may not go up fast but they offer the protection needed during downturns.
Cash Flow: All the discussions about current and projected income will be of little use if the company does not generate sufficient cash flow quarter after quarter. To be honest, we don't keep up with every quarterly earnings report of every single stock that we own, unless something stands out. The stock falling 3.50% made us wonder if something was odd in the recent earnings. Net income and EPS showed improvements while revenues took a hit generally, with Forex having an impact.
To determine a company's ability to maintain and increase dividends, we prefer looking at a company's free cash flow from operations instead of earnings per share. Earnings in a quarter could be impacted by rare events and charges that are unlikely to recur. Here are some quick numbers.
JNJ has about 2.7 billion shares outstanding.
Using the "guesstimated" new dividend of 80 cents per share/qtr, JNJ needs $2.16 billion in quarterly free cash flow to cover its dividend payments.
JNJ had just one quarter in the last five years where this number wasn't met as can be seen here. Think about it. Just one quarter out of 20 in the last five years where the company did not generate sufficient cash flow to meet the "projected" dividend requirement. The average free cash flow over the past five years stands at $3.4 billion per quarter. This is a good 57% higher than the $2.16 billion needed to cover the projected dividend payments.
The reason we highlighted the word projected is to drive home the fact that JNJ did indeed have enough free cash flow even in that one quarter, March 2013, to meet its then dividend commitment of $1.6 billion. That is, the company was paying 61 cents per share in dividends at that time and had around 2.7 billion shares. Multiplying the two numbers, we get $1.647 billion. The March 2013 quarter generated $1.69 billion. Do you think it is just coincidence that JNJ's lowest free cash flow matched its then dividend commitment? We see it as planning.
If the numbers confused you, don't worry. Here is the text-based explanation. JNJ's dividend increases have always been backed by strong cash flow.
Forward Thoughts:
While JNJ is perhaps one of the few stocks in the market that you can purchase solely based on its past, we are optimistic about its future as well for two reasons: 1) It's pedigree and 2) The nature of its business.
While most people see JNJ as a pharmaceutical company, we believe most long-term investors and analysts recognize the company as a more balanced entity consisting of various divisions like consumer and medical devices. However, we believe JNJ is even more diversified beyond that (uncommon) view.
As shown below, JNJ has seven different major components that each contribute anywhere between 10% and 18% to the company's net income in a typical year. This has to be one of the most balanced businesses out there. As a fair comparison, other big pharmaceutical names have one or at best two divisions or components that contribute to their income.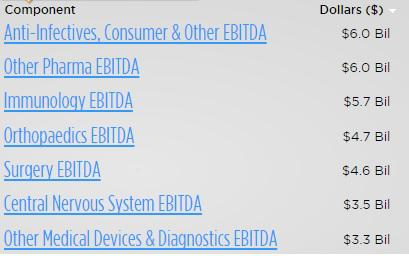 Source: Trefis.com
With population explosion, drug sales continue to improve as seen in the recent earnings report. Let us not forget the aging population of the developed countries and their need for chronic conditions. People living longer has its own merits and demerits for the planet in general but companies like JNJ laugh all the way to the bank.
While the company is always on the lookout for growth, it also has a laser focus on cutting costs and improving productivity. This particular move to eliminate 3,000 jobs in the medical divisions unit is likely to save the $1 billion over the next two years. As sad it is for the employees, it is what managing a business is all about.
Conclusion: While JNJ is prone to loss of patents, R&D setbacks, Forex issues, and other usual adverse events, we remain long-term bulls of this stock. We will be adding to our positions whenever two major (but sadly, rare) events align: a pullback and sufficient cash position. Thank god for the stars today!
Disclosure: I am/we are long JNJ, KO.
I wrote this article myself, and it expresses my own opinions. I am not receiving compensation for it (other than from Seeking Alpha). I have no business relationship with any company whose stock is mentioned in this article.