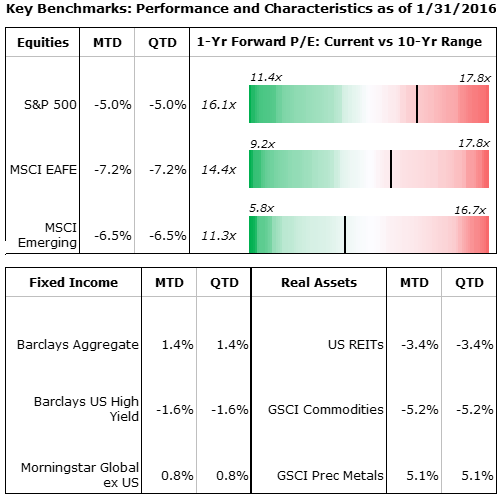 It's a Macro-Driven World…
…and I am living in macro-driven whirl (with apologies to Madonna).
In our 2015 Year-End Market Commentary, we stated that the same forces that drove 2015 market volatility, namely China, commodity prices, and the Fed, will likely drive market volatility in 2016. Little did we suspect the perfect storm of all three forces would concentrate themselves in January resulting in a market sell-off that began with: 1) continued concerns over a China devaluation and mismanaged market regulation; 2) an oil price collapse to below $30/barrel; and 3) a Fed that left the door open for a March rate hike despite clear evidence of a slowing U.S. economy and tightening financial conditions. Thankfully, the European Central Bank (ECB) and Bank of Japan (BOJ) followed through on prior commitments of further quantitative easing to stem off a global economic slowdown. Towards the end of January, MSCI All-Country World Index (NASDAQ:ACWI) dropped 10.5% before recovering to end the month down 6% (Exhibit 1a and 1b) following the ECB's telegraphing of further quantitative easing at the March meeting and a surprise rate drop to negative territory set by the BOJ.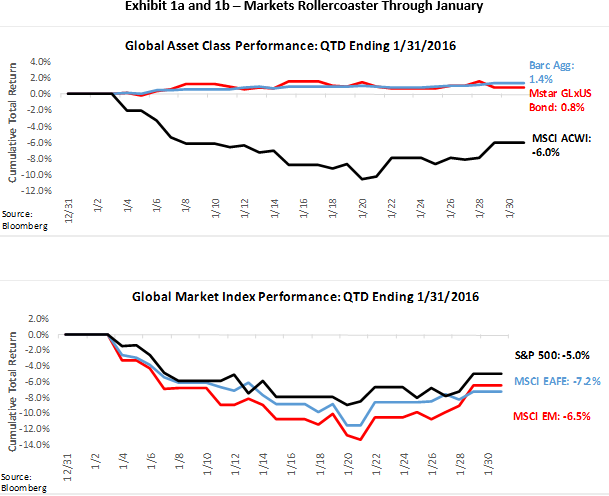 Eventually, these forces will wane as more of the 'unknown' becomes 'known' and discounted into the market; however, we've been operating in a macro-driven world since the 2008 financial crisis. It used to be that stock-specific risk, or company fundamentals, drove single stock volatility, but such is not the case today as evidenced by this month's singular correlation of world market volatility to oil price movements. The world seems gripped by deflationary forces that world central bank policies have not been able to vanquish; there is now a risk that the Fed will have to back off on their push towards rate normalization. In today's environment (and, most likely, the immediate future), if it's not China, oil, and/or the Fed, it will be some other macro force driving risk asset volatility until the world loosens itself from this deflationary grip that has driven developed bond market yields to near zero levels.
January's sell-off has certainly resulted in more attractive valuations (Exhibit 2) for global equities with the S&P 500 trading at 16.1x forward earnings (Bloomberg estimates), MSCI EAFE at 14.4x, and MSCI Emerging Markets at 11.3x, compared to 17.4x, 15.6x, and 13.2x, respectively, at the beginning of the month. Long-term bullish investors now have the opportunity to invest more capital at more attractive levels now that the market has traded off its 10-year highs (for those interested in the long-term bullish perspectives, we recommend reading these ETF.com articles: an interview with David Swedroe and an article published by Jeremy Siegel).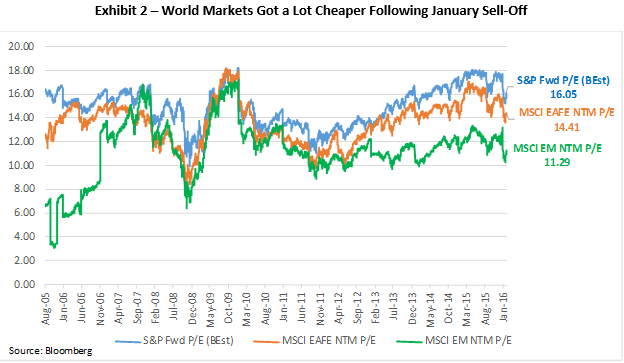 Regardless of how stock markets are behaving, the bond market is sending a clear message that the world is facing a deflationary slowdown that will weigh on near-term economic growth. The U.S. 10-year broke 2% to end the month at 1.93%, down from 2.27% at the beginning of the month. One of the Fed's favorite barometer for long-term inflation expectations, the 5-Year/5-Year Breakeven (TIPs vs. Nominal Treasuries) Rate plunged to 1.64% from 1.81% last month (Exhibit 3). This particular indicator has been steadily dropping ever since the Fed hike rates by 0.25% back in December and remains well below the 2% preferred target world central banks believe indicate normalization. With oil prices having dropped to $26/barrel before recovering to $33/barrel, stress continues to build up in the credit markets with the Barclays U.S. high yield spread ending at 7.25%, up from 6.47% last month.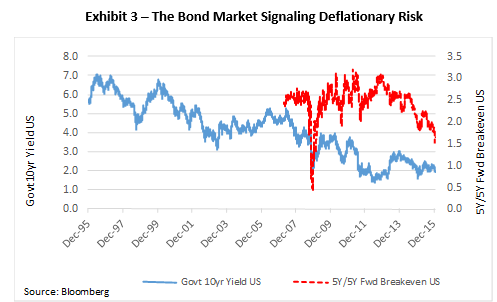 The U.S. macro environment continues to exhibit a slowdown with some economists forecasting a possible recession in 2016. U.S. industrial and business sentiment has clearly been impacted by both China slowdown and the drop in the commodity complex (Exhibit 4a and 4b).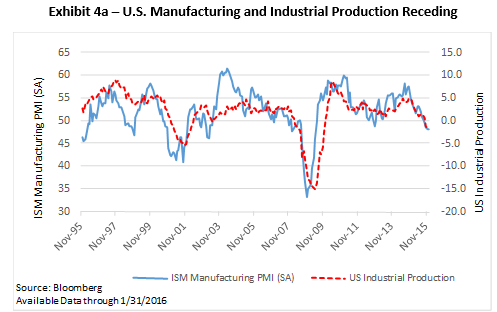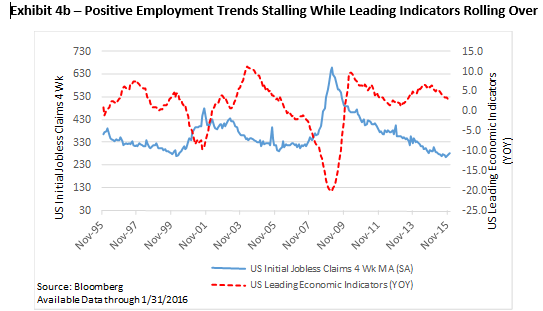 The risk is that the Fed views this deflationary backdrop as temporary as J.P. Morgan Chase economist Michael Feroli noted, "the Fed has rarely punted on its risk assessment." The Fed can point to rising wage at the lower end as potentially building inflationary pressures that would warrant the current rate hike trajectory (four rate hikes this year based on the December 2015 statement). However, the market only assigns a 14% probability of a rate hike in March and perhaps just one rate hike later this year. The Fed and the bond market are at loggerheads, and the market is telling the Fed that the Fed is wrong in its current risk and inflationary outlook. As Jeremy Siegel noted in the article referenced above, the Fed has sought to normalize rates every year since the global financial crisis but has had to back off every time because macro conditions would not warrant such a rate normalization. Could this time be different? The Fed remains the wildcard but prior history would seem to suggest that the Fed would conform to market expectations on 2016 rate path trajectory.
January Performance - Flight to Safety
January's internal market dynamics clearly showed a flight to safety as evidenced by U.S. sector performance (Exhibit 5). Financials were one of the hardest hit sectors as investors became concerned over mounting energy-related credit losses and whether the banking system can effectively absorb expected defaults without the need for external capital injections. The energy sector actually held up but the sector is dominated more by the global integrated producers [Exxon (NYSE:XOM), Chevron (NYSE:CVX)] whose balance sheets can largely absorb oil price pressures.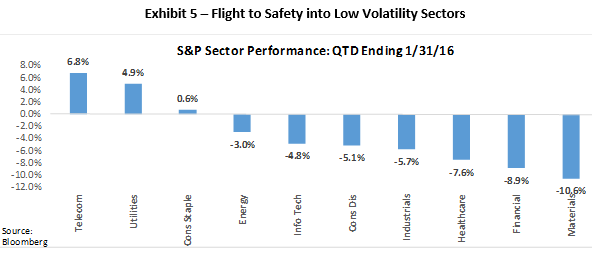 U.S. investment grade bonds remain the preferred asset class as Barclays U.S. Aggregate held steady through the month (Exhibit 6). U.S. high yield was down as much as 4% before recovering to -1.6%.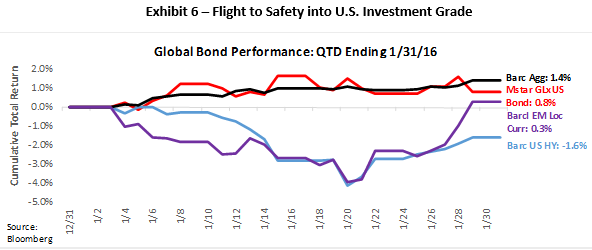 The U.S. retained its leadership as it outperformed all other major regions, partly due to the stronger US dollar (Exhibit 7a and 7b).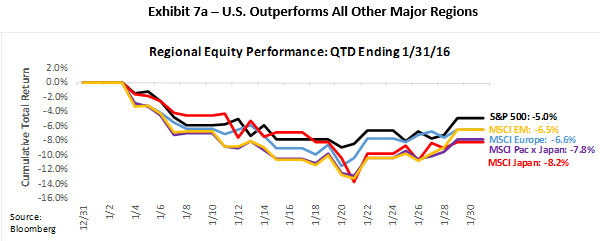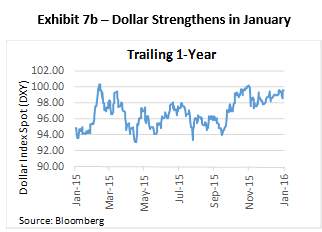 The flight to safety trade made its way into precious metals as they became the standout performer at 5% for the month (Exhibit 8). REITs were down but less than the market demonstrating their diversification from equity risk.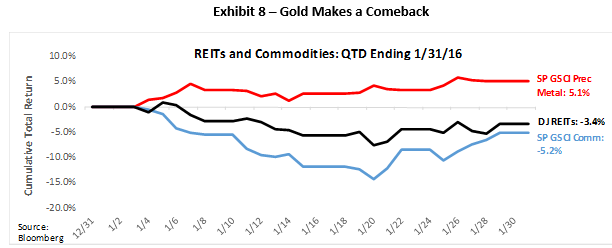 Finally, the flight-to-safety was evidenced in U.S. factor performance (Exhibit 9) although High Quality struggled versus the other factors (likely due to the sell-off in health care).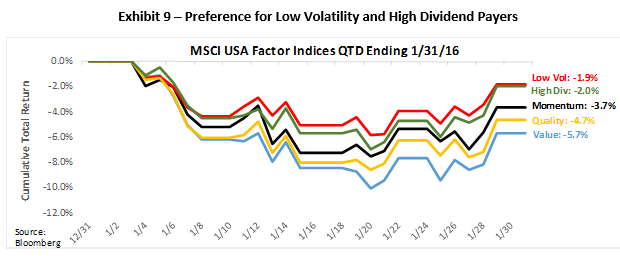 Final Thoughts as We Trek into an Uncertain Environment
In an uncertain environment such as this, global diversification remains critical as it seems global market performance is increasingly driven by central bank policy pronouncements in the face of uncertain fundamentals.
Disclosure: I/we have no positions in any stocks mentioned, and no plans to initiate any positions within the next 72 hours.
I wrote this article myself, and it expresses my own opinions. I am not receiving compensation for it. I have no business relationship with any company whose stock is mentioned in this article.
Additional disclosure: Unless specified otherwise, all performance and market data are sourced from Bloomberg. For all indices, performance reflects total returns which is change in price plus reinvested dividends, if any. MSCI index total returns are shown net of dividend withholding taxes. More detail regarding 3D Asset Management, its products, services, personnel, fees and investment methodologies are available in the firm's Form ADV Part 2 which is available upon request by calling (860) 291-1998, option 2 or emailing sales@3dadvisor.com or visiting 3D's website at www.3dadvisor.com. The above commentary is for general information purposes only and is not investment advice. The information provided above is obtained from sources believed to be reliable but is not guaranteed as to accuracy or completeness. The above is neither an offer to sell nor a solicitation to buy and fund or exchange traded product. 3D Asset Management, Inc. is a fee-based investment adviser and is not affiliated with a broker dealer and does not sell or promote funds or ETFs. 3D is also not affiliated with any ETF or fund manager and is free to select any funds or ETFs for use in it managed portfolios or other products. None of the investment vehicles discussed in this publication are guaranteed in any way and past performance may not be indicative of any future performance. There are risks associated with investing including possible loss of principal. Fund's focusing its investments on certain sectors and/or smaller companies increase their vulnerability to any single economic or regulatory development. This may result in greater share price volatility. 3D typically offers its investment management services through other investment advisors or investment advisor representatives ("IAR") rather than directly to the individual investor. This advisor or IAR should be relied on by the investor to describe more fully the features and risks of investment planning or investment management strategies and how they may apply to the individual investor considering one's investment time horizon, investment goals, planning objectives and risk tolerance.