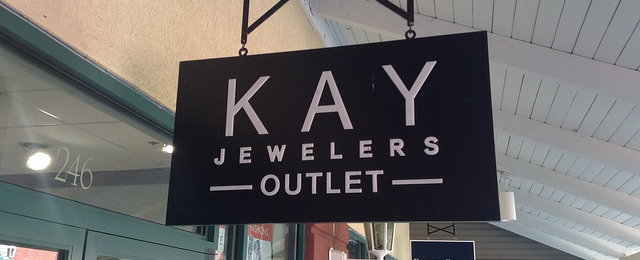 Signet (NYSE:SIG) is one of the world's largest jewelry companies in the world. It holds dominant positions in the US, UK and Canadian markets where the industry is quite significantly fragmented.
I last seriously looked at it back in November. Then it was sailing high at around $145 a share, which was well above my rough fair value.
More unappealing for me was their cash flow profile at that point. Although still very much producing positive FCF (free cash flow), its performance was limp at best.
Since then the share price has plummeted to around $111. Combined with the Q3 2016 results being released since and the FY2016 on the horizon, it seems opportune to run my eye across their cash flow situation to see whether their FCF situation has grown in attractiveness alongside their price.
So let's take a look.
The FCF Rout
If we darted back to 2011, I would have been very happy with what I saw at Signet from a cash flow perspective. Free cash flow was strong. My favoured cash flow efficiency metric, CROIC (cash return on invested capital) showed it sitting at around 13.5%.
This suggested that for every $100 of invested capital (that is, debt and equity) in the business, it produced $13.50 in free cash flow. That was well ahead of my targeted CROIC of 10%. All good so far.
What is more, it was converting a decent looking near 8% of its sales revenue into FCF. Not bad.
But since then, cash flow has dropped precipitously: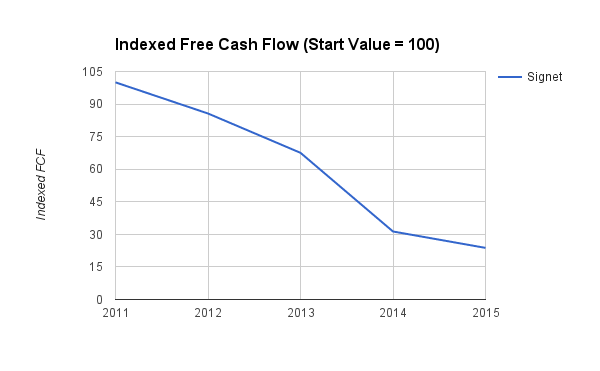 The effect on the FCF/Sales and CROIC metrics were, as you can imagine, predictable: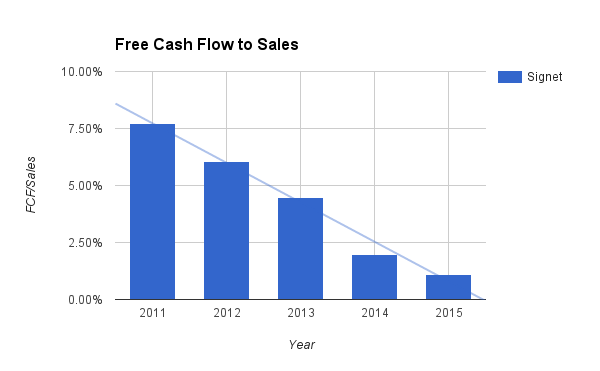 Signet was now returning just 1.1% of its revenue as FCF. A similar result emerged from its CROIC: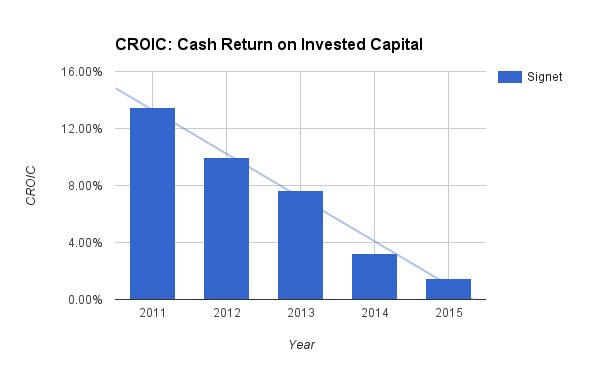 Needless to say, this was precisely the reverse of what I was looking for.
Indeed, as a dividend investor, the situation left what was already a modest dividend yield weakly covered by FCF: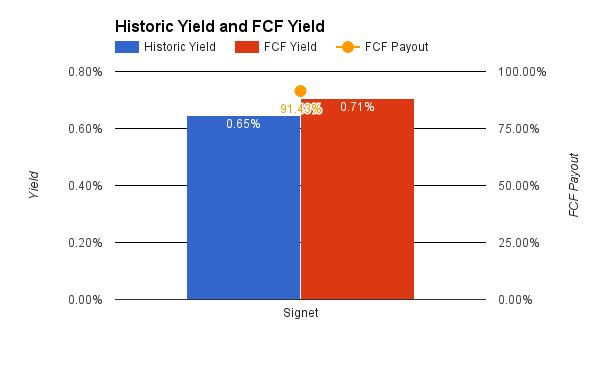 None of this inspired confidence in me regarding the attractiveness of Signet as an investment.
But was I too harsh? Let's take a look.
So Why Such A Drop?
Now, of course, there were reasons for this FCF decline. Over this time, operating cash flow shrank at a CAGR of 2.6% whilst CapEx grew by a CAGR of over 30%. Why such a rapid growth in CapEx?
Put simply, it was chiefly due to significant store openings.
If we look at the "core" consistent brands at Signet (excepting the Zale brands bought in 2014) we can see that there has been notable growth in US stores only modestly contradicted by sizeable shrinking store numbers in the smaller UK segment:
US
UK
Total
Kay
Jared
H. Samuel
Ernest Jones
Stores in 2007
832
135
375
206
1548
Stores in 2011
908
180
338
202
1628
Stores in 2015
1094
253
302
196
1845
Change since 2007
23.95%
46.64%
-24.17%
-5.10%
16.10%
Change since 2011
17.00%
28.85%
-11.92%
-3.06%
11.76%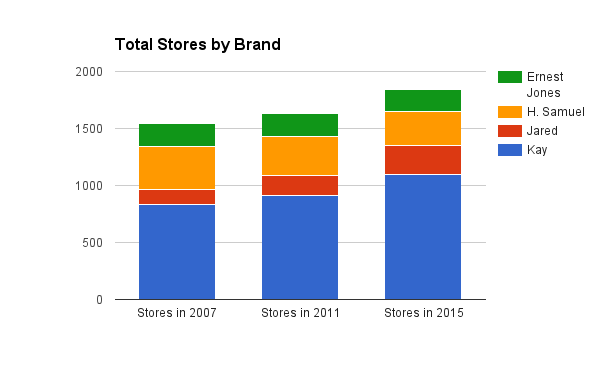 Clearly, opening new stores at such a pace requires hefty CapEx to underpin it. As such, FCF would face fairly hefty pressure downwards from this angle.
Also, the Zale acquisition accelerated this deteriorating FCF situation. In 2013 (the last full year before it was acquired), its FCF/Sales to ratio was a pitifully low 1.5%. Tagging this to the previous Signet business inevitably left FCF sinking lower.
So We Should Keep Away, Right?
Well, perhaps not. Firstly, underlying revenue growth has remained strong over this period, which is encouraging: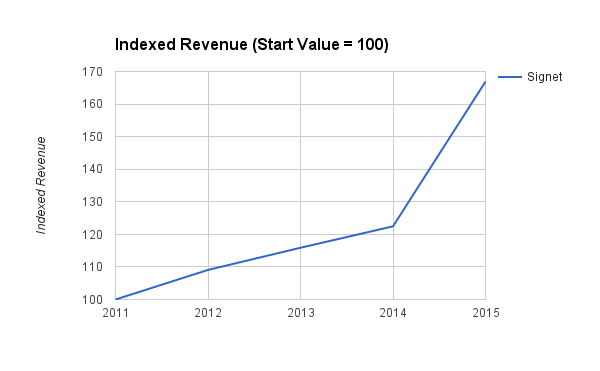 Obviously, since late-2014, these figures were boosted by the Zale acquisition. However, even without this, growth had been healthy.
Nor is this expected to slow down any time soon. Analysts anticipate revenue to grow at a CAGR of nearly 9.5% for the next two years.
Also, there are plenty of opportunities for these low returns to be improved on. Looking at operating margins, it is clear that Zale remains a burden (from the 2015 Annual Report):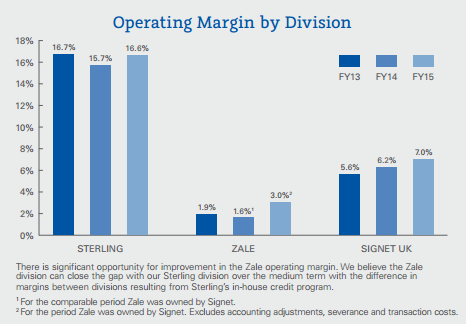 Already Signet has made good progress in edging margins at Zale higher. This I suspect will continue, as they say, over the medium term. This will eventually feed into headline profit and cash flow figures.
But there is more. Note the lower margins produced from the UK operations.
With Signet increasingly pulling stores out of the UK and adding heftily to those in the higher margin US operations over the last few years, I can imagine that the underlying FCF (that is, with new store opening costs stripped out) is improving.
All of this points to a more fertile FCF future than the recent past. Great news.
Q3 Suggests Cash Flow Situation is Improving
Also, encouragingly, in Q3 2016, we had a few indications that the cash flow situation was already (at last) improving.
Certainly, FCF was still negative. However, in Q3 2016, we saw OCF positive at $89 million after two years sitting around the -$20 million mark. CapEx pushed FCF back into negative territory though.
It must be remembered that Q3 has, generally, been a weaker quarter for Signet. Q4 includes the all-important festive season and thus contributes a great deal to the total return for the year.
Indeed, Q4 2015 saw about $310 million in OCF added to the yearly total as well as an additional $55 million in CapEx.
Let's assume the same happens in Q4 2016 to see what the cash flow situation may look like.
If so, we would see OCF around the $399 million mark and CapEx around the $226 million mark. This would provide a FCF figure of $173 million.
This would hopefully see CROIC return to about 3.8 to 4%. Way off their recent highs and my ideal CROIC return. Nonetheless, it would be moving in the right direction and back to levels that I find more attractive.
What is more, assuming revenue figures of about $6.5 billion, this would see FCF/Sales edge a bit higher to around 2.5 to 2.7%. Again, not world-beating, but heading the right way.
Time To Buy Then?
It really depends on your risk appetite. Personally, I would wait for the Q4 results.
The cash flow situation looks to be improving. If you're happy to accept cash flow uncertainty for a while in return for anticipated annualized EPS growth of about 20% over the next couple of years and similar dividend growth of about 16%, then it may be a good time to jump on board.
However, I am planning to wait for the full Q4 results in late-March so I can do a better analysis of exactly how much progress they have made on the cash flow front. Things are looking better. But I'd rather wait to see whether this improving situation is an illusion or not.
This is certainly one to watch. Signet has seen some impressive growth in recent years and its Zale acquisition could serve to supercharge this in the future.
It has plenty of scope to improve cash flow and profit returns as it seeks to focus attention on the higher margin US segment and bring Zale's margins more in line with the previous Signet brands.
If it manages to produce an improved cash flow performance as I predicted above, it would certainly warrant a more in-depth analysis at its current price. Right now, though, I am happy to wait.
Notes
Unless otherwise stated, all graphs and the calculations contained within them were created by the author. Creative Commons image reproduced from Flickr user jeepersmedia.
Disclosure: I/we have no positions in any stocks mentioned, and no plans to initiate any positions within the next 72 hours.
I wrote this article myself, and it expresses my own opinions. I am not receiving compensation for it (other than from Seeking Alpha). I have no business relationship with any company whose stock is mentioned in this article.