In this article, I discuss the implications of Intermap's win, announced on February 5, 2016. I will also discuss the events that could lead to a $2.00 share price, up substantially from today's levels.
On June 22, 2015 Intermap (OTCPK:ITMSF) - a virtually unknown microcap trading at less than 10 cents - announced obtaining a Letter of Award for its Orion Platform. The program was estimated to be valued at an astonishing $175 Million.
If you're like me, you were asking yourself, "Is this for real?" But my investigation, based on industry experts and contacts concluded that the answer was "yes".
Fast forward to February 5, 2016, and we find that the company has followed up its letter of award with a definitive contract. The shares opened 100% higher on the news and currently trades close to 30-cents.
Initially, I wrote an article stating that a 50+ cent share price was immediately justified. The reasoning was that the stock had rarely traded below that level, due to the true economic value of its various assets (which is much higher than the carrying value on its balance sheet). I later wrote that a $2.00 share price was within reach, due to its growing prospects for large government projects.
Some investors were justifiably skeptical. I say "justifiably" because the company has been talking about these deals years. In fact, over 18 months ago Intermap admitted that an award expected in 2013 had moved into 2014. Besides, Intermap's market cap was in the single-digit millions. For a company that size, even I had to admit that "promises of a nine-figure contract is the stuff that pump-and-dumps are made of".
However, my reputation has been built on making research-driven stock picks. The research we collect at Pipeline Data is culled from industry experts, enabling us to present facts, not innuendo, regarding technology trends and speculative situations. For example, in March 2013, I released research stating that shares of Himax (NASDAQ:HIMX) were "poised to triple". This claim was based on expert testimony we obtained, which conclusively determined that Himax was already designed into Google Glass.
A few months later, the relationship was confirmed by Google (NASDAQ:GOOG) (NASDAQ:GOOGL) itself.
Of course, Glass has yet to reach commercial viability. However, for prudent stock investors, that was irrelevant. Wall Street analysts calculate price targets on the basis of probability-weighted future potential. The term "probability-weighted" is the key. When the odds of success increase, so does the stock. Even if the odds of success are only 1%, you can (and should) double your money if the odds increase to 2%.
Ultimately, HIMX quintupled as Wall Street became overly optimistic. I got my readers out when the stock tripled - not because I expected Glass to fail, but because the stock price had become aggressive relative to the odds of success. In other words, it's not about being "right" - it's about paying the right price for the balance of risk and reward. In high risk situations, the risk and reward are both great, but remember one thing: a triple + a bankruptcy = a 50% profit. It's just simple math.
In the case of Intermap, the company has seesawed between both, tripling and going bankrupt.
For several quarters, management has been promising investors that large spatial data infrastructure ("SDI") contracts were on the way. Pending financing, it appears that they've finally delivered on their first one. I say first, because our research has determined that a handful of additional deals are in various stages of discussion, including one that is in it fairly late-stages.
But this is a penny stock. How is this possible?
Actually, it's quite simple. Intermap has been around for nearly 20 years. I've been following it for over six years (and have even been unfortunate enough to own the stock once or twice). Over that span, the company has invested over $150 million developing its unique spatial capabilities. My initial notes from 2009 were as follows:
In fact, after spending $150 million, one has to wonder why the company has "only" been able to muster a single large contract. Remember, the revenue from this deal is slated to be in the nine-figures, but we estimate that the profits will "only" be in the tens of millions. That's not too shabby for a company with a $6 million market cap, but a far cry from recouping $150 million worth of hard work.
Based on prior discussions with management, we have ascertained that the initial implementation phase is expected to carry 50% gross margins. The remainder of the deal consists of a maintenance contract, with an estimated 80% gross margins.
Further, management updated investors and indicated that it already has the infrastructure to support this deal and more. At last check, they estimated that they can support $200 million in annual revenue. It has been supporting this infrastructure (explaining the company's net losses) to show prospective customers that they can immediately deliver on 9-figure projects.
In other words, most of the aforementioned gross margins will drop straight to the net income line (because Intermap holds nearly a quarter billion dollars of tax assets).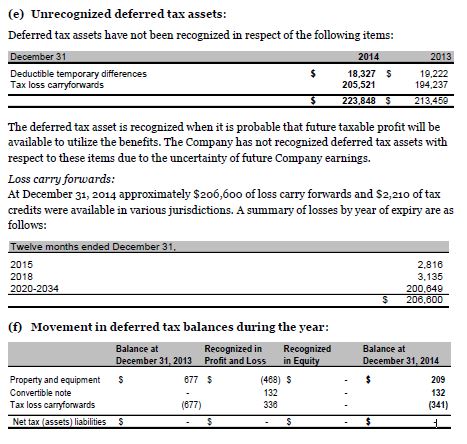 Source: SEDAR
Adding it up, I believe that we are presently able to buy $2.00 worth of assets for a fraction of the price. Of course, Intermap will need to keep winning deals in order to unlock that $2.00 of value… but this $175 million win demonstrates that they are capable of doing so.
Running the numbers, we can see that Intermap has every opportunity to provide a payback. Based on my personal research, along with management commentary on future profit margins, here's my model of what we could see from Intermap over the coming years, assuming that it can close more deals (and that the customers can obtain financing to execute them):
| | | | | | |
| --- | --- | --- | --- | --- | --- |
| ITSMF (USD $000) | 2016 | 2017 | 2018 | 2019 | 2020 |
| Total Revenue | $45,000 | $80,000 | $100,000 | $115,000 | $130,000 |
| Gross Profits | $22,500 | $40,000 | $54,000 | $65,000 | $77,000 |
| Operating Expenses | $22,500 | $24,000 | $26,000 | $25,000 | $25,000 |
| Operating Profit | $ - | $16,000 | $28,000 | $40,000 | $52,000 |
| | | | | | |
| Fully Diluted EPS | $0.00 | $0.12 | $0.20 | $0.29 | $0.37 |
| Fully Taxed | $0.00 | $0.07 | $0.12 | $0.18 | $0.22 |
| | | | | | |
| Stock Valuation | $2.00 | $2.50 | $3.00 | $3.30 | $3.75 |
As you can see, the stock has the potential to rise by more than 10x from current levels.
However, my caveat is important to note. As I've been saying for several quarters, the global economic environment is on shaky ground. If things fall off a cliff, it will surely become more difficult to obtain funding for such deals - even for sovereign nations. This is why it's important to pay special attention to the risk factors presented in Intermap's press release.
Nonetheless, finalizing a contract with a sovereign nation shows that the country is serious. It also shows that Intermap has the ability to execute against such a deal. Netting it all out, there is still tremendous downside risk (upwards of 100%!). However, that risk of 100% loss comes with the potential for 1,000%+ gains from current levels.
Basically, this looks like a ten-bagger or bust. Based on discussions with contacts and the company, I believe that the financing of this deal should come, just as the definitive contract did. If that proves correct, the contents of my financial model (above) will begin playing out. Accordingly, the company should quickly justify a $100 million+ valuation, representing a share price in excess of $1.00.
That being said, investors should always remain mindful of the risks and maintain an appropriately-sized position. Personally, I have been buying additional shares in the open market on this news.
Investors should also keep an eye open for the day when initial funding from this deal hits Intermap's balance sheet. When that happens, we'll know that it's "game on", which will mark a significant decrease in the risk of loss (and a significant increase in the probability of major gains).
Disclosure: I am/we are long ITMSF.
I wrote this article myself, and it expresses my own opinions. I am not receiving compensation for it. I have no business relationship with any company whose stock is mentioned in this article.
Additional disclosure: The information in this article is for informational and illustrative purposes only and should not be regarded as investment advice or as a recommendation regarding any particular security or course of action. The opinions expressed in Pipeline Data, LLC publications are the opinions of Mr. Gomes as of the date of publication, and are subject to change without notice and may not be updated. All investments carry the risk of loss and the investment strategies discussed by Mr. Gomes entail a high level of risk. Any person considering an investment should perform their own research and consult with an investment professional. Additional important disclosures can be found in the Important Disclosures section at PipelineDataLLC.com.
Editor's Note: This article covers one or more stocks trading at less than $1 per share and/or with less than a $100 million market cap. Please be aware of the risks associated with these stocks.