"Mining securities are not the thing for widows and orphans or country clergymen, or unworldly people of any kind to own. But for a businessman, who must take risks in order to make money; who will buy nothing without careful, thorough investigation; and who will not risk more than he is able to lose, there is no other investment in the market today as tempting as mining stock."
- Charles H. Dow (1879)
To buy when others are despondently selling and to sell when others are avidly buying requires the greatest fortitude and pays the greatest ultimate rewards."
- Sir John Templeton - 1958
Introduction
I have written extensively about the overvalued stock market and the undervalued commodity stocks over the past several years. In the investment world, as in life, momentum tends to build, and this is true with both positive and negative momentum.
Amazingly, but not surprisingly from a behavioral market perspective, the most in-favor momentum stocks, including Amazon (NASDAQ:AMZN), Netflix (NASDAQ:NFLX) and Tesla (NASDAQ:TSLA) accelerated their advances over the course of 2015. In striking contrast, the out-of-favor commodity stocks and emerging market stocks accelerated their respective declines, existing in an almost parallel market universe.
In layman's terms, growth outperformed value and momentum growth outperformed deep value. As a rule of thumb in the financial markets, the longer a trend stays in place, the more overcrowded the trade becomes, and anyone looking at financial market history over the last twenty years realizes that is a severe understatement.
After five years of underperformance, commodity stocks provide opportunistic investors with the best set of opportunities since investors could pick through the bargain bin in 2008 and 2009. There are a variety of companies in this discount basket, with varying degrees of leverage, potential upside and risk.
Cloud Peak Energy (NYSE:CLD) represents the best of both worlds in that it has tremendous potential upside with a relatively low amount of debt on its balance sheet. Any turnaround in the beleaguered coal sector could lead to tremendous share price gains in coal companies, and Cloud Peak Energy has arguably the best balance sheet and longest staying power, presenting an asymmetric risk/reward opportunity.
Thesis
Out of favor, undervalued, heavily shorted stocks have the potential to be big winners in 2016.
Is CLD Out Of Favor? Yes.
With its stock price down 22% in 2016, 77% in 2015, and 93% over the last five years, while the S&P 500 Index, as measured by the SPDR S&P 500 Trust ETF (NYSEARCA:SPY), has risen 62% over the preceding five years, CLD is definitely out of favor.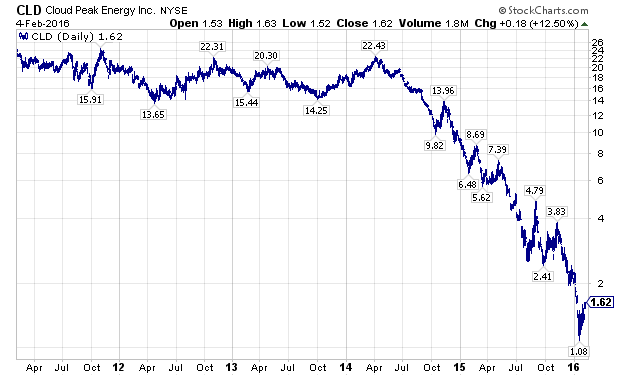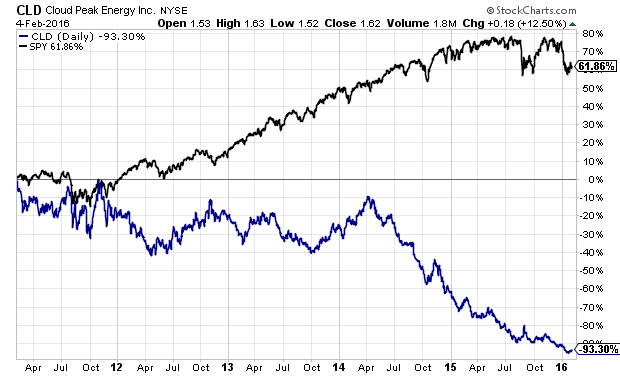 Even viewed alongside its peers, Cloud Peak has suffered disproportionately relative to the quality of its balance sheet, which we will get to later in this analysis. Alliance Resource Partners (NASDAQ:ARLP), which is a low-cost operator in the Appalachian and Illinois River basins, has declined only 43% over the past five years. Similarly, mine-to-mouth producer Westmoreland Coal (NASDAQ:WLB) has only declined 52% over the last five years. Both of these companies carry substantially more debt than Cloud Peak Energy on their balance sheets.
While there have been a number of coal bankruptcies, the surviving largest producer in the Powder River Basin, Peabody Energy (NYSE:BTU), is the only surviving coal company to lose more of its market value than Cloud Peak, as the following chart illustrates.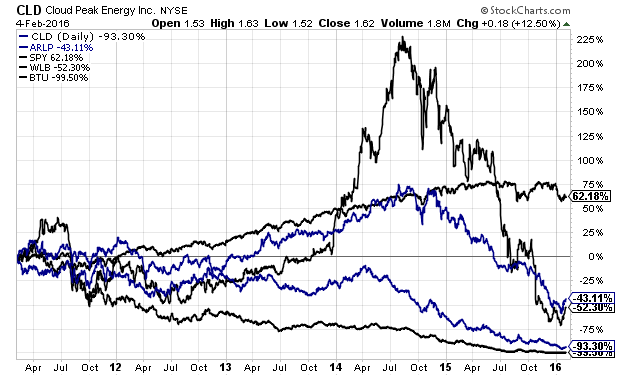 Since Cloud Peak Energy is relatively unleveraged compared to Peabody and other coal peers, a better comparison can be found in an analysis of copper companies.
I recently authored a bullish article on Freeport-McMoRan (NYSE:FCX), and similar to Peabody Freeport-McMoRan took out debt at the wrong time to purchase commodity assets. In Freeport's case, they bought oil and gas assets at the peak of the market, while Peabody bought Australian coal assets at the peak of the market.
Unsurprisingly, with the decline in commodity prices, FCX and BTU shares were crushed. Southern Copper Corporation (NYSE:SCCO), a low-cost relatively unlevered copper producer, analogous to Cloud Peak Energy, has declined far less than FCX, as the following performance chart shows.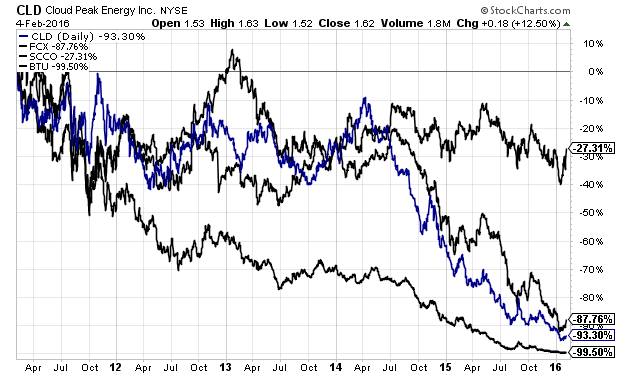 To close my analogy, Cloud Peak's shares should not have declined as much as they have given its relatively unlevered balance sheet. If Cloud Peak Energy's stock price would have performed more similar to SCCO, the shares would be substantially higher today. However, the stigma of being in the coal business is so bad that I believe investors have thrown the baby out with the bathwater. Nobody wants to own coal companies, even one with a quality balance sheet.
Is CLD Undervalued? Yes, Remarkably So.
Cloud Peak Energy announced their initial public offering on November 20th, 2009. At the time, global financial markets were recovering from the 2008 and 2009 meltdown. Looking at calendar year valuations, 2009 was Cloud Peak's nadir in terms of traditional valuations until 2014. 2015 set new lows for valuations, and 2016 has already seen 2015's historically low valuations undercut as Cloud Peak's shares have continued their descent.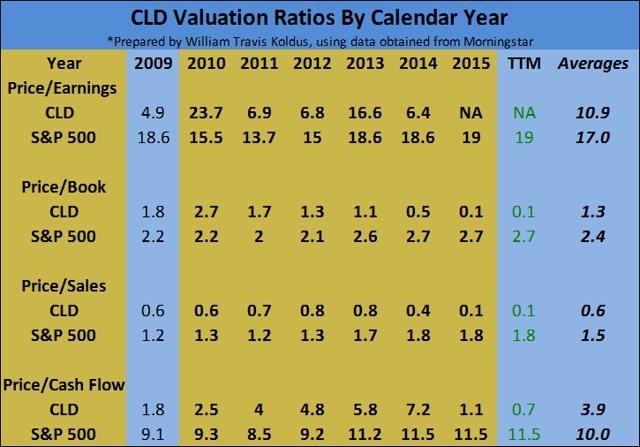 Click to enlarge
Looking at price-to-earnings (P/E), price-to-book value (P/B), price-to-sales (P/S) and price-to-cash flow ratios (P/CF) in the above table, it is amazing to see how cheaply CLD trades, particularly on both the P/S and P/CF ratios.
Is CLD Heavily Shorted? Check.
With 12.9 million shares short, equal to approximately 21% percent of the float, Cloud Peak Energy's shares are heavily shorted, and a reversal of the downturn in its share price could spark a sizable short covering rally.
The Differentiator - Cloud Peak's Balance Sheet
Compared to a majority of their coal-focused peers, Cloud Peak has a manageable balance sheet. For perspective, I have inserted a chart from the company's Q3 2015 investor presentation that illustrates Cloud Peak's liquidity, debt maturities and debt ratios.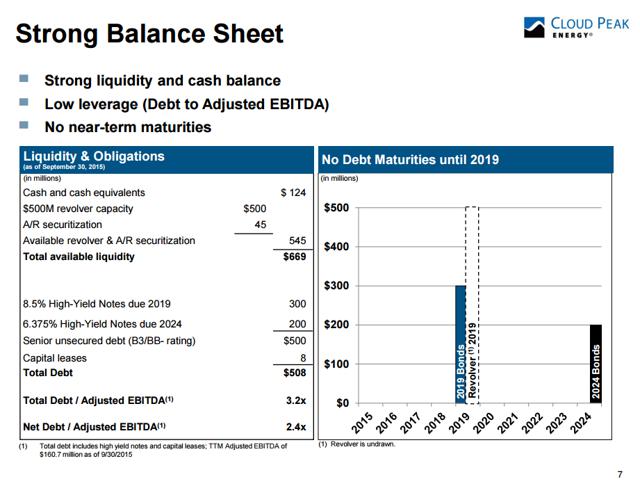 Click to enlarge
With their first significant debt maturity three years away, Cloud Peak has the time and liquidity to wait for the next cyclical upturn in coal prices.
Building on this point, Cloud Peak has actively reduced expenses, production and capital expenditures to manage their expenses and to help rebalance the oversupplied US coal market. The following additional chart from their third quarter 2015 investor presentation shows CLD's progress on each front.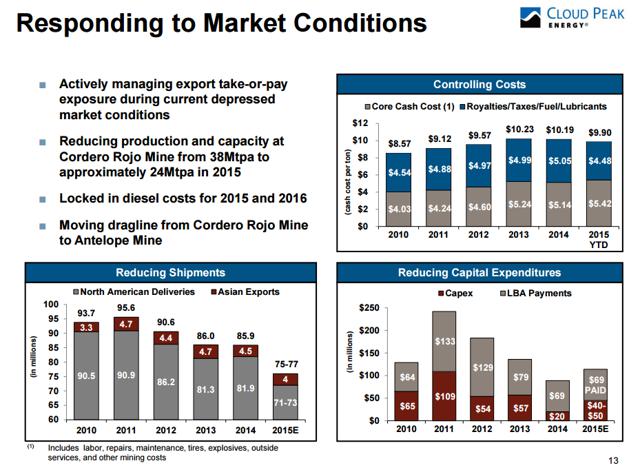 Click to enlarge
Catalyst #1 - Reduced Production Rebalances The Domestic Coal Market
With shares of all the remaining publicly traded coal producers under constant pressure, as natural gas prices test their all-time lows, coal companies have forcefully responded by cutting production. The following chart from Scotia Howard Weil's excellent coal weekly piece highlights how much production has been cut.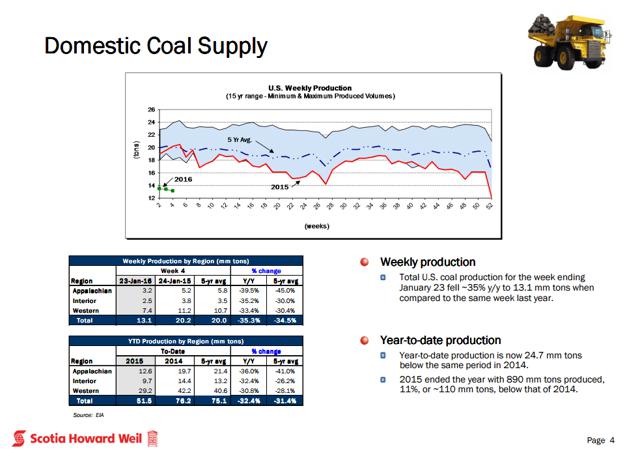 Click to enlarge
Coal production is down 32% year over year as the top chart in the research piece shows. Additionally, 2015 was already an all-time low production year for U.S. coal. Finally, the multiple bankruptcies and restructurings in the coal sector, combined with the implosion of debt and equity pricing for all public and privately traded companies, has sent the message to coal companies to cut production, setting the stage for a rise in prices as the supply/demand equation is rebalanced.
Catalyst #2 - Rising Natural Gas Prices
As I have articulated in multiple research pieces on natural gas, and natural gas companies, the supply/demand balance for natural gas is set to rebalance in favor of higher prices in 2015. From the demand side, increased demand will be driven by increased LNG exports, pipeline exports and domestic electricity generation. On the supply side, low prices will cure low prices, as drilling rigs for pure gas plays hover near all-time lows, while associated gas production from oil drilling has plunged as oil prices have plummeted.
Catalyst #3 - The Powder River Basin Advantage
Powder River Basin coal is cost competitive with U.S. natural gas at prices as low as $2.25/mcf. Thus, while other coal basins, including Appalachian coal and Illinois River Basin coal, struggle to compete with low-cost, locally available natural gas, particularly from the Marcellus and Utica shale formations, Powder River Basin Coal has an inherent cost advantage and a diversified, long-term customer base, as another chart from Cloud Peak's investor presentation shows.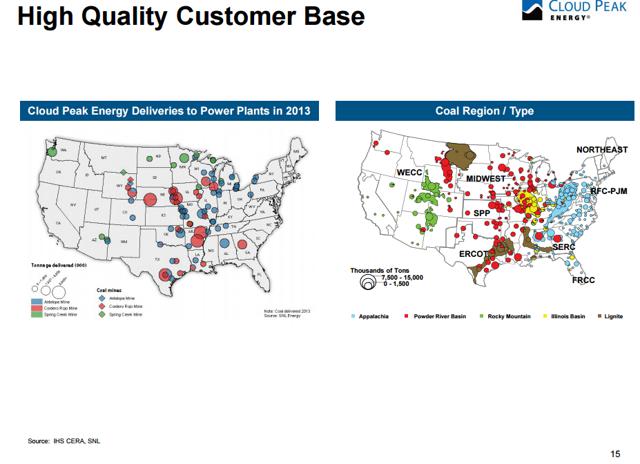 Click to enlarge
Catalyst #4 - Rising Long-Term Demand From Asia
The collapse in coal prices has overshadowed the long-term growth of energy demand in Asia. The following charts from Cloud Peak's Q3 2015 presentation shows their expectations for Asia coal demand.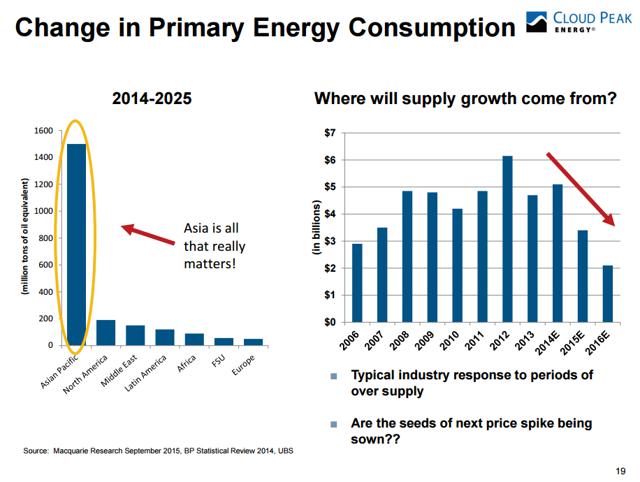 Click to enlarge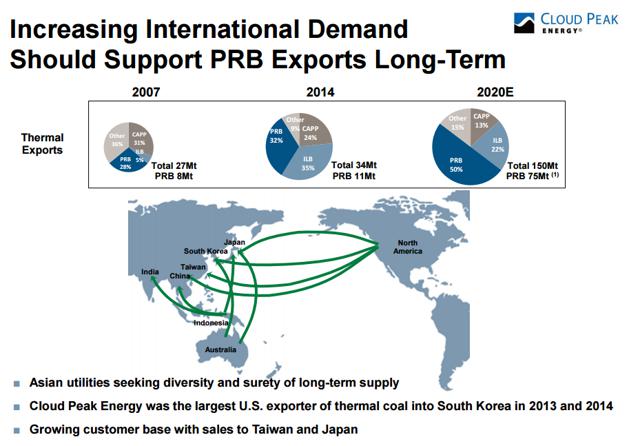 Click to enlarge
While current coal prices make U.S. exports non-competitive, and environmentalists have vigilantly opposed the construction of new export facilities on the West Coast of the United States, the high quality and low sulfur content of Powder River Basin coal will keep international customers interested, even as prices ebb and flow over the short term.
Catalyst #5 - A Declining U.S. Dollar
After rising for three years, the U.S. Dollar had its biggest decline in seven years on Wednesday, February 3rd, 2016, and has continued its sell-off as future interest rate increases projected by the Federal Reserve are now being questioned.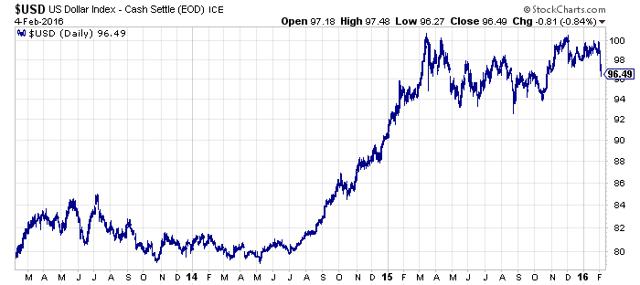 Click to enlarge
A higher U.S. dollar has negatively impacted every US commodity producer, thus a lower greenback would help Cloud Peak Energy compete on the international markets.
Risks - Lower Coal Prices and Debt Repayment
Cloud Peak has a relatively strong balance sheet, a diversified customer base and the staying power to wait out the downturn in coal and natural gas prices, at least for several years. Investors might be asking if there is so much good news, why are CLD shares at all-time lows?
The answer is simple, and that is the market is concerned about the long-term trajectory of coal prices. Thus, the primary risk to Cloud Peak Energy is lower coal prices, which would cut into the company's projected income, cash flows and liquidity. The following table from Scotia Howard Weil shows coal prices over the five years quarter by quarter.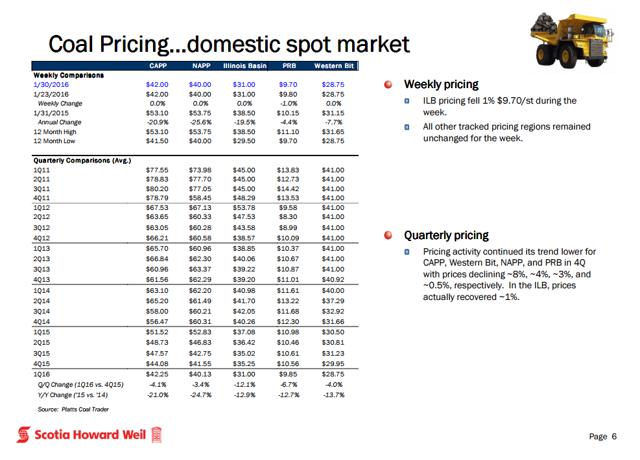 Click to enlarge
With spot pricing down to $9.70 per ton for Powder River Basin coal, the market is concerned that PRB coal prices could revisit their 2012 lows, and stay there, causing significant income and cash flow issues for Cloud Peak Energy, as the company is forced to deal with take-or-pay rail agreements. A contrarian perspective would be that PRB coal prices have held above their 2012 lows, even in the face of more headwinds today.
Quantifying The Upside In Common Shares
If Cloud Peak Energy is able to survive the downturn in coal prices - what is the upside in its common shares? Morningstar.com sees upside to $7 per share for CLD, using a multiple of enterprise value to EBITDA. I'm able to model a valuation north of $12, with PRB coal prices averaging $14 per ton over the long term. Morningstar.com had an $11 price target for CLD's shares, but reduced it to $7 on October 27th, 2015.
Portfolio Strategy and Deep Value Investing
The primary appeal of buying dirt-cheap companies selling at or near all-time low valuations is that a rebound could spark significant share price gains, with shares having the potential to double, triple or more. The other side of this coin, however, is that a further weakening of a distressed company's business prospects could wipe out equity holders who have the lowest position in a company's capital structure.
To offset this risk, when buying distressed companies, investors should consider buying a basket of distressed names. From my perspective, investing in out-of-favor companies is similar to venture capital investing where you know going in that you will have some companies that fail, wiping out shareholders, but the winners and their corresponding share price gains will more than make up for the companies that do not make it. To illustrate the merits of this approach, I have been using the following table I have put together comparing a 10% basket of distressed companies with the remaining portfolio in cash (Portfolio B) to a more traditionally invested portfolio.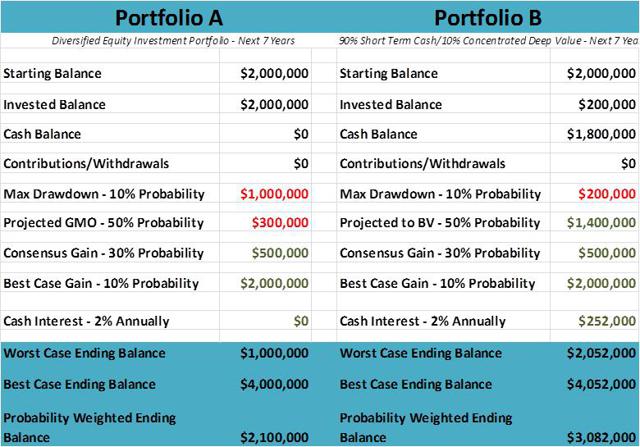 Click to enlarge
Recently, I have written extensively on portfolio strategy, and I cover this topic extensively in "The Contrarian" premium service.
Conclusion: Cloud Peak Is A Discounted Gem
Commodities and commodity stocks are in the midst of one of the greatest bear markets, and their greatest bear market, in history. Even compared to other commodity stocks, the devastation in coal stocks has been breathtaking. In 2011, U.S. coal companies had combined market capitalizations of over $60 billion. Today, that total is under $5 billion. Many companies have gone bankrupt, and even private coal operators, like Murray Energy, which was an acquirer of seemingly undervalued assets, sits on the verge of a restructuring.
With this backdrop, it's no surprise that even relatively stronger coal companies like Cloud Peak Energy have seen their future prospects challenged. For intrepid investors, the risk/reward proposition in CLD shares, from today's price levels, presents one of the best opportunities in the entire stock market in my opinion.
Disclosure: I am/we are long CLD, BTU, WLB, FCX, SHORT SPY.
I wrote this article myself, and it expresses my own opinions. I am not receiving compensation for it (other than from Seeking Alpha). I have no business relationship with any company whose stock is mentioned in this article.
Additional disclosure: Every investor's situation is different. Positions can change at any time without warning. Please do your own due diligence and consult with your financial advisor, if you have one, before making any investment decisions. The author is not acting in an investment adviser capacity. The author's opinions expressed herein address only select aspects of potential investment in securities of the companies mentioned and cannot be a substitute for comprehensive investment analysis. The author recommends that potential and existing investors conduct thorough investment research of their own, including detailed review of the companies' SEC filings. Any opinions or estimates constitute the author's best judgment as of the date of publication, and are subject to change without notice.
Editor's Note: This article covers one or more stocks trading at less than $1 per share and/or with less than a $100 million market cap. Please be aware of the risks associated with these stocks.