Up until this point in this bull market, gold has been a better bet than the gold mining shares with a few exceptions. The rising price of gold has been leading the charge, while the shares have quietly followed behind despite their leverage.
Until this current psychology change I don't expect much to happen with the shares. Part of the problem is that much of the investment public does not expect prices to continue rising, and as long as they don't expect higher prices in the future, gold shares will lag behind.
It apparently isn't enough for the shares to show solid earnings. You need buyers and they will not show up until the public starts to believe that the bull market in gold is here to stay. We are currently seeing some big value players coming into the market and putting in large bids, but until Wall Street gets behind this sector and starts to promote it we may not see greater returns.
However, once Wall Street and the public comes around we are likely to see tremendous volume going into this tiny market and prices will shoot up like a volleyball that has been submerged under water. In addition, much of the hedge fund community is long gold and short gold shares and they will just add to this volume once they close out their short positions and turn bullish on the shares.
During the last bull market in the 1970s and 1980s the shares also lagged behind and did not really take off until gold had peaked out and people had turned euphoric. The chart below compares the Barron's Gold Mining Index (BGMI) with gold.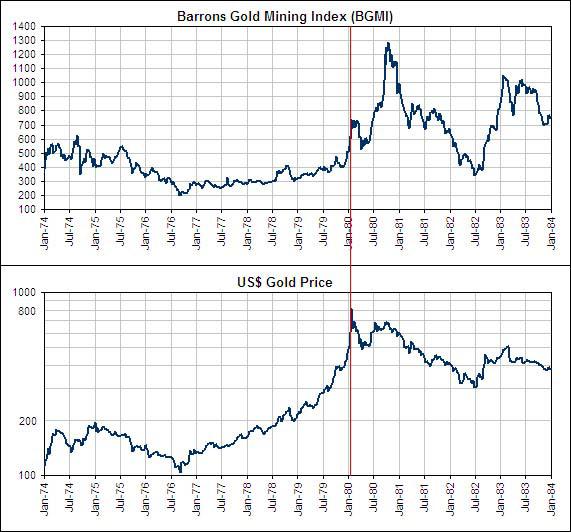 Chart from: www.safehaven.com.
It is difficult to know exactly when or if people's view of the shares will change; there are millions of investors all with their own perception of the world. Nevertheless, a lot of shares already offer bargain prices and many shrewd investors have already whipped out their shopping list. The chart below shows the Gold/HUI ratio and the Gold/XAU ratio; two of the most watch gold mining share indices.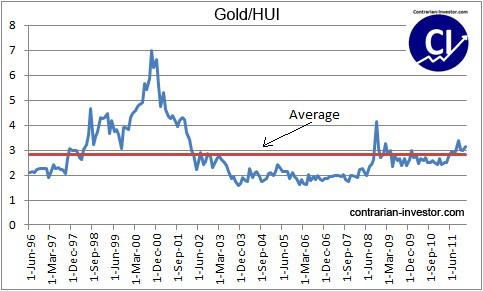 Gold/XAU ratio.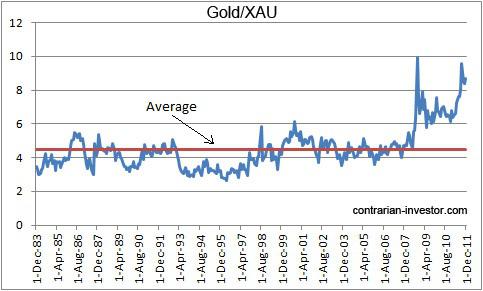 These charts may give some guidance on when to add to your position and when to take some money off the table. Both ratios are currently below their average, indicating that that the shares are attractively priced.
It may take some time before the shares really gain momentum but it may well be worth the wait. Remember that the time to buy shares is when others don't want them and that time appears to be now. I recommend investors that are less risk adverse to add positions like McEwen Mining (NYSE:MUX) and Eurasian Minerals (NYSEMKT:EMXX) to their speculative portfolio in anticipation of the coming gold rush.
Disclosure: I am long MUX.
Additional disclosure: I may initiate a long position in EMXX over the next 72 hours.