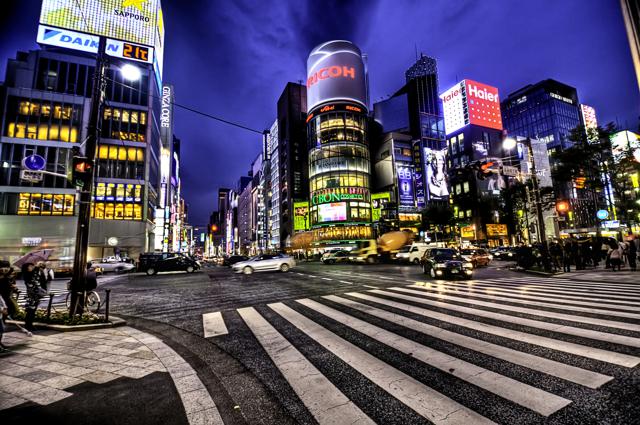 Click to enlarge
Today we're going to talk a little about pair trading. Pair trading is a strategy of trading two securities simultaneously, one short and one long. Combined these trades constitute a pair. The strategy was developed in an effort to generate strong and consistent returns, while at the same time controlling risk by looking to maintain a low correlation with broader market averages.
Our favorite pair trade at the moment is to go long with the Nikkei 225 index (NKY) of Japanese stocks, while shorting the Japanese yen (NYSEARCA:FXY) versus the US Dollar (UUP) and/or other currencies such as the British Pound and the Euro. Due to the Nikkei 225 index dropping 4 percent this week, we think it is an opportune time to go long with it.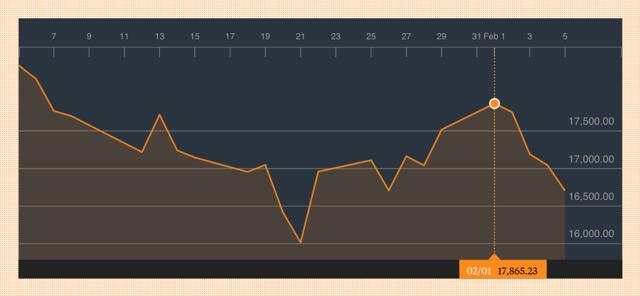 Click to enlarge
Sourced from Bloomberg.com
The 4 percent drop of the Nikkei 225 coincided with a 4.9 percent increase in the Japanese yen (NYSEARCA:JYN) versus the U.S. dollar. We expect both the market and the yen to reverse respectively in the next few weeks.
The pair has a strong correlation that goes back many years.
The correlation between a weakening Japanese yen and a strengthening Nikkei 225 is clear to be seen. On the chart below provided by Ycharts.com you can see the correlation. For demonstration purposes and clarity we are showing how the U.S. dollar strengthens against the yen at the same time the Nikkei 225 puts on gains.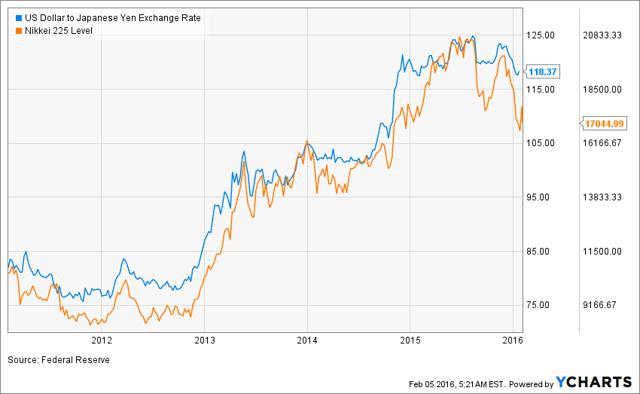 Click to enlarge
We find this to be very compelling and certainly not a new trend. This chart dates back five years and still to this day the pair trade well together.
Divergent monetary policies support the pair trade.
Supporting the trade is the divergent monetary policies of both nations. The United States is wanting to increase rates, the Japanese are wanting to reduce them, or pump more cheap money into the markets. Admittedly the behavior of both the Federal Reserve and the Bank of Japan has been rather unpredictable, which does add an element of risk to this pair trade. We think if you'd polled economists at the start of the week, very few, if any, would have suggested the U.S. dollar would have dropped to the level it is at now this week. Its movements have confused the markets, which really could have done without any extra confusion, and it confused us.
There are some economists that are ruling out any rate rises in the United States this year, but we still believe there will be one or two. We're siding with two. The non farm payrolls that are reported today (at the time of writing they are still a few hours away) may be an indication as to the likelihood of just how many rate rises there will be. A poor non farm payroll figure could result in a further U.S. dollar sell off as traders start to get even more pessimistic about a rate rise.
Goldman Sachs had been expecting a March rate rise but has retracted that now. They believe that June will be the time that rates are finally raised once more. Their team still expects three rate rises. In our opinion three rates rises could send the U.S. dollar to a century-high against the Japanese yen. Should the Nikkei 225 continue its correlation, which we believe it would, then the gains would be outstanding. The Nikkei 225 has a tendency to strengthen as the yen weakens due to the fact that the Japanese companies are big exporters. A weak Japanese yen is extremely good for businesses in Japan, but there are negative effects such as the cost of living rising. So it's not all good news.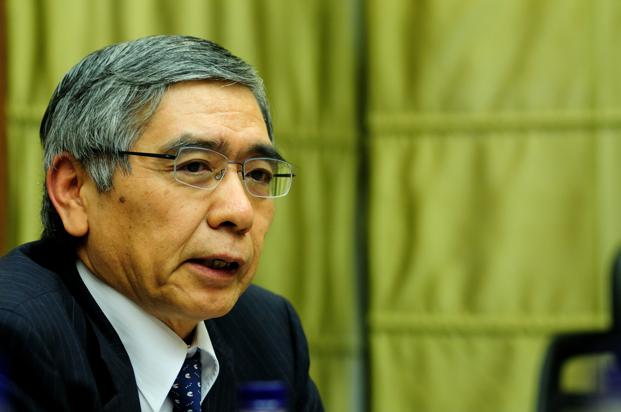 Mr Kuroda is willing to do whatever it takes to hit the 2 percent inflation target.
Further support for this pair trade comes from the Bank of Japan's Haruhiko Kuroda. Mr Kuroda has essentially said he will do whatever it takes to get the Japanese economy pumping again. Despite surprising the world by cutting rates into negative territory, in a speech this week he stated that there was room for further interest rate cuts if necessary. His goal is to get to 2 percent inflation and we expect him to do so. He may take some unconventional steps to get there, but we have little doubt he will. This will most probably be a negative for the yen, we don't see a way for him to do it without weakening the yen, but we imagine it will be a big positive for the Nikkei 225.
Takeaway.
Due to the erratic behavior of both the markets and the world's central banks, a pair trade that involves going long the Nikkei 225 while shorting the yen versus the U.S. dollar is not for the faint-hearted. We see big gains to be had from doing so, but it does come with risk.
We will report back with how things are going in due course. Until then, good luck with all of your trades.
Disclosure: I/we have no positions in any stocks mentioned, and no plans to initiate any positions within the next 72 hours.
I wrote this article myself, and it expresses my own opinions. I am not receiving compensation for it (other than from Seeking Alpha). I have no business relationship with any company whose stock is mentioned in this article.
Additional disclosure: Short yen versus USD, Long Nikkei 225 futures