Both Airbus (OTCPK:EADSF) and Boeing (NYSE:BA) are battling each other each year. While most people eyeball the order battle, there also is another battle going on. The other battle is the delivery battle, for investors it is this battle that is more important as deliveries bring in the bulk of the cash. In this article, I will zoom in on the narrow body sales for Boeing and Airbus.

Click to enlarge
Figure 1: The Boeing 737 MAX 8 on its maiden flight (Source: usa24.news)
Orders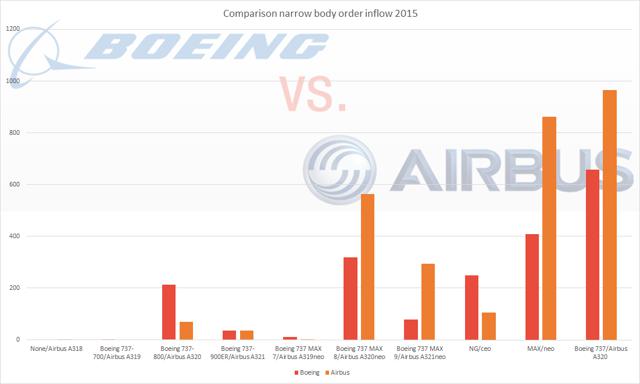 Click to enlarge
Figure 2: Narrow body order inflow for Boeing and Airbus in 2015 (Source: AeroAnalysis.net)
Figure 2 shows the 2015 sales of the current and next generation Boeing and Airbus aircraft in 2015. What can be seen is that Boeing won more orders for its current generation narrow body family. The Boeing 737-800 outsold the Airbus A320ceo at a 3-to-1 ratio, while the Boeing 737-900ER and Airbus A321 both received 35 orders. This resulted in the Boeing 737 Next Generation family outselling the Airbus A320ceo at a 2.4-to-1 ratio.
One could say that Boeing 'won', but it should be noted that for Airbus customers it makes more sense to buy the neo that already is being in production for commercial service rather than the ceo.
This also becomes clear when looking at the order inflow for the MAX and neo family. The Airbus A320neo outsold the Boeing 737 MAX 8 at a 1.8-to-1 ratio, while the Airbus A321neo outsold the Boeing 737 MAX 9 at a 3.7-to-1 ratio. With the A321 concept outselling Boeing's counterpart it seems that Boeing is unable to address the middle of the market and the discussion on how to address this market segment is valid.
The neo family outsold the MAX family at a 2.1-to-1 ratio. Boeing booked a total of 657 orders, while Airbus booked 966 orders for their narrow body products. So in terms of units Airbus won the narrow body order battle in 2015. In terms of value Airbus, with higher discounts, received $52.2bn worth of orders while Boeing received $34.7bn worth of orders. So also in terms of value Airbus leads the way in 2015.
Backlog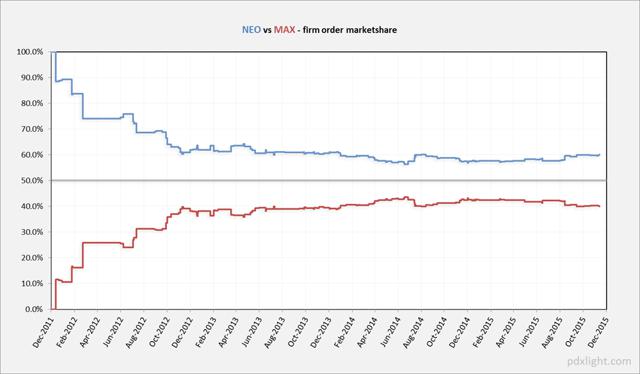 Click to enlarge
Figure 3: Market share Boeing 737 MAX versus Airbus A320neo (Source: pdxlight.com)
In terms of backlog Boeing has a total of 4147 narrow body orders in backlog (as of the 26th of January 2016). The Airbus A320 family has a total of 5534 unfilled orders. So also in backlog Airbus is having the lead.
Figure 3 shows that Airbus has captured about 60% of the next generation market, while 40% is for Boeing. Currently Boeing has a market share of 46%, showing that so far the MAX is not helping Boeing keeping market share. I do, however, expect that Boeing will be able to gain a few percent of market share on the long term.
Conclusion
In 2015, the Boeing 737NG outsold the Airbus A320ceo.
The Airbus A320neo also dictated the game in 2015, staying ahead of Boeing's 737 MAX.
With a robust lead in terms of units, Airbus is also leading in terms of value.
The Boeing 737 MAX is not really helping Boeing to gain market share so far. In fact, Boeing's market share on the narrow body market seems to be decreasing. This, however, partly is caused by a late introduction of the 737 MAX model and I expect Boeing to be able to keep a market share of at least 45%.
With a market worth $2.5 trillion in the coming decades, Boeing nor Airbus is an investment that will hurt.
Disclosure: I am/we are long BA.
I wrote this article myself, and it expresses my own opinions. I am not receiving compensation for it (other than from Seeking Alpha). I have no business relationship with any company whose stock is mentioned in this article.
Editor's Note: This article discusses one or more securities that do not trade on a major U.S. exchange. Please be aware of the risks associated with these stocks.