Not even one month ago, I published an article titled "A Pair Trade Using 2 Biotech Companies", whose thesis was that an obvious pair trade existed between a long Depomed (NASDAQ:DEPO) position and a short Insys Therapeutics (NASDAQ:INSY) position. At the time, DEPO traded at $14.62 and INSY traded at $25.71.
Now, things have changed substantially. DEPO went up by ~13.2% to $16.55, and INSY dropped by a full 35.1%. This led to the pair trade yielding a 48.3% return (which results in a ~24.1% return for the exposure it requires). This is a tremendous move in a short time for a pair trade situation.
Some of the arguments I used when establishing the original idea are now turned on their head due to how the prices evolved. For instance, I now estimate INSY's 2016 EV/EBITDA at 6.6x, whereas DEPO is now more expensive at 9.2x 2016 EV/EBITDA.
Other reasons for not liking INSY remain. For instance:
The company might see regulatory action. Indeed, I wouldn't even be surprised if criminal charges hit some of its representatives, given the kind of stuff we see written about its practices. I'd recommend reading the latest article from Roddy Boyd, titled "The Brotherhood of Thieves: Insys Therapeutics".
Not only is regulatory action possible or even likely, but I believe there's also a good chance that INSY will see its 2016 revenues come in below today's consensus ($397.14 million).
Thus, the whole INSY profitability consensus might at this point also be overestimated (including my 2016 EV/EBITDA measure).
Still, the easy money has been made with a very quick return for a pair trade. And waiting, in the case of the INSY short position, is presently extremely expensive (29.9%/year, presently):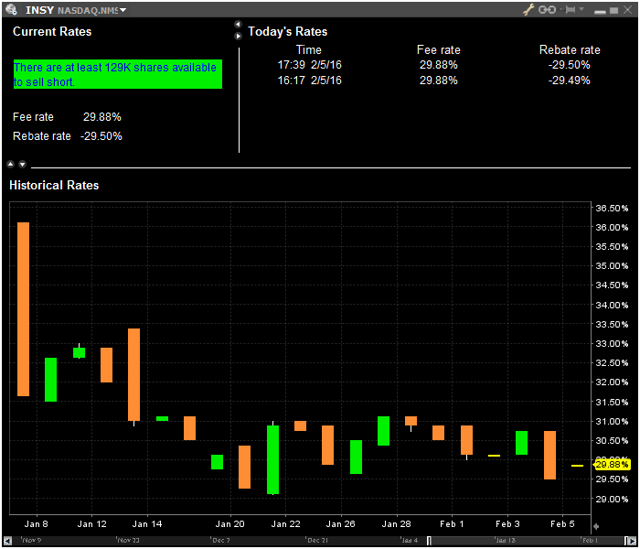 Click to enlarge
Source: Interactive Brokers
So, given:
The tightening in the valuation gap to a point where in some measures INSY actually looks cheaper than DEPO.
The quick return in a very short timeframe.
The high cost of keeping the short INSY position open.
I am thus turning neutral on this pair trade.
This is not to say I don't remain negative on INSY. I do.
Conclusion
The easy money on the DEPO/INSY trade has been made and things look harder from now on. While I remain negative on INSY for very obvious reasons, I would no longer open or keep open this type of trade at the present levels on these two equities.
Disclosure: I/we have no positions in any stocks mentioned, and no plans to initiate any positions within the next 72 hours.
I wrote this article myself, and it expresses my own opinions. I am not receiving compensation for it (other than from Seeking Alpha). I have no business relationship with any company whose stock is mentioned in this article.