On February 4, Investment News published a report which added some color to previous reports that The Blackstone Group (NYSE: BX) was exploring non-traded REITs.
Blackstone is the largest alternative asset manager, and with over $330 billion of AUM, needs to deploy capital at a large enough scare to move the needle.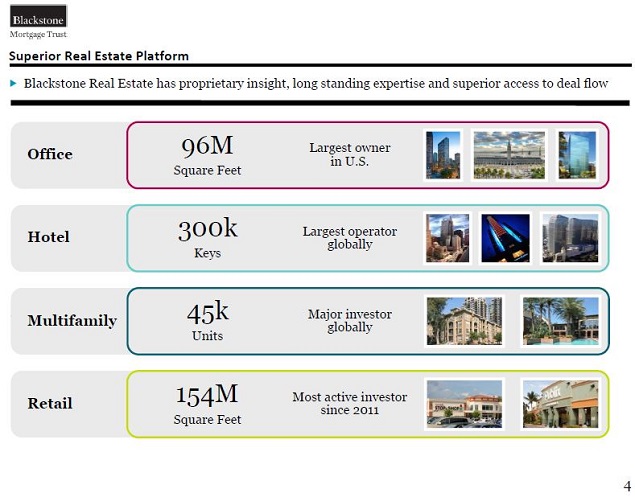 Source: BXMT - February 2015
The Blackstone Group has a history of acquiring platform companies when it focuses on a new asset class.
NorthStar Asset Management (NYSE: NSAM) is one of the largest players in the non-traded REIT space. I recently wrote an SA article taking a closer look into why NSAM has hired Goldman Sachs to help evaluate strategic alternatives.
The value of the NorthStar franchise, including its two publicly traded managed REITs, NorthStar Realty Finance (NYSE: NRF) and recent spin-out NorthStar Realty Europe (NYSE: NRE), has plummeted in recent months.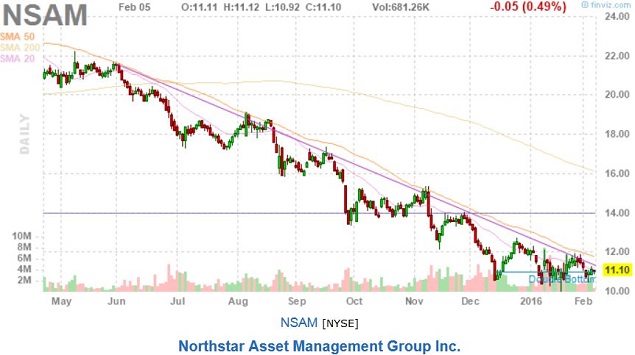 During the past 52 weeks, NSAM shares have traded in a range of $10.02 to $24.48, and are currently trading over 50% lower than its 12-month highs.
I have previously written a bullish thesis regarding NorthStar Realty Finance, which is based on irrationally low valuations for NRF shares and the inevitability of second order change at NSAM.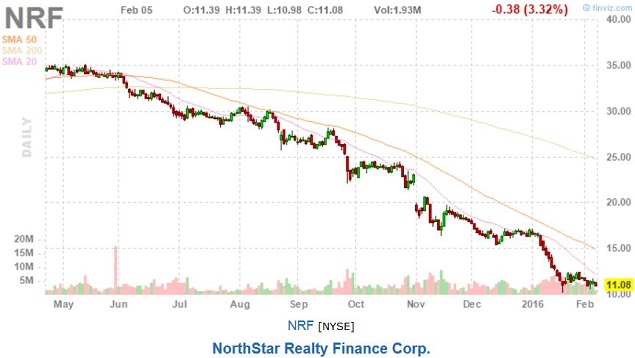 An update for SA readers, including recent actions by activist hedge fund Land and Buildings, can be found here. Background on the net asset value [NAV] of the NRF and NRE portfolios is contained in this article.
Blackstone can kill two birds with one stone by also taking NRF private and selling the assets to its new "Blackstar" non-traded REITs. The parts of NorthStar that BX does not desire to keep can easily be sold off for cash to internally fund the entire operation.
This is an ideal opportunity for Blackstone to launch a very successful non-traded REIT business, and could provide a payday for beleaguered NSAM, NRF and NRE shareholders.
Asset Managers Have Been Crushed
In all fairness, many alternative asset managers' share valuations have plummeted along with commodity prices, energy sector valuations, junk bonds and global equities.
NSAM has plenty of company, including some of the top names in the industry: KKR & Co. (NYSE: KKR), Carlyle Group (NYSE: CG), and Apollo Global Management (NYSE: APO).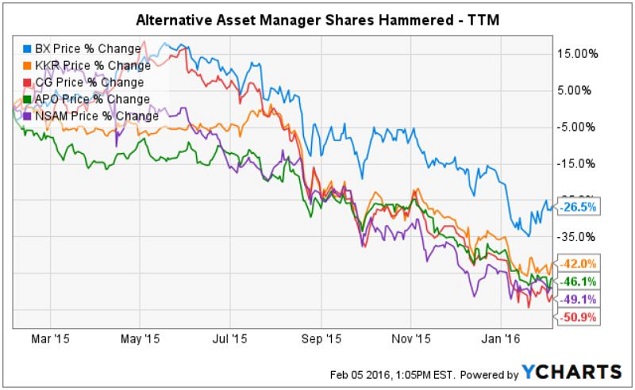 Notably, Blackstone shares have held up far better than any of its smaller rivals.
An Industry Ripe For Consolidation
The non-traded REIT industry has gotten a lot of well-deserved bad press over the past couple of years. Financial advisors had raked in huge fees off of the top when clients buy shares of non-traded REITs, with minimal disclosure.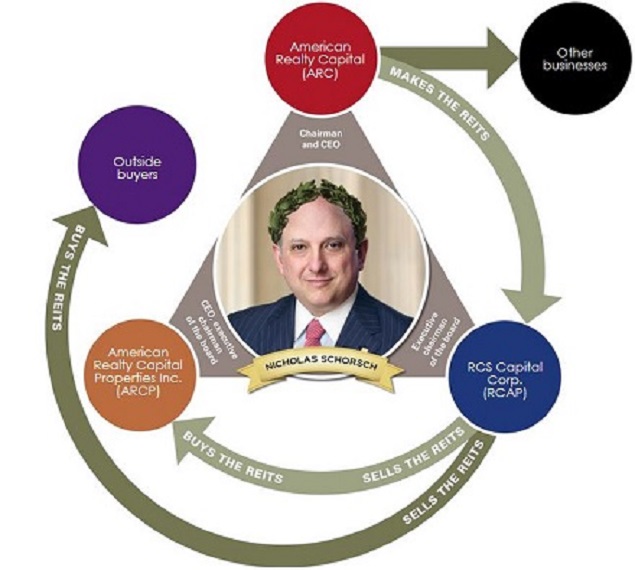 Source: Investment News
Recent regulatory reforms and proposed rule changes have thrown cold water over these practices.
The well-publicized issues with American Realty Capital highlighted some of the problems, and resulted in the demise of RCS Capital Corp. (NYSE: RCAP).
The former ARCP is now under new management as VEREIT, Inc. (NYSE: VER). CEO Glenn Rufrano has turned the ship around and is selling off non-core assets to de-lever the balance sheet. Meanwhile, the Cole Capital non-traded REIT business and brand have suffered since the ARCP accounting scandal.
While the capital inflows are now starting to improve, an M&A of Cole Capital into a larger, more successful asset manager could breathe new life into the operation.
The venerable non-traded REIT sponsor W.P. Carey Inc. (NYSE: WPC) is considering spinning out its non-traded REIT arm, U.S. publicly traded REIT portfolio and international assets. The well-respected W.P. Carey brand could be another non-traded REIT M&A player.
I suggested this could be a possibility in W.P. Carey Q3 Earnings Call - A Simpler Story Or A Box Of Chocolates? which looks at the situation in depth. Meanwhile, investors are eagerly awaiting the Q4 2015 earnings call to hear from CEO Trevor Bond what the new W.P. Carey will look like.
NorthStar Provides Instant Scale
NorthStar has one of the largest non-traded REIT operations in the industry. It could make an ideal platform company for Blackstone's non-traded REIT arm to hit the ground running.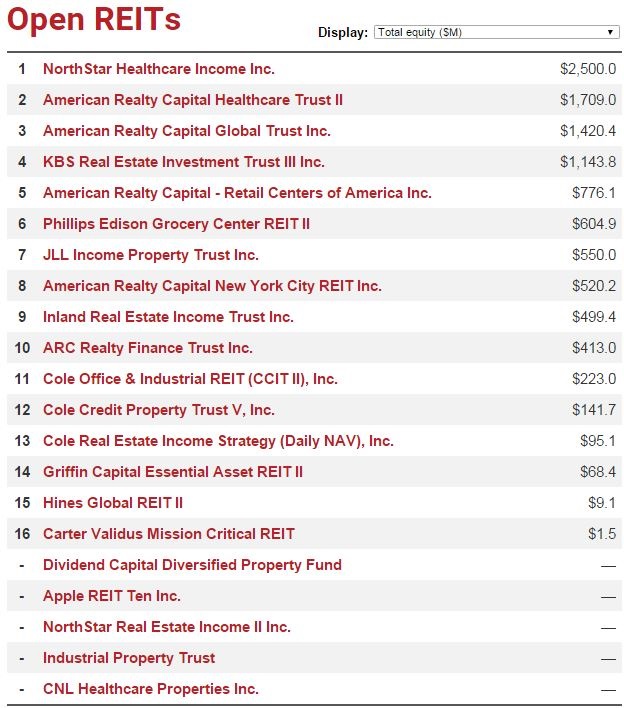 Source: Investment News - Feb. 5, 2015
Investor Takeaway
Blackstone has one of the largest real estate operations in the world. It has the resources to evaluate and value the diverse group of assets owned by NSAM and NorthStar Realty Finance. It already has European platform companies, which could easily bolt-on NRE and potentially W.P. Carey's European single-tenant net-lease portfolio.
NorthStar's hedge fund and institutional shareholders would likely view any reasonable Blackstone offer in a favorable light.
Disclosure: I/we have no positions in any stocks mentioned, but may initiate a long position in BX, NSAM, NRF, NRE, WPC over the next 72 hours.
I wrote this article myself, and it expresses my own opinions. I am not receiving compensation for it (other than from Seeking Alpha). I have no business relationship with any company whose stock is mentioned in this article.
Editor's Note: This article covers one or more stocks trading at less than $1 per share and/or with less than a $100 million market cap. Please be aware of the risks associated with these stocks.