Kohl's (NYSE:KSS) is a stock I follow rather closely and since the company's highs were put in back in early 2015, I've been more and more apt to recommend getting long. In fact, I said back in November that the stock had bottomed after Q3 results were solid. Shares rallied off of the Q3 report and eventually hit $52 earlier this year. But yesterday's Q4 update has investors running for the exits again. With the yield at 4.3% and shares now trading for less than 10 times next year's earnings, is Kohl's really that bad?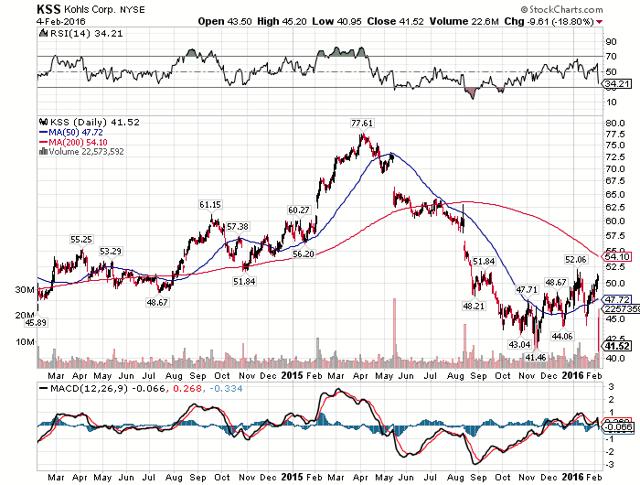 Click to enlarge
I find the price action of the stock very interesting in light of what was actually reported yesterday. Keep in mind this was an update and not a full earnings report (we'll get that about three weeks from now) so the numbers are sparse. However, investors drew some pretty bearish conclusions from the release and that is why shares were hammered yesterday. But I can't help but feel that investors overreacted here as the sell-first-ask-questions-later attitude of the US stock market in 2016 seems to be taking hold here.
The release from KSS states that Q4 sales grew 80bps as comps rose 40bps. That by itself isn't really that shocking. It is in line with what KSS has reported for the rest of 2015 so surely this isn't the source of angst among investors. I have to say I didn't find the comp sales number to be of particular interest; it wasn't that good but it wasn't that bad either. Again, this is what investors should have expected but given the size of the decline in the stock, you would be forgiven for thinking KSS reported a negative 5% comp or something.
The issue arises when you include margins into the situation as guidance was much worse than the company's revenue results. The company's core EPS was guided way down to $4 after being at ~$4.50 due to weak margins. KSS said its margins were beaten down due to volatile sales and higher promotional activity in addition to warmer weather that crimped demand for winter gear. While I believe all of this, the company's wording with respect to its sales is somewhat troubling.
KSS mentions volatile sales and higher promotional activity, two things that could easily be extrapolated out into subsequent quarters. Investors have obviously extrapolated these results out because the cut in guidance that was reported did not warrant the decline we saw yesterday. Is that fair to do? Perhaps, but we won't know until the Q1 report. In my view, I don't see how KSS can be worth only $41 as it continues to be quite profitable despite some near-term headwinds. In short, I don't think KSS' business model is structurally impaired. I think it is hitting a rough patch. That is a key distinction because KSS is trading like a structurally impaired business, not one that is just readjusting.
For that reason, I think the fall in KSS is a buying opportunity. It is at a very reasonable valuation right now at under 10 times next year's earnings and it is now yielding well in excess of 4%. That's a terrific yield in this environment and it is too good to pass up. In addition, there has been lots of chatter about Kohl's going private, something I think has a decent probability of occurring. KSS fits the mold of a buyout candidate and the very cheap share price certainly makes it more enticing. I'm not saying KSS is definitely going private but I'm not saying it isn't either. This is a potential catalyst that is 100% skewed to the upside. If a buyout happens it's great for shareholders and if nothing happens, it is neutral. That's a win for holders of KSS right now and a win is exactly what holders of KSS need right now.
I'll be very interested to see what KSS has to say when it reports later this month but I feel like the beating the stock took yesterday was far from warranted. Yes, margin guidance was ugly but the stock is already cheap and it yields more than 4%. KSS is not going to go out of business and given that you can now buy the stock and collect in excess of 4% forever if you want means that income buyers may step in here. In addition, the potential kicker of a buyout is enticing as KSS has a decent chance to see that happen. In short, I think the overreaction to the pre-announcement is a buying opportunity of this high-yielding name.
Disclosure: I am/we are long KSS.
I wrote this article myself, and it expresses my own opinions. I am not receiving compensation for it (other than from Seeking Alpha). I have no business relationship with any company whose stock is mentioned in this article.