Introduction
When looking out into the market, it is always interesting to try and find small cap opportunities that have the potential to deliver outsized returns. In certain industries, that is easier said than done. I know that I am not a mastermind at the next tech startup or pre-phase I pharmaceutical company. But in some logical industries, there are more realistic opportunities to review. That is where Westwood Holdings (NYSE:WHG) comes in to play. WHG is an investment advisory firm. For a full review, here is the quote from Reuters:
Westwood Holdings Group, Inc. is a holding company. Through its subsidiaries, the Company manages investment assets and provides services. The Company operates through its subsidiaries: Westwood Management Corp. and Westwood Advisors, LLC (Westwood Management), Westwood Trust and Westwood International Advisors Inc. (Westwood International). The Company operates in two segments: Advisory and Trust. Its Advisory segment provides investment advisory services to corporate retirement plans, public retirement plans, endowments, foundations, individuals and the Westwood Funds, as well as investment sub advisory services to mutual funds and its Trust segment. Westwood Management provides investment advisory services to large institutions, including corporate retirement plans, public retirement plans, endowments and foundations. Westwood Trust provides trust and custodial services; sponsors common trust funds, and serves agency relationships, employee benefit trusts and personal trusts.
So, why do I like it
For the same reason that I like TROW. The balance sheet is solid. The management team is good and heavily invested in the company. The yield affords me time to wait until a better market comes around to seeing the upside.
The CEO has been with the company since 1992. He has been CEO since 2005. The company recently hired its CFO (2014), but the Chief Investment Officer has been with the company since 1999. In addition 26% of the company is owned by employees/directors. That assures that the company has shareholder performance on the mind.
Let's take a quick look at FAST Graphs here.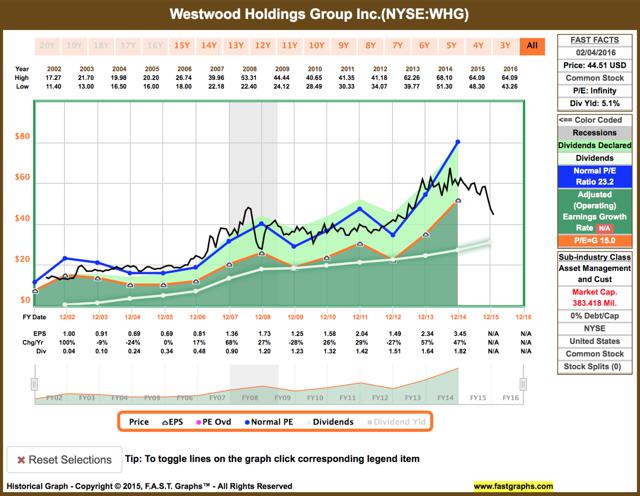 Click to enlarge
The first thing to note is this company is tiny. The market cap is $383M currently and it is pretty thinly traded. Please keep that in mind. The company has zero debt and a 5% yield. FG data is a little behind on this company, but the current P/E is around 13.3. If FG was completed, you would see EPS of $3.33 for FY15. This is down from FY14, where EPS were $3.45. The company footnotes that the EPS in 2015 was impacted by tax adjustments of 0.10 per share and 0.08 non-cash compensation charges. All things considered, performance was flat.
The company makes money by growing AUM. From the chart below from the Q4 presentation, the company's AUM pairs pretty well with the S&P 500 performance. As mentioned below, there are concerns with the mutual fund industry and you can see the decline in revenue in that space in the bottom right chart. This is offset by Private Wealth growth, primarily driven by the acquisition of Woodway, which was completed around April 2015.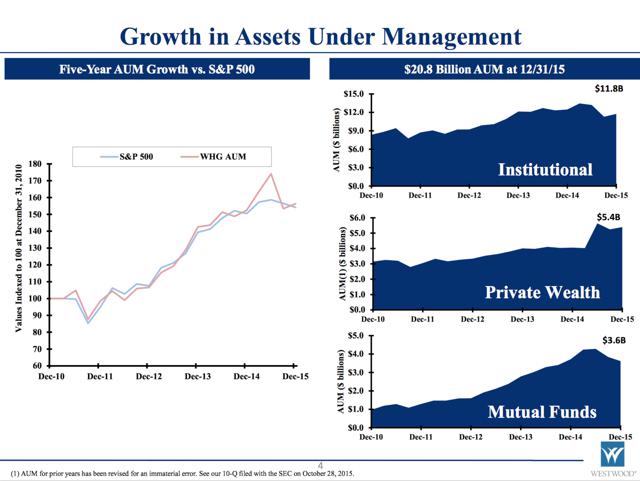 Click to enlarge
The company has been able to transition that growth to earnings and increase their dividend over the past 5 years. As you can see, there was a slight dip in earnings (dark blue) from 2012 to 2011, but things have recovered well. Similarly, there is a dip from 2015 to 2014. In both cases, the company was able to grow the dividend (light blue).

Click to enlarge
As a dividend growth investor, I am primarily concerned with two questions. First, is the dividend safe? Second, is there a justification for it to grow? Starting out, it looks like the dividend is safe. Below you can see that FCF and Cashflow from Operations are pretty much equal. This means there is not a ton of money spent on property and equipment (as you would expect). As expected as well, the company dipped in terms of FCF in 2008, but recovered very well by the end of 2009.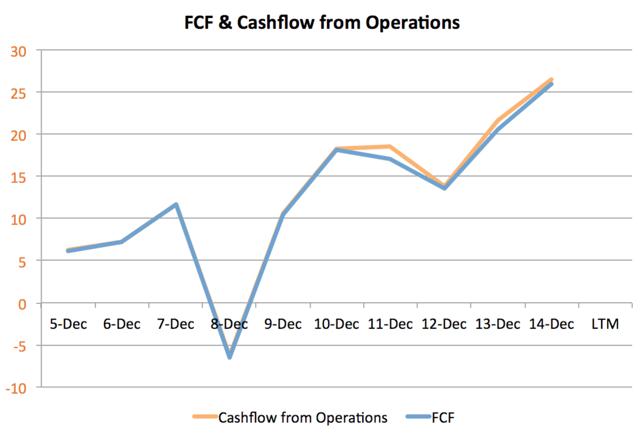 Click to enlarge
Below you can see that the dividend costs currently are pretty low and easily covered by FCF. At $2.28 going forward ($0.57 per quarter), the payout ratio is 68% (based on $3.33 EPS). Assuming that the earnings follow the market into this dip as they have done historically, EPS could fall as much as 10%. This would lead to a $3.00 EPS with a $2.28 payout. That is still well covered with room to grow slightly.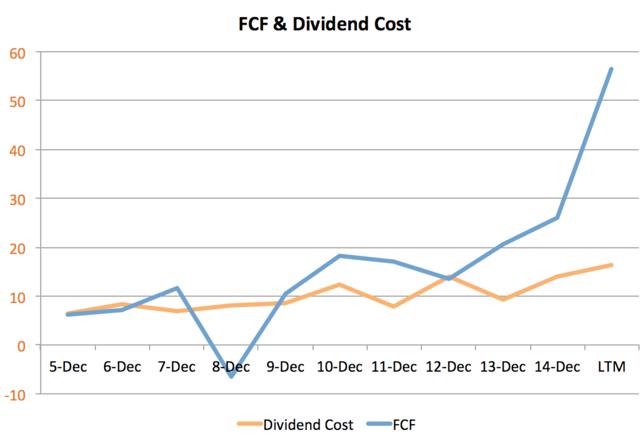 Click to enlarge
The company's last dividend raise was in December. The dividend increased from $0.50 to $0.57 -- a 14% increase. At the same time, shares have been declining in price resulting in a 5% yield. If using historic yield is a good comparison, then the current market offers an aggressive premium. As you can see from the chart below, yield has traditionally floated around 3%. Also, what you can see, the company has raised its dividend every year it has been a public company.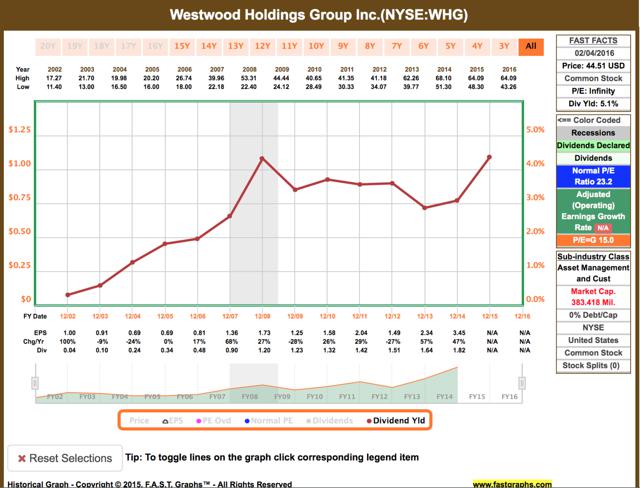 Click to enlarge
What is not to like?
The timing is not right to get into this investment just yet. We are in negative sentiment territory. The company operates mutual funds. The general market feeling is that mutual funds are going away and thus their revenue generated from this will go away over time.
Second, the market has performed horribly this year. If you earn a percent of your clients' money in a declining market, that means that you earn a smaller overall paycheck. YTD the S&P is down about 7%. That in theory directly translates to a 7% revenue hit for WHG.
Last, the company is focused in the South -- primarily Texas and has some focus on Houston. That does not bode well for separating yourself from Oil money. The company was asked this by an analyst in the Q4 report just the other day. The CEO responded when asked if there is concerns about growing the AUM with folks who are focused in the oil business by saying:
"Anyone in the drilling business, if you have a lot of debt has a lot of challenges, but most of the clients that we have at our Houston-based trust company have already exited the oil industry. They may have been involved at one time, but they've taken their savings and are having it professionally managed by our trust companies."
In addition, the company is outspokenly favorable of MLPs. With MLPs not doing well, it is assumed that it is not doing well for WHG as well. In the same response as mentioned above, the CEO goes into the MLP performance by saying:
"As far as positioning within our portfolio, we have a really deep bench and we have been investing in MLPs now for well over a decade and we continue to like the asset class. If you look back over history, any time there have been dislocations of this magnitude, the returns in the ensuing 6 to 12 months have been hugely positive, upwards of 50% total returns. So you have to be selective, but we've got a team of three very talented guys that focused exclusively on MLPs and we've got additional energy analysts who are sorting through the opportunities and feel really good about the prospects going forward."

Also, noted by the chart below from the Q4 investment call, the MLP exposure is pretty tiny in the grand scheme of asset investments.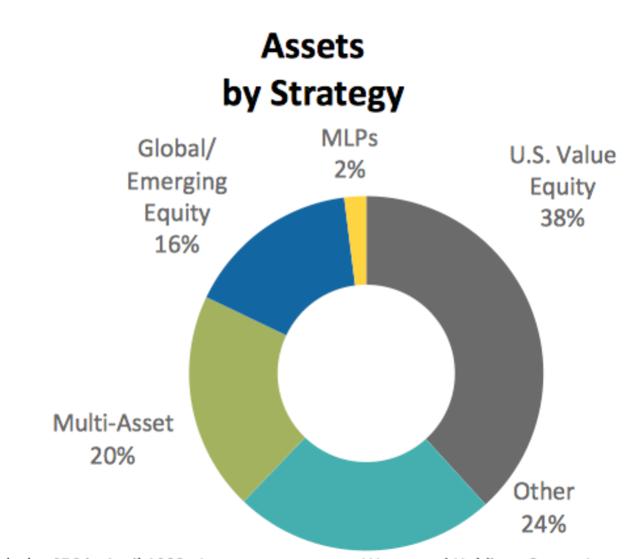 Click to enlarge
Also note, the company mentions that it is going to be investing in some IT spend for next year. This can impact earnings in the short term.
Last, there is something that I never like to see and that is a growing number of shares outstanding. In 2010, the company had 6.8M shares outstanding and today they are around 8M. That 17% growth is not good for the average shareholder. Some of this was issued for the Woodway acquisition, but shares outstanding have been growing for some time now. The company is able to continue to perform on a share-normalized value, but it is something to keep an eye on moving forward.
Valuation?
It is hard to know where to put this one. At this point, we know that the company performance tends to follow the performance of the S&P. Making the assumption that the S&P performance will grow over the next 5 years, it is reasonable to expect the company to perform equally over the next 5 years in terms of EPS growth. My best guesstimate is:
Earnings
Share Price
P/E
Dividends Collected
Payout Ratio
Today
$3.33
$44.51
13.37
$2.28
68%
Next Year
$3.00
$45.00
15
$2.44
81%
Y2
$3.18
$47.70
15
$2.59
81%
Y3
$3.37
$50.56
15
$2.74
81%
Y4
$3.57
$53.60
15
$2.91
81%
Y5
$3.79
$56.81
15
$3.08
81%
Total
$12.30
$16.03
Return CAGR
10%
Conclusion
This is not a stock I feel I have to own. Because of that, I am going to wait on the sidelines to see if the dip in earnings happens as I expect it will. In the short term, that could mean more pressure on share price. In small caps, I like to see at least a 15% opportunity before I am willing to throw some money into the ring. With a 10% opportunity it is nice, but not worth the risk in my opinion. I will be keeping an eye out for this one.
Someone looking for immediate income in the 5% range may want to jump on board. There could be some short-term volatility in the price so keep that in mind. With the history of good performance, conservative management, employees owning 25% of the company, zero debt, 14 years of dividend growth and reasonable payout ratio, it appears the dividend is safe.
Disclosure: I am/we are long TROW, S&P 500.
I wrote this article myself, and it expresses my own opinions. I am not receiving compensation for it (other than from Seeking Alpha). I have no business relationship with any company whose stock is mentioned in this article.