I have been taking plenty of heat lately when I have written about my decision to do nothing and let cash accumulate. Hardcore dividend growth investors will place every penny to work at all times, seemingly disregarding what the markets are telling us.
While I have supported time IN the markets over timing the markets, there are times when aiming for a growth of cash positions makes more sense and is more conservative. As far as I am concerned, this market has been telling us precisely that for over a month now.
What Is The Value Of Cash?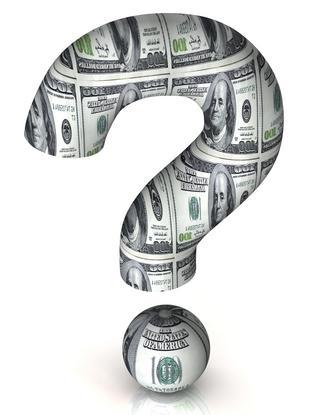 Most of the time I will lean towards putting idle cash to work to increase a stream of dividend income. There are markets such as the one we have right now when the safer move is to focus on building cash. Some see no value in that so let me offer a few simple thoughts for everyone to consider.
Having more cash now will enable you to buy dividend champs cheaper as the market keeps selling off.
Having more cash now will make it easier to watch the market drop and is less risky.
Let's say you have $10k right now but accumulate another $10k over the next few months or so. If a stock like Exxon Mobil (NYSE:XOM) drops from $78 to $65 per share, you will be able to purchase about 300 shares later, rather than 110 shares now.
Cash on hand feels damn good in a declining market and lets you sleep better.
Building cash allows you to become an even more aggressive dividend growth investor in a more cost-effective way.
Buying at lower entry prices will increase your yield, enable more shares to be added, and increase your income.
Tell me the worst that can happen? In my mind, missing a dip but NOT selling from panic, and building cash while the dividend checks keep rolling in makes lots of practical, conservative sense when the market is so easy to read, as it is now.
So if I am wrong, the worst that will happen is you miss a buying opportunity. That's it in my mind. If that is the worst that can happen, then during this market environment, I choose the less risky path of building cash and keeping an eye on the issues and headwinds that this market is facing.
Trust me, the stocks will still be there when the dust settles. It ain't that critical to rush into anything right now.
In the meantime, TARP will continue producing an income stream, and guess what? General Motors (NYSE:GM) just raised its dividend by over 5%, so the Team Alpha Retirement Portfolio just got another bump in its income!
As of now, the portfolio consists of the following stocks: Exxon Mobil, Johnson & Johnson (NYSE:JNJ), AT&T (NYSE:T), Franklin Street Properties (NYSEMKT:FSP), Coca-Cola (NYSE:KO), Omega Healthcare (NYSE:OHI), Procter & Gamble (NYSE:PG), Realty Income (NYSE:O), General Motors, Ford (NYSE:F), Microsoft (NASDAQ:MSFT), Consolidated Edison (NYSE:ED), Altria (NYSE:MO), Main Street Capital (NYSE:MAIN), PetMed Express (NASDAQ:PETS), BGC Partners (NASDAQ:BGCP), Ohio Valley Banc Corp. (NASDAQ:OVBC), HCP, Inc. (NYSE:HCP), Old Republic International Corp. (NYSE:ORI), Starwood Property Trust (NYSE:STWD), Mattel (NASDAQ:MAT) and Annaly Capital (NYSE:NLY).
Here is the brand new income update: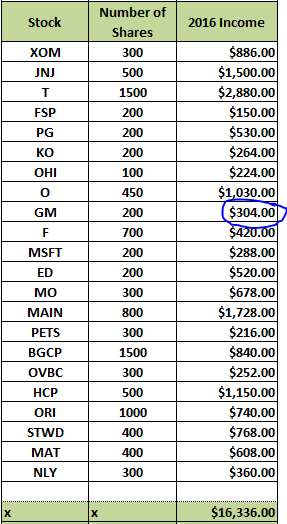 Are you building cash or are you still buying this correction? Inquiring minds want to know!
Why "Follow" Me?
The main reason for a subscriber to "Follow" me, especially for the model portfolios (TARP or otherwise), is to glean some knowledge to become a better investor and not simply place bets.
Money management is every bit as important as any other aspect of investing, and by following a portfolio and the actions taken, you can gain some insight into a somewhat higher level of investing acumen. There are no requirements, and this is not "rocket science" -- it is simply a powerful way for you to put the money you have worked hard for to work even harder for you.
My message will be consistent, and my hope by doing this is to share my own experiences, illustrated in the model portfolios I build exclusively for Seeking Alpha.
Knowledge is power, and many folks shy away from the investing world because that very world makes it more confusing each and every day in an effort to sell you something: stock picks, technical strategies, books, videos, subscriptions with "secret ideas," gadgets, and even snake oil.
My promise to you is that my work here will remain free to all of my followers, with the hope of giving to you some of the things that took years for me to learn myself. That being said, let me reach out to you with my usual ending:
**One final note: The only favor I ask is that you click the "Follow" button so I can grow my Seeking Alpha friendships. That is my personal blessing in doing this, and how I can offer my experiences to as many regular folks as possible, who might not otherwise receive it.
Plus, it is free (and will continue to be) and does not cost one penny for anyone who reads me.
Disclaimer: The opinions and the strategies of the author are not intended to ever be a recommendation to buy or sell a security. The strategy the author uses has worked for him, and it is for you to decide if it could benefit your financial future. Please remember to do your own research and know your risk tolerance.
Disclosure: I am/we are long AAPL, BGCP, ED, F, FSP, GM, HCP, JNJ, KO, MAIN, MAT, MO, MSFT, NLY, O, OHI, ORI, OVBC, PETS, PG, STWD, T, XOM.
I wrote this article myself, and it expresses my own opinions. I am not receiving compensation for it (other than from Seeking Alpha). I have no business relationship with any company whose stock is mentioned in this article.
Editor's Note: This article covers one or more stocks trading at less than $1 per share and/or with less than a $100 million market cap. Please be aware of the risks associated with these stocks.