The Boeing (NYSE: BA) 787 has been around for a number of years, moved through a painful birth, and now increasingly contributes to Boeing's success in dominating the widebody segment. Boeing's perseverance is paying off. It might be years before the 787 achieves breakeven, but there is little doubt that the program will do so.
Here are a few charts to give us an idea of how the program is unfolding.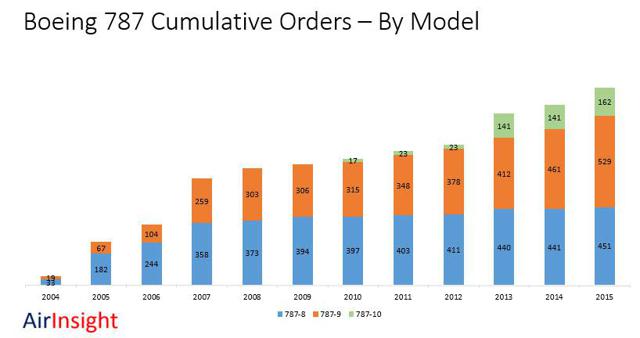 Click to enlarge
One aspect of these orders is a trend towards the larger models. The chart above indicates this, but the following chart shows it more clearly. Up-sizing is really occurring. Customers are moving up because the larger aircraft are more capable and offer better economics.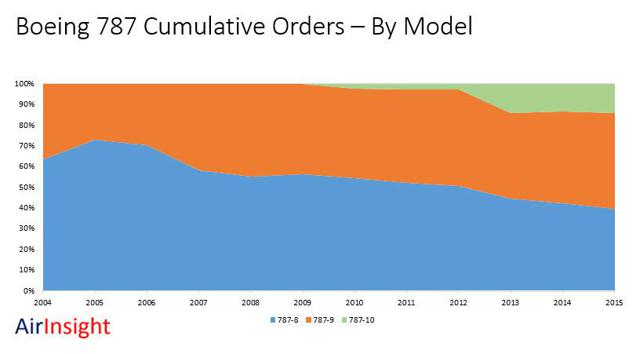 Click to enlarge
Taking a look at engine selections also provides interesting trends. Rolls Royce's (OTCPK:RYCEY) initial success with the program has slowed. GE's (NYSE:GE) share grew continuously, probably because of GECAS influence, but also because the GE product delivers. A sizable number of 787 orders have not selected engines yet.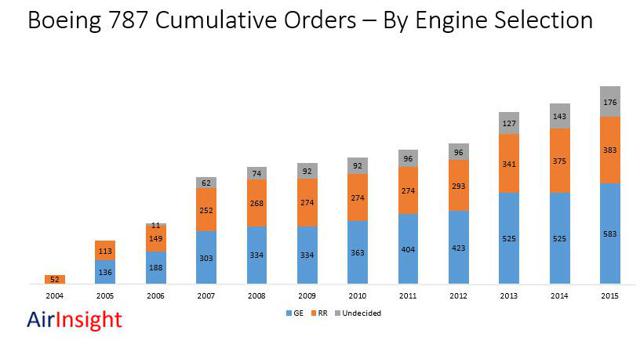 Click to enlarge
In the next table, we look at the details of the unidentified engine selections. We believe some engine selections can be reasonably guessed at based on the airline's predilections or earlier engine selections. Rolls Royce customers are the more predictable in our view.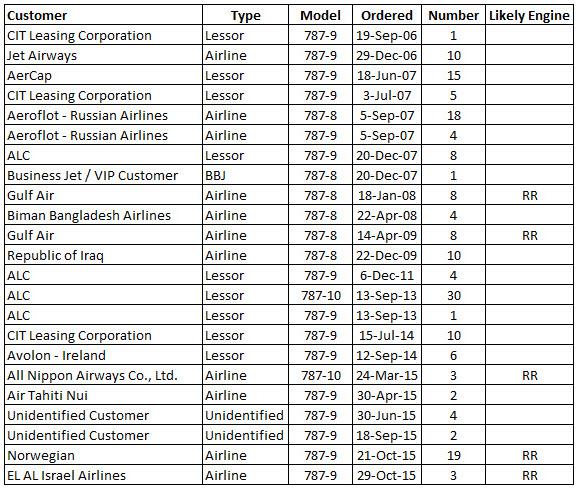 The 787 program is starting to build a strong following with its customers. By that we mean a number of airlines have become repeat buyers. This sends a strong signal of confidence in the program and the aircraft's performance.
As the next table demonstrates - even though it does not include every repeat customer (it includes selected airlines) - those that have made repeat orders are not only among the largest airlines, many are highly influential. The United (NYSE:UAL) orders include those of Continental.
As the numbers show, a number of airlines have "topped up" orders as they see more network opportunities for the 787. But note also that a number have added growth models in volume.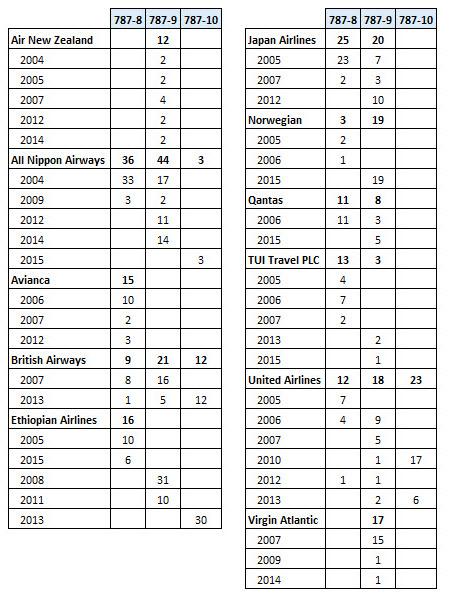 The data shows Boeing's 787 program has managed to build strong customer support and confidence. Repeated orders from existing customers can only mean one thing - the airplane does what it was promised to do.
Disclosure: I/we have no positions in any stocks mentioned, and no plans to initiate any positions within the next 72 hours.
I wrote this article myself, and it expresses my own opinions. I am not receiving compensation for it. I have no business relationship with any company whose stock is mentioned in this article.