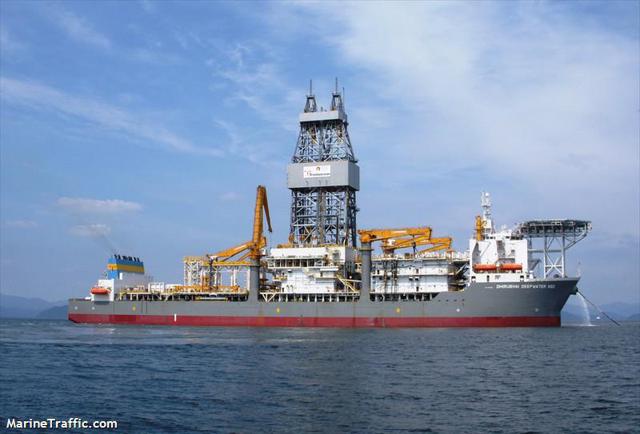 Click to enlarge
Source: Shipspotting.com - Dhirubhai KG2 Drillship (2010).
This article is an update to my preceding article on Transocean Ltd. (NYSE:RIG) published on January 17, 2016 regarding the ONGC tender.
On January 9, 2016, we learned from upstreamonline the following:
INDIA'S state-owned Oil & Natural Gas Corporation (ONGC) is set to finalise within weeks the charter of three offshore rigs from drilling contractors under deals totalling more than $300 million.

Transocean, Great Offshore and Essar said to be in line for three-year contracts but latter's bid with semi-submersible Wildcat considered excessively low.
On January 15, 2016, we learned from upstreamonline the following?
INDIA'S state-controlled Oil & Natural Gas Corporation (ONGC) has cancelled two major tenders in which it was seeking as many as five deep-water rigs.
The ONGC original tender was for 15 rigs and should be now for 10 rigs.
Rig
Spec.
Contract
Jackups
Independent leg 300' HS
2
Mat supported 250'
2
Mat supported 250' HPHT
1
Independent leg 300' Standard unit
3
Total Jackups
8
Floaters
Moored floater 91m-762m
3
DP Floaters 500m-1,500m
2
Floater 305m - 1,000'
1
Semi or Barge 183m - 600'
1
Total floaters
7 2
I assume here that the two tenders totaling five drillships canceled are:
Moored floater 91m-762m (three floaters)
DP Floaters 500m-1,500m (two floaters)
Sl.No.
Tender No.
Description
period
1
MR/DS/MM/ANCHOR MOORED/2500ft/
215(10)/2015/P46JC15002
Charter hire of 3 nos Anchor moored Drillship/ Semi-submersible Drilling rigs for drilling wells in water depth up to 2500ft.
1369 days from the date of commencement.
2
MR/DS/MM/DP/1500mtr/215(10)/2015/P46JC15003
Charter hire of 2 Nos. Dynamically Positioned Drillship/Semi-Sub-mersible Drilling rigs drilling wells in water depth up to 1500 mtr.
912 days from the date of commencement.
Today, February 5, 2016, we learned from upstreamonline the following:
By NISHANT UGAL New Delhi 05 February 2016 02:12 GMT

Oil & Natural Gas Corporation (ONGC) has launched a fresh tender seeking two deep-water rigs for drilling off India's east coast.
It took ONGC not very long to reinstate, somehow, the tender for two UDWs. If the tender is similar to the one above, it could be suitable for a drillship or a semi-submersible? An article published on September 2015 on Rigzone by Chee Yew Cheang, explained the situation.
Given the depressed drilling market, around 18 companies were understood to have offered up to 30 deepwater drillships and semisubmersible rigs into a tender for five deepwater rigs issued by India's state-owned Oil and Natural Gas Corp. (ONGC) Ltd. for its drilling campaign at the KG-DWN-98/2 or KG-D5 block in the Krishna-Godavari Basin off the country's east coast.
Apparently, ONGC is still interested to bring KG-D5 block to completion by 2018-2019.
ONGC Chairman DK Sarraf has said that up to $7 billion might be spent to develop the deepwater KG-D5 block to bring it into production in 2018, Reuters reported Aug. 13. The block is targeted to reach peak production of 77,000 barrels of oil per day (bopd) and 600.28 million cubic feet per day (MMcf/d) of natural gas.
"The last deep sea rig that we hired was Platinum Explorer (UDW drillship) from Vantage for $585,000 per day. We anticipate charter rates will come down to less than $300,000 a day in our tender," he said.
The ONGC official is hoping for aggressive bids by drilling contractors in the tender as the Indian upstream player plans to drill 45 development wells from next year.
ONGC bought a 90% interest in block KG-DWN-98/2 from Cairn Energy India in 2005. Cairn still holds 10% in the block.
Another article published on February 4, 2016 explains what was at stake and why the tender has been launched recently.
Government-owned Oil and Natural Gas Corporation (ONGC) has said would soon finalise the revised cost estimate for the development of its KG basin discoveries.

Sarraf said development of its D5 block in the Krishna-Godavari (KG) basin, off the coast of Andhra Pradesh, might not be viable at a gas price less than $4.2 per million British thermal units (mBtu)... The rate by this formula (based on the average in gas surplus countries like the US, Russia and Canada) is $4.24 per mBtu. A new rate for domestically produced natural gas based on the formula takes effect from April 1.

The company had earlier given a field development plan to the regulatory body, the Directorate General of Hydrocarbons, for starting production by 2018-19 from the block.
It will be a very difficult competition and day rates are expected to be under $300k/d. The Platinum Explorer from Vantage drilling is now ready stacked and many other drillships, 6G or 7G, will be competing for this contract that should be awarded pretty soon if production is scheduled for 2018-2019?
We are still waiting for the first ONGC contracts to be awarded very soon. Transocean should get one contract in this new tender. We are now back to 12 rigs that should be contracted by ONGC, which is taking plain advantage of the situation and securing contracts at day rates that have been considered under the breakeven point by Seadrill (NYSE:SDRL) very recently.
Conclusion:
The situation for the offshore drilling industry, especially for the UltraDeepwater segment, is very difficult at the moment. Because of a total disappearance of tender in this sector, most the offshore drillers such as Transocean, Seadrill and a dozen other companies are gasping for air and are willing to sign contract at day rates that are under the breakeven price. Mr. Per Wullf, Seadrill's CEO, said a few days ago in a telephone interview:
Wullf, who has worked in the industry for more than 30 years, said he would accept a day rate of $300,000 for an idle floating rig on a contract for 12 months or more, compared with the $350,000 to $400,000 he was seeking a little more than three months ago. Rates peaked at as much as $650,000 in 2013, prompting a surge in the building of new rigs.
I believe that this new trend may well be what will finally help the offshore industry to survive this worst bear cycle in history, assuming that oil prices can finally bottom out with the coordinated actions of OPEC (Saudi Arabia) and Russia.
Waiting for ONGC news now.
Disclosure: I am/we are long RIG, SDRL.
I wrote this article myself, and it expresses my own opinions. I am not receiving compensation for it (other than from Seeking Alpha). I have no business relationship with any company whose stock is mentioned in this article.