As economic data has shown deterioration, the fear of the causal catalyst for economic demise - abrupt oil price decline, has given way to tangible economic concern. Investors are well advised to watch the economic data more closely than energy prices for their cue. Recession is the real life threat we need to fear, and so economic data will take the lead and drive both stocks and oil prices from here.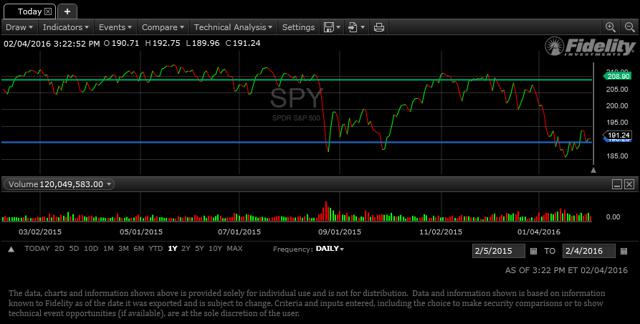 Click to enlarge
1-Year Chart of SPY ETF at Fidelity.com
The one-year chart of the SPDR S&P 500 (NYSE: SPY) shows stocks teetering on the edge of abyss. Equities have been pricing in a bad case scenario this year, and apparently efficiently so, given the latest deterioration of economic data.
Markets hadn't really been worried about the economy just yet. Rather, they were worried about continued oil price decline. The market had grown increasingly spooked by the abrupt dive of oil prices. The theory goes that energy producers on the margin will go bankrupt if this keeps up, and that a variety of lenders might be at special risk. So as oil prices rose, so did stocks, and as oil prices fell, so did stocks. But something has changed.
Despite Friday's Employment Situation Report showing unemployment rate improvement to 4.9%, other economic data has increasingly offered tangible cause for concern. Even today's jobs report showed a slower rate of new job growth in January than was expected. Economists were looking for an increase of 188K nonfarm payrolls in January, and we got 151K. The prior month's growth in jobs was revised lower as well.
More importantly, earlier this week we saw slower expansion of the services sector. That raised concern that the weakness in energy and manufacturing might no longer be isolated to those areas of the economy. The service sector is the driver of U.S. GDP by a wide margin, and so poor signals about it reverberate.
The ISM Non-Manufacturing (Services) Index fell to 53.5 in January, from a revised level of 55.8 in December. Readings above 50.0 signify economic expansion, but the lower result means the pace of expansion slowed. Unfortunately, there's clearly a trend of that, with January being the third consecutive month of decrease since the October peak. I hadn't been concerned about this data point in the past because Business Activity/Production and New Orders had been resilient, but that changed this month. The Business Activity component fell 5.6 points to 53.9 and New Orders fell 2.4 points to 56.5. The decrease surprised economists as well, with the consensus expecting a reading of 55.5 for January. The PMI Services Index confirmed the slowdown seen in ISM's data point, as it was reported down to 53.2, from 54.3 in December.
The manufacturing sector showed no improvement when data on it was reported earlier in the week. ISM's Manufacturing Index was 48.2 in January, up two-tenths from a revised 48.0 reported for December. Again, readings below 50.0 mark contraction, or sector recession. The manufacturing sector, as measured by ISM, has been deteriorating since June of 2015. It has been concerning, but has been blamed on the weakness of energy and also on the difficulty of U.S. multinationals to export goods against nascent dollar strength. We've had our fingers crossed, knowing the American consumer was benefiting from lower energy and fuel costs.
Yet, when retail sales data was reported, it failed to show the strength we expected. This report is due again soon, but December data showed retail sales declined by 0.1% against November growth of 0.4%. When excluding autos and gasoline, retail sales were unchanged against November's gain of 0.5%. Major retailers Wal-Mart (NYSE: WMT) and Macy's (NYSE: M) have not been doing well, but much was expected from ecommerce. And then Amazon.com's (NASDAQ: AMZN) earnings report last week let us down, as the nation's leading ecommerce seller of goods posted an earnings shortfall. Though, it's notable that the shortfall was due to the company's heavy investment, as it posted record sales. Still, ecommerce is included in the overall retail sales data, which did disappoint.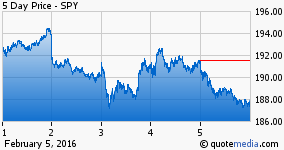 Stocks did not perform well this week, as concerns about the economy intensified.
| | |
| --- | --- |
| Sector Securities | Week Ended 02-05-16 |
| Vanguard Total Stock Market (NYSE: VTI) | -3.1% |
| SPDR S&P 500 | -3.0% |
| SPDR Dow Jones (NYSE: DIA) | -1.5% |
| PowerShares QQQ (NASDAQ: QQQ) | -5.8% |
| iShares Russell 2000 (NYSE: IWM) | -4.8% |
| iPath S&P 500 VIX ST Futures (NYSE: VXX) | +9.3% |
| United States Oil (NYSE: USO) | -7.7% |
Volatility bets gained sharply as equities fell across the board, led by the riskiest of the bunch in technology and smaller shares. Oil fell, but the decline illustrated oil is following stocks now, because of concern about energy demand decline. Oil has several factors in play today, which I discussed in my last report on oil. Another factor weighing against it today was the dollar bounce.
Stocks were down, not because of the oil monster in the closet, but because of the real economic scare we got this week. The services sector appears to show infection may be spreading from various other pockets of the economy. The jobs data did not help because it provided a mixed message, with job growth slowed but unemployment improved. Anyway, many investors have conviction that employment is a lagging indicator that will trail other data in exposing economic recession. The jobs data was still bad enough to keep equities on the rocks. Though, it was good enough to re-raise the specter of potential Fed rate hikes this year. That was evidenced in the dollar strength Friday, as the PowerShares DB US Dollar Bullish (NYSE: UUP) gained by a half point. Investors are advised to keep their eye on the real threat moving forward. It is not oil, but the risk of economic recession and of the Federal Reserve not positioning for it. Economic data moving forward will weigh most for or against stocks. I cover the markets closely and invite relative interests to follow my financial column here at Seeking Alpha.
Disclosure: I/we have no positions in any stocks mentioned, and no plans to initiate any positions within the next 72 hours.
I wrote this article myself, and it expresses my own opinions. I am not receiving compensation for it (other than from Seeking Alpha). I have no business relationship with any company whose stock is mentioned in this article.