Following on from our article about Foot Locker (NYSE:FL) and how it stands to benefit from a health and wellness boom, we thought we would turn our attention to Weight Watchers International, Inc. (NYSE:WTW) and see if it too would benefit from the shift to healthy lifestyles.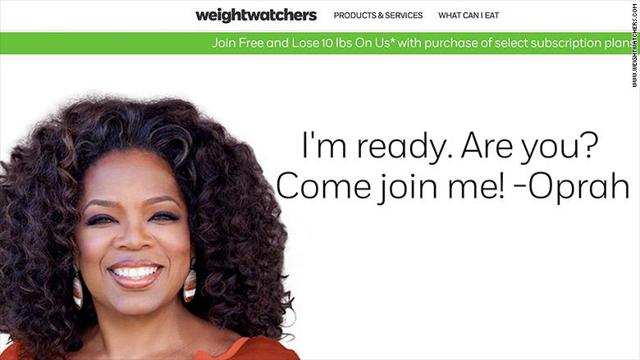 Click to enlarge
Since Oprah Winfrey came on board the shares have been flying, climbing by 144% in the last 5 months. But this is nothing compared to where it has been during this time. Trading at $11.49 today is a drop of over 61% from its 52-week high of $28.05. For those that bought in six months ago before Oprah came aboard, and sold at the top, they would have made a return of 664%. If that is you, we applaud you.
The arrival of Oprah was a welcome relief to shareholders, not just because of the share price gains, but because the company was heading into obscurity. The year over year results were looking absolutely dreadful, as shown below.

Click to enlarge
Source: Company Release
Aside from earnings per share being down by 43%, revenue was down 20.8% and subscriptions were down by 12.7% year over year. Each single geographical segment was down on average by 20%.
So what's different now? Oprah. That is it. We are adamant that subscriptions will have grown substantially year over year in the current quarter (Oprah's first quarter) due to the Oprah-effect. But despite her clout, we cannot help but wonder if she has enough in her to keep it going quarter on quarter in the next couple of years.
To know that, we have to decide whether Weight Watchers is relevant today. Eating healthy is without doubt a major part of a good lifestyle, but you must be active also. The active part is where Foot Locker comes in and benefits, but the healthy eating really need not be Weight Watchers.
We admit that it is convenient for some users to have their lives planned out and having Oprah champion it will undoubtedly boost sales. She does have a bit of a Midas touch, turning anything she touches into gold after all. But eating healthily is not at all rocket science and there are a plethora of free calorie counting apps out there that can do the job without a monthly fee. Despite the affection that many throw at Oprah, we have doubts as to whether she can win this one. Being a well known and major shareholder in the company, we feel consumers might see past the undoubted good she is doing by promoting healthy diets, and not be completely sold by her actions.
In the last few years group fitness has been on the rise. Group fitness is a great way for consumers to find like-minded people with similar goals. This for us is much more appealing than the one-on-one phone call with a coach you get if you sign up for the $55 per month Coaching + OnlinePLUS plan, or the $45 per month Meetings plan that Weight Watchers provides. It is because of this that we favoured an investment in Planet Fitness (NYSE:PLNT). We feel the no judgment gyms and cheap monthly prices should beat Weight Watchers to the similar target demographics.
We believe Oprah's promotional work will have caused a large increase in subscriptions. But much like gyms, retention will be key for Weight Watchers' growth. Generally Weight Watchers incentivize you to sign up for a minimum of three months, which gives the company time to get you to meetings and give you a sense of belonging. If rapport is built at the meeting, then there is a strong chance of retaining these customers.
As we have mentioned previously, with the Olympics coming up this year we think it will be a good catalyst for many consumers to get healthy and active. We still prefer investments in gyms and fitness apparel, but freely admit that Weight Watchers could capture some of this growth should it eventuate.
So all in all, we think that this will have been a very successful quarter for Weight Watchers. But long term we think the company will struggle to maintain any quality growth that makes the company a good long term investment today. Instead, we prefer companies like Nike (NYSE:NKE), Foot Locker, and Lululemon (NASDAQ:LULU). As far as we are concerned, a healthy lifestyle is an active one and one in which consumers eat smart. Instead of going to an hour-long meeting about losing weight, we feel the gym would be a better destination.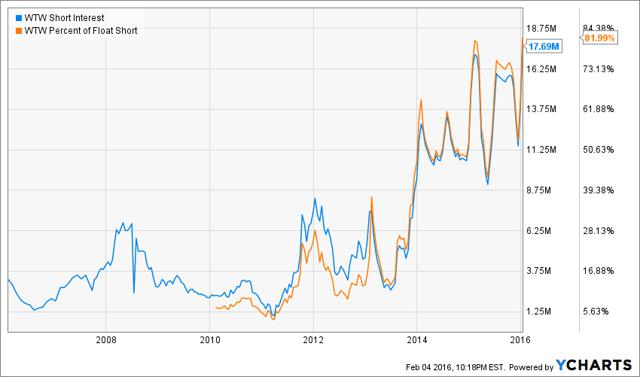 Click to enlarge
There may be short term gains if this quarter is a good one, but we would caution against an investment due to the risks involved if they fail to achieve what the market expects. With such a high percentage of its float held short, the bears are in control here. Our expectation is that the share price will eventually retreat down below the $10.00 mark.
Disclosure: I/we have no positions in any stocks mentioned, and no plans to initiate any positions within the next 72 hours.
I wrote this article myself, and it expresses my own opinions. I am not receiving compensation for it (other than from Seeking Alpha). I have no business relationship with any company whose stock is mentioned in this article.