With the earnings season well underway now, there have been a quite a few companies that have reported weaker than expected results or disappointing guidance. This often results in an overreaction whereby panicky shareholders and shorts push the stock down to levels that can represent an attractive buying opportunity. The recent correction of about 10% in the stock market has already discounted many stocks, so when an earnings miss is added to the mix, there are potential bargain buying opportunities.
There is a lot of negativity and fear in this market. As I pointed out in this article, one index shows that fear is now at "extreme" levels. That has typically been a great time to buy stocks and rallies often ensue. Because of all this negativity and fear in the market, it seems that some stocks are getting hit much harder for any earnings miss. That can create a great entry point for longer-term investors who like bargains. In addition to all the fear and negativity, there is also way too much short-term thinking in this market. Short-term thinking can lead to big investment mistakes. For example, some investors might be panic selling now over fear that the market could drop further, but over time, stocks have been proven to create wealth and cash earns just about nothing today. Short-term thinking can also cause investors to sell a stock after a disappointing quarter, but results from a single quarter should not necessarily create a huge percentage decline in the value of a company's market capitalization and that is why buying stocks after an earnings miss can be a great opportunity. With this in mind, let's take a closer look at a couple stocks that look undervalued after an earnings miss plunge:
The Boeing Company (NYSE:BA) recently reported Q4 earnings of $1.03 billion or $1.51 per share. This was less than the $1.47 billion or $2.02 per share that it earned in the same period last year. The Q4 earnings were basically in line with estimates; however, the company announced weaker than expected guidance that suggests it will significantly miss analyst estimates for 2016. Boeing said it now expects its 2016 adjusted profit in a range of $8.15 to $8.35 per share on revenue between $93 billion and $95 billion. For 2016, analysts had been expecting a profit of $9.41 per share on revenue of $97.26 billion. This news caused the stock to plunge: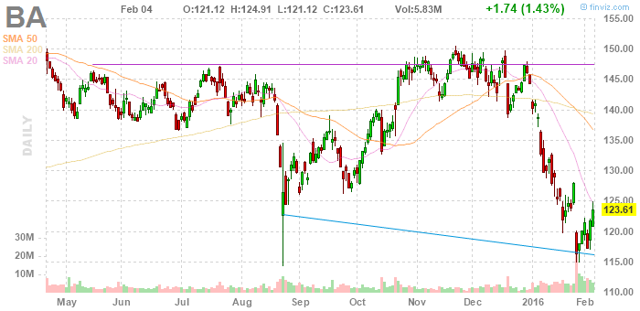 As the chart above shows, Boeing's shares plunged to about $115, which is right around the lows it hit during the flash crash in August 2015. It is also notable that the stock quickly rebound from the August lows and traded back to near the $150 level within a couple of months. With the reduced guidance from the company, a quick rebound to $150 might not be in the cards right now, but even a partial rebound could offer solid gains for investors who buy this dip. Since this stock is now trading near the support levels it found in August, further potential downside might be limited. In addition, Boeing pays an annual dividend of $4.36 per share which yields about 3.7%. This yield will reward investors while patiently waiting for a rebound in the share price.
MetLife (NYSE:MET) offers life insurance, annuities, employee benefits and other financial services. This company recently reported a fourth-quarter profit of $834 million, or $1.23 per share, after adjustments for non-recurring expenses, on revenues of $17.11 billion. This was below analyst estimates of $17.45 billion in revenues and earnings per share of $1.36. The company said the miss was due in part to the strong dollar during that quarter. However, the U.S. Dollar has weakened significantly in the past few days, so this might not be such a big headwind in the future. There are a number of positives that long-term investors should consider, all of which suggest the decline in this stock is an ideal buying opportunity.
MetLife's shares were trading at about $52 in December, but have since fallen below $40. Now this stock is too cheap to ignore and it has a major potential upside catalyst as it plans to spin off a portion of its business. Analysts expect MetLife to earn $5.88 per share for 2016, which means this stock is trading at just about 7 times earnings. This stock also offers a dividend yield of more than 3%. Analysts have recently become more bullish with upgrades and price target increases. On January 19, 2016, analysts at RBC Capital Markets reiterated an outperform rating on MetLife and raised the price target from $61 to $65 per share. On January 22, 2016, analysts at Raymond James upgraded this stock from market perform to strong buy. MetLife just announced it would spin off its U.S. retail business which could reduce regulatory burdens and potentially create more shareholder value. MetLife's shares now trade significantly below book value which is about $63 per share. This indicates this stock is undervalued as does the price-to-earnings ratio. I believe the slight earnings miss will be forgotten fairly soon and investors will return their focus on the spinoff plans for this stock.
If you want to read about one of my top small-cap picks to buy after a miss on earnings, check out SuperValu (NYSE:SVU), which is a beaten down bargain at $4.25 per share. I wrote about SuperValu in this article. Please follow me for future updates and stock picks.
Data is sourced from Yahoo Finance. No guarantees or representations are made. Hawkinvest is not a registered investment advisor and does not provide specific investment advice. The information is for informational purposes only. You should always consult a financial advisor.
Disclosure: I am/we are long MET, SVU, BA.
I wrote this article myself, and it expresses my own opinions. I am not receiving compensation for it (other than from Seeking Alpha). I have no business relationship with any company whose stock is mentioned in this article.