When it comes to media, it would be fair to say that Disney (NYSE: DIS) is widely regarded as the king of content. With assets such as Walt Disney Studios and Pixar Animation, it's easy to see why. Throw in the more recent acquisitions of Marvel Studios and Lucasfilm, along with the juicy franchises that came with them, and it's hard to disagree that Disney has the content front very much nailed down. What's more important, though, is that although the attention is often on kings of content tag, management have also been the kings of execution in turning Disney's brands into an ever increasing cash cow. In that respect it's also easy to see why someone like Warren Buffett describe Disney as the one that got away, with the company displaying the usual Buffett-type hallmarks of high quality, such as above average operating margins and returns on capital. If content is the kind of economic moat that sustains its competitive advantages, then that moat has been growing larger over recent years, and needless to say it's a trend that bodes well for shareholders going forward.
The Iger Effect: Soaring Profitability
If we just concentrate on profitability and the 2015 financial year figures then Disney compares very well to its industry peers. Looking at the cash return on invested capital (CROIC) - that is the dollar amount of free cash flow generated for every dollar of invested capital - then in the last financial year this is how the company fared against some of its competitors:
| | | |
| --- | --- | --- |
| Company | CROIC | Capex/Cashflow |
| Viacom | 13.9% | 6.1% |
| Time Warner | 7.7% | 10.4% |
| Fox | 8.7% | 11.9% |
| Disney | 11.6% | 39.2% |
| CBS | 7.9% | 12.4% |
Even though Disney has, in some way, the most capital intensive underlying business of the group, it still generates relatively large free cash flow and ranks amongst the highest in terms of profitability. Take into account that a good proportion of current capital spending is due to the ramp up before the opening of the Shanghai resort and the underlying situation is actually even better, with previous average capital spending closer to 30% of operating cashflow compared to 40% in fiscal year 2015. If one assumes that capital spending will revert to the mean, then Disney's profitability in terms of free cash flow is on par with the highest in the media sector. In isolation it might not seem as though there is much in the way of new information there, but what's more telling is firstly that Disney is the most capital intense of that group, which makes its free cash flow returns even more impressive, and secondly how the current situation compares with past profitability. In fiscal year 2002 for example, a few years before current CEO Bob Iger got the top job, its cash return on invested capital came in at just 3.2%. So just on a cashflow basis it's apparent how much more profitable Disney is now than towards the end of Michael Eisner's reign: not only in terms of absolute dollar amounts to the bottom line (which is of course also true due to historical growth), but also intrinsically in terms of its underlying business. Last year the company brought in nearly $12 per $100 of invested capital; in 2002 it was only pulling in $3.20 for the same $100 of capital invested.
What do those figures say about the Bob Iger period compared to his predecessor? In addition to the potential that was perhaps not really being exploited previously, it's also speaking volumes about the current corporate strategy. It takes a rare business to increase its underlying profitability over long timescales; Apple (NASDAQ: AAPL) is probably the most obvious example of a company that has achieved a similar feat over the last decade, in its case due to the enormous popularity of the iPod and then of course the iPhone and iPad. But whilst in Apple's case it's easy to point to very specific devices, what about Disney which has broadly retained the same operating segments over the past ten years?
Where Content Is King
If we take a look at the five year income growth trend by operating segment then Media Networks is obviously the dominant sector today as it was in 2010, even if it is to a lesser extent with the segment accounting for 53% of 2015 operating income compared to 67% in 2010:
| | | | | | | | |
| --- | --- | --- | --- | --- | --- | --- | --- |
| (Figures in $m) | | | | | | | |
| Segment | 2010 | 2011 | 2012 | 2013 | 2014 | 2015 | CAGR |
| Media Networks | $5,132 | $6,146 | $6,619 | $6,818 | $7,321 | $7,793 | 9% |
| Parks and Resorts | $1,318 | $1,553 | $1,902 | $2,220 | $2,663 | $3,031 | 18% |
| Studio Entertainment | $693 | $618 | $722 | $661 | $1,549 | $1,973 | 23% |
| Consumer Products | $677 | $816 | $937 | $1,112 | $1,356 | $1,752 | 21% |
Although the company has been pretty much firing on all cylinders in terms of income growth it's clear that Studio Entertainment, Consumer Products and Parks and Resorts have shown exceptional growth. The former is obviously more volatile given the nature of box-office films, but still the trends of all three are not that surprising given the franchises they have acquired and, perhaps more importantly, what there is still to look forward to in the future. To get a bigger picture though look at the trends in operating margins, and in particular with the Consumer Products segment. Media Networks has been stable from already high levels but Consumer Products, Parks and Resorts and Studio Entertainment have increased markedly over the past few years: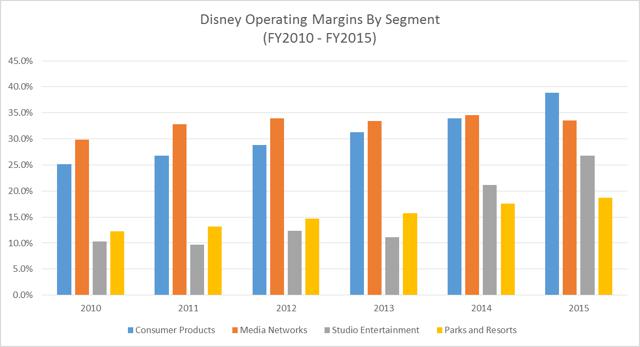 Click to enlarge
It's here that the effects of aggressive monetization of its content brands are most apparent, and at the end of 2015 Consumer Products was the highest margin segment. In that respect the approach to make original content a priority is put into some perspective, and why deals for Marvel and Lucasfilm make even more sense since Disney can exploit them across multiple segments of the business. That might seem obvious at first but when you consider that these are now the primary drivers of income growth then its a trend that bodes well for shareholders going forward. To put it into a bit more context compare the cash returns on invested capital for Disney and Time Warner (NYSE: TWX) for example; both are content kings but Disney is displaying much higher returns on invested capital as it is better able to monetize its assets across the company.
Whilst it's all well and good to focus on the strength of its franchises and how the company is increasing its profitability in the process, it does throw up a bit of a conundrum with ESPN, which of course makes up the lion's share of revenue and income for the Media Networks segment. Just as a final thought, even though it is a cash cow for the company and even despite much of the hyperbole surrounding the effects of cord-cutting, the company should seriously consider spinning it off. Regardless of the potential disruption to the business model due to the changes that are occurring in consumer habits it's a 'segment' that doesn't fit with the wider business. Spinning it off now will deliver all the value to Disney's shareholders whilst creating an incredibly strong core company - one that is centered on original content and which is enjoying huge competitive advantages to peers due to both the strength of the content brands and also management's execution.
At 16.5 times forward earnings the stock may not be screaming undervalued, but consider that this is a company that is increasing its underlying profitability under a clear strategy. The balance sheet is solid, with stable debt to equity and buybacks comfortably funded from cash flows running at over 2% of the float a year. Disney may not be the cheapest media play but it's the highest quality with more to come.
Disclosure: I/we have no positions in any stocks mentioned, and no plans to initiate any positions within the next 72 hours.
I wrote this article myself, and it expresses my own opinions. I am not receiving compensation for it (other than from Seeking Alpha). I have no business relationship with any company whose stock is mentioned in this article.