Polo Ralph Lauren (NYSE:RL) was - for some time - one of my favorite shorts in the apparel/retail sector. I showed repeatedly why I didn't like the stock as it made new highs in 2014 only to see shares have a nightmarish 2015. But back in August of last year, I made the declaration that I was done shorting RL, as I thought at the time that it may have been near a bottom. The stock was trading at multi-year lows around $110 at the time, but as we all know now, it has become much cheaper. FQ3 results and guidance for Q4 were absolute disasters and RL lost almost a quarter of its value yesterday. With the stock at 5-year lows, what are investors to do?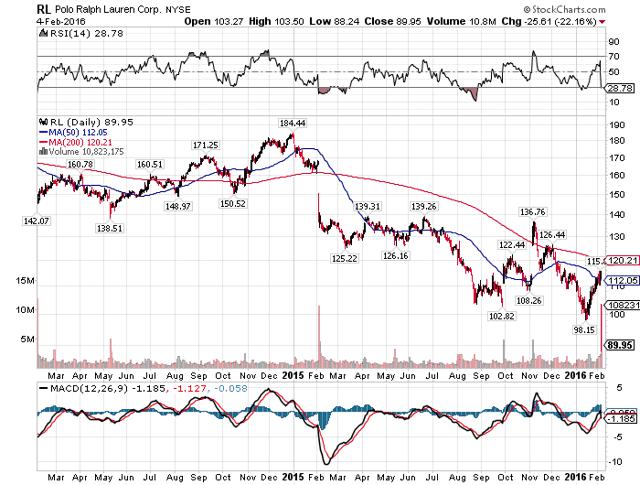 Click to enlarge
Back in August, I touted RL's expense management efforts as the reason why I was done shorting RL. I stopped short of saying RL was a long, but I saw signs that its turnaround effort was producing some meaningful progress at the time. Unfortunately for RL longs, that progress turned out to be a flash in the proverbial pan, as FQ3 and guidance for FQ4 were horrendous, unwinding the small amount of progress I thought I saw in FQ1.
The revenue situation was once again ugly for RL. The wholesale and licensing businesses both produced flat sales on a currency-neutral basis, but the wholesale segment declined again. RL's total revenue declined 1% on a currency-neutral basis, but once currency translation is added in, that decline becomes 4%. This is one of the major problems I pointed out as part of the short case; RL has a moderate amount of exposure to the strong dollar and it comes at a time when it needs all the help it can get, not additional headwinds. RL's business seems to be in perpetual decline, but the good news is that the declines are still somewhat manageable on the revenue side.
What's not so manageable is the company's operating margin losses and they were by far the worst piece of the company's FQ3 report and guidance for FQ4. Gross margins actually rose on a constant currency basis by 30 bps, a terrific result that means the company's merchandising strategy is beginning to work. Currency translations completely reversed the gains as the 50 bps swing took RL's reported gross margins to minus 20 bps. But the point stands that I'm nowhere near as worried about RL's gross margins as I have been in the past.
Where I'm extremely worried is when I look at the company's operating expenses. RL has been investing in infrastructure, which is expensive, but it has also been slow to reduce costs despite the fact that its sales and margins have dictated that it should be doing so. Operating expenses rose 160 bps to 43.1% of revenue, something RL simply cannot afford with its business continuing to shrink. I was really shocked by the way RL is continuing to spend money despite the very weak sales environment it finds itself in. This is a failure of management to recognize a serious situation and react appropriately, and it cost shareholders a lot of money yesterday.
RL also revised its FY2016 guidance and it wasn't pretty. Revenue changed slightly for the better but that didn't matter as operating margins were crushed. The company expects Q4's operating margins to plummet 400 to 450 bps in Q4, and for the entire year's operating margins to fall about 300 bps. That is an unacceptable loss in operating margins and it is primarily due to expenses and forex translations. Q4 apparently is going to have some inventory reduction costs, but if that's truly the case, Q1's guidance should be much better; we shall see.
At 12 times forward earnings, RL is as cheap as I've seen it in a long time. However, that is totally warranted as the company has simply imploded. The issues aren't new - inventory, the dollar, a weak sales environment - but they are getting worse, not better. And guidance for Q4 was far beyond what anyone had in their respective forecasts, meaning that RL surprised us all in a big (but not good) way. I can't say RL doesn't deserve the beating it took yesterday as it seems to me that management is only just now starting to really react to the situation it finds itself in, a few quarters too late in my view.
I said I wouldn't short RL at $110 so obviously I wouldn't short it here either. The valuation certainly looks tempting but I have reservations about the company's operating margins. Are the headwinds for operating margins truly transitory or is this the new level of margins we can expect from RL? I'm disappointed at the lack of progress the company has made on the operating expense front and apparently the market is too, judging by the decline yesterday. RL needs to show some real teeth to its operating expense reduction plan or the stock is probably not going to see $100 again anytime soon. I was hoping that FQ3 results would provide the spark needed to buy RL, but all I see is more doom and gloom. As I said, I wouldn't short this stock at $90, but I'm not getting long either; too much uncertainty right now for me to pay 12 times forward earnings.
Disclosure: I/we have no positions in any stocks mentioned, and no plans to initiate any positions within the next 72 hours.
I wrote this article myself, and it expresses my own opinions. I am not receiving compensation for it (other than from Seeking Alpha). I have no business relationship with any company whose stock is mentioned in this article.