If you were to walk into one of the new stores of Krispy Kreme Doughnuts, Inc. (NYSE:KKD) you could be forgiven for thinking you had walked into a Starbucks (NASDAQ:SBUX) store. The sleek new design has a real Starbucks feel, with the coffee machine given equal prominence with the donut display.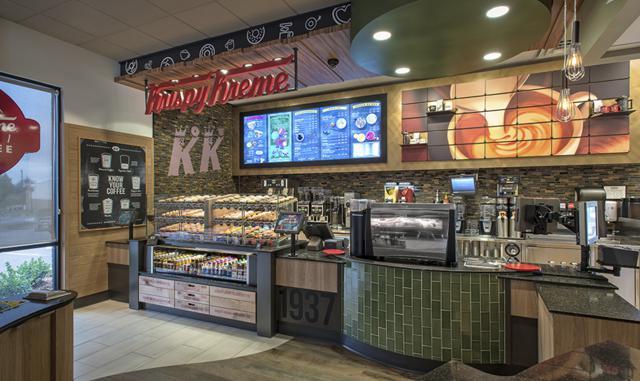 Click to enlarge
We think that this is a great move by the company. Krispy Kreme donuts are a real crowd pleaser, but they are not for everyone. Despite all the different offerings the company has, donuts are the symbol of the business and few people would associate it with much else. The issue here is of course that as delicious as donuts are, your doctor is not going to recommend you eat them that often. This has the potential to limit the amount of times a customer would visit a store.
We feel that when people consider catching up with friends or grabbing a coffee before work, they think of Starbucks. Next in line, other than independent coffee houses, perhaps they will think of McDonald's (NYSE:MCD) and then maybe Dunkin Donuts (NASDAQ:DNKN). We feel Krispy Kreme would come quite low on the list, and that is evident in the company's financial reports. At present coffee contributes just 5% of total sales. Whereas for Dunkin' Donuts it has been estimated to be around 63%.
That certainly does seem to be some distance away right now. But, if the company can get more coffee drinkers through its doors that will certainly increase, and we believe the redesigns will do this. The advantage of getting through coffee drinkers is the upsell opportunities that it presents. Of course the coffee market is a crowded one and location is everything. Starbucks generally has the best locations, so Krispy Kreme will have to deal with that.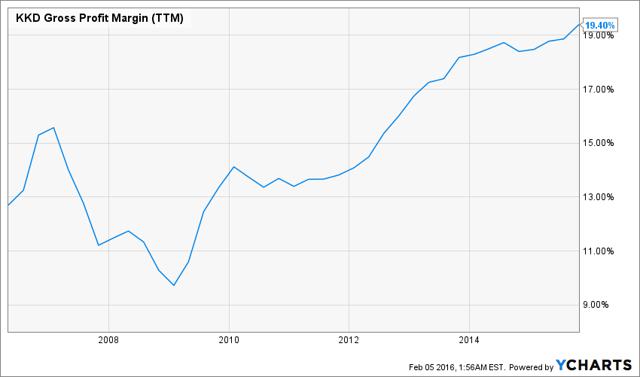 Click to enlarge
The other obvious benefit is margin. Coffee is a high-margin product, much higher than donuts, which means that if this is rolled out system-wide we could see a further boost to the already growing gross margin as demonstrated above.
This change of focus comes at a great time. The company is still performing very well and growing its revenue, but growth is happening at a slower pace. So this could be the catalyst to accelerating the level of revenue growth. Revenue had been growing by as much as a 15% year over year, but has trended downwards. In fact, two years ago the company recorded its first negative quarter of year over year growth. A successful roll out could lead to revenue growth in the low teens again in our view.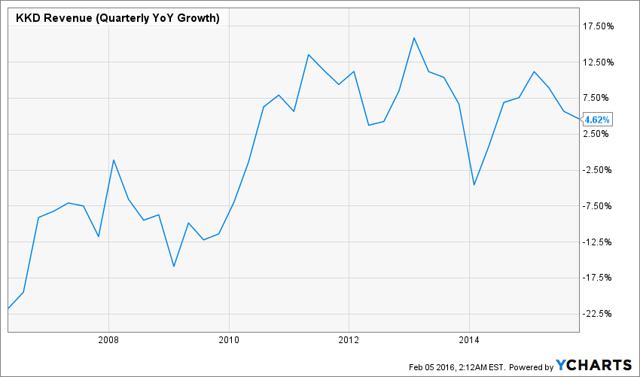 Click to enlarge
But let's not forget about its iconic box of donuts. As we said at the start these are a crowd pleaser. One thing that always impresses us is the way they market them. The limited editions are very shareable on social media, which really gets the product in front of its target demographic. It really is a blessing when your customers do a lot of your advertising for you. A prime example is the Super Bowl donuts which are featured below.

Click to enlarge
Source: Delish
Another similarity that Krispy Kreme has with Starbucks is the launch of its long-awaited loyalty program and its mobile payment app. We feel it is a great step forward for the company. Starbucks has had great success with theirs and we would expect the same results with Krispy Kreme, and as of the end of January the entire U.S. store network should be covered by it.
As per its latest 10Q the company has grown its worldwide store network to 1084 stores, up almost 10% during this fiscal year. By the end of the fiscal year it expects to have 1117 stores. In the next fiscal year management expects to increase this by a further 130 stores to a total of 1247 stores. We expect this aggressive growth strategy to continue for a few more years, which should see revenue and earnings grow at a very high rate.
Much of the changes we have discussed today are for the long term and won't be felt right away. We are excited by the prospect of coffee-centric stores rolling out across the whole network, but this will take time and money. Thankfully, the company is generating positive free cash flow and has zero long-term debt, so is capable of doing it. We look forward to hearing how their test stores have been performing on the next earnings call.
We expect the company to produce good earnings in line with market expectations when it reports at the start of year. Bringing in earnings per share of 79 cents. Next year we think that things will start to pick up. The loyalty program will be well underway, the store network will have grown considerably, and we expect further coffee-centric stores to have been converted. This we expect will lead to earnings per share of 95 cents.
We feel a price-to-earnings ratio of 26 is about fair. This puts it in the same bracket as Dunkin Donuts. At 26 times earnings and earnings per share of 95 cents, we arrive at a one-year price target of $24.70. An incredible 76% upside, which as outrageous as it might sound is only a couple of dollars short of its 52-week high. So very much achievable.
Right now the company has a market cap of just $896 million. It is our view that there is without doubt a multi billion-dollar company in Krispy Kreme, and it is only a matter of time until it reaches that figure. We expect long-term investors to see significant upside.
Disclosure: I am/we are long KKD.
I wrote this article myself, and it expresses my own opinions. I am not receiving compensation for it (other than from Seeking Alpha). I have no business relationship with any company whose stock is mentioned in this article.