Barrick Gold Corporation (USA) (NYSE:ABX) closed at $11.18 per share on February 04, 2016, with 33,191,367 shares traded on the NYSE. The share price ranged from $11.44 (high share price) to $10.84 (low share price).
The shares of gold stocks showed a rise during the last 5 trading days.
Over last 5 days, Barrick Gold Corporation gained 30.53%, Goldcorp Inc. (NYSE:GG) +29.08%, and Newmont Mining Corporation (NYSE:NEM) +40.17%.
During the same period, NYSE ARCA GOLD BUGS INDEX (INDEXNYSEGIS:HUI) gained 31.05%, the Market Vectors Gold Miners ETF (NYSEARCA:GDX) +23.94%, and the SPDR Gold Trust ETF (NYSEARCA:GLD) +5.29%.

Click to enlarge
Barrick Gold Corporation (Barrick) is a gold mining company. The company is engaged in the production and sale of gold and copper, as well as related activities, such as exploration and mine development. The company operates in segments: eight individual gold mines, Acacia and Pascua-Lama project. The remaining operating segments have been grouped into two other categories: its remaining gold mines and its two copper mines. The company sells its production in the world market through the distribution channels: gold bullion is sold in the gold spot market, gold and copper concentrate is sold to independent smelting companies, and copper cathode is sold to various manufacturers and traders. The company has 14 producing gold mines, located in Canada, the United States, Peru, Argentina, Australia, the Dominican Republic and Papua New Guinea. It also holds a 63.9% equity interest in Acacia Mining Plc (Acacia) that owns gold mines and exploration properties in Africa.
"It's great to see that our shareholders are starting to recognize the progress that we've made but there's a lot of lifting we have to do in 2016," ABX President Kelvin Dushnisky tells Bloomberg, adding that this year's focus will remain on cutting operating costs and improving productivity to further reduce debt. (here).
Here I show the costs-to-sales of the gold company over the last 5 years as well as the average grade of proven resources, betagold (the exposure of the return on the gold stock to the changes in the price of gold in London bullion market (daily prices) and the multiplier Profit-Gold Price, 1/[1-(costs-to-sales)).
| | | | | | | |
| --- | --- | --- | --- | --- | --- | --- |
| Year | Revenue | Costs | Costs to Revenue | Multiplier Profit-Gold Price | avg grade (Proven) | 2-factor model: Betagold |
| 2014 | $7.953,00 | $5.800,00 | 0,729 | 3,69 | 1,63 | 0,52 |
| 2013 | $10.093,00 | $6.000,00 | 0,594 | 2,47 | 1,41 | 0,58 |
| 2012 | $12.600,00 | $6.200,00 | 0,492 | 1,97 | 1,39 | -0,12 Not stat. sig. |
| 2011 | $11.913,00 | $5.177,00 | 0,435 | 1,77 | 1,41 | -0,13 not stat. Sig. |
ABX cost-to-sales ratio increased from 2011 to 2014, this means that the multiplier Profit-Gold price increased as well.
The graphic below shows the downtrend of gold price from 2011 to 2013: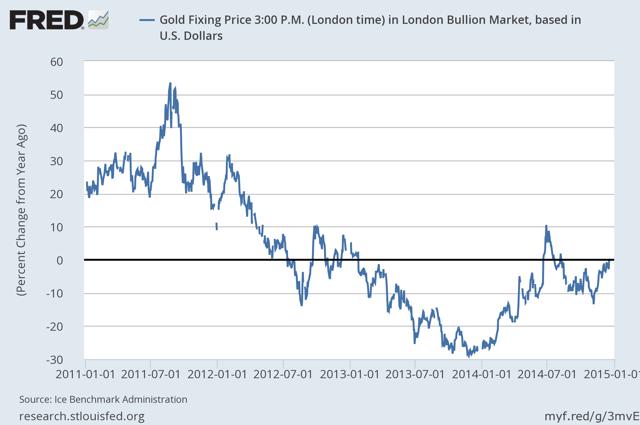 Click to enlarge
The table below shows the average annual return on the precious metal (London bullion market, $ per troy ounce, computed on daily prices):
| | |
| --- | --- |
| Year | Rgold |
| 2014 | 0,60% |
| 2013 | -29,34% |
| 2012 | 4,16% |
| 2011 | 17,89% |
As you have noticed, the average grade of proven resources of the gold company increased as well as the costs-to-sales ratio. The average grade includes those ore bodies that can be "economically" mined at current costs and gold prices levels.
A change of price in gold (London bullion market) in 2014 of 0.60% would have lead to a 2.2% in the earnings, if production and costs were constant over the period.
But ABX decreased production by 13% in 2014 and all-in sustaining cash costs per ounce, along with a higher average grade of proven reserves (very important information), 1.63 g Au/t in 2014 (1.41, 1.39 and 1.41 g Au/t respectively in 2013, 2012 and 2011).
"In 2014, Barrick's gold production was 6.25 million ounces, 13% lower than 2013 gold production, with all-in sustaining cash costs of $864 per ounce and cash costs of $598 per ounce and cost of sales of $5.8 billion.

In 2013, Barrick produced 7.17 million ounces of gold, with all-in sustaining cash costs of $915 per ounce and cash costs of $566 per ounce" (here).
For the full year 2014, Barrick Gold recorded a net loss of $2.91 billion ($10.4 billion in 2013), or $2.50 per share ($9.65 in 2013). This reflects the impact of $3.4 billion in after-tax impairment charges. Adjusted net earnings for 2014 were $793 million, or $0.68 per share.
Conclusion:
"Barrick Gold (ABX -1.4%) is Canada s best-performing major stock YTD, with shares up 36% in Toronto, and has overtaken its two biggest competitors, Goldcorp (GG +0.1%) and Newmont Mining (NEM +0.1%) in market cap to allow it to reclaim the title of the world's most valuable gold company." (here).
If one of the world's most valuable gold mining stocks is going to continue with a program of reducing operating costs, I think that the company doesn't rely on a significant and widely expected increase in the price of the precious metal in 2016:
"ABX stock is benefiting from the run-up in gold more than its competitors because of its high debt, which makes it a "levered play on gold," says T. Rowe Price's Rick de Los Reyes, adding that the company needs to start generating enough cash to get debt down to less than 2x EBITDA; currently, the ratio is 3.66x, well above NEM and GG at 2.22x and 2.18x, respectively."(here).
The table below shows total debt to EBITDA of ABX and its peers, as of today:
Valuation

ABX

GG

NEM

Enterprise Value to EBITDA

6,2

13,3

7,06

Enterprise Value to Sales

2,45

3,28

1,85

Total Debt to Enterprise Value

0,51

0,2

0,4

Total Debt to EBITDA

3,33

3,3

3,19

Source: quotes.wsj.com/ABX/financials
Waiting for the fourth quarter 2015 results - conference call and webcast will take place on February 18, 2016 11:00 AM EST, the company's production guidance for 2015 is 6.2 million to 6.6 million ounces of gold at AISC of $860 to $895 per ounce. The company expects to generate (enough) positive free cash flow this year at current gold prices.
Barrick exhibits a cost-to-sales ratio that increased from 2011 to 2014, and especially from 2013 to 2014. This increase in the ratio (and increase in the multiplier Profit gold) is related to an increase in the average grade of the gold mine (when gold ore has a high grade, it takes relatively less effort to extract an ounce of gold from the ground; less ore has to be dug out, which reduces input costs for the gold mining company) and decrease in gold price (London Bullion market). This higher multiplier has a higher operating leverage in earnings.
The improvement in the net income of the company for full year 2014 reflects the impact of after-tax impairment charges.
The company initiated a program to reduce its net debt by at least $3 billion in 2015.
Since 'there's a lot of lifting the company has to do in 2016', this is, in my opinion, a clear sign that the gold producer (one of the larger Canadian gold mining stocks) doesn't rely on a substantial increase in the gold price in 2016.
Disclosure: I/we have no positions in any stocks mentioned, and no plans to initiate any positions within the next 72 hours.
I wrote this article myself, and it expresses my own opinions. I am not receiving compensation for it (other than from Seeking Alpha). I have no business relationship with any company whose stock is mentioned in this article.