Dow Chemical Co. (NYSE:DOW), which is merging with rival Du Pont Co. (NYSE:DD), has recently released solid quarterly results, handily beating analysts' profit estimates ninth time in a row on the back of a strong performance from the plastics unit.
The Midland, Michigan-based company's revenues fell 20%, or 15% after excluding the impact of asset sales and acquisitions, to $11.46 billion due to lower prices, particularly for hydrocarbons and energy, and adverse foreign currency effects. The company reported year-over-year decline in revenues in all five operating segments. But revenues were still better than analysts' estimate of $11.2 billion, according to data compiled by Bloomberg.
The negative impact of lower revenues, however, was offset by higher volumes and 24% decline in sales costs. The volume, excluding the impact of asset sales and acquisitions, climbed 4% from last year, with gains across all geographic regions including 10% growth from China. The plastics segment, Dow Chemical's largest unit, drove the volume growth with 11% increase.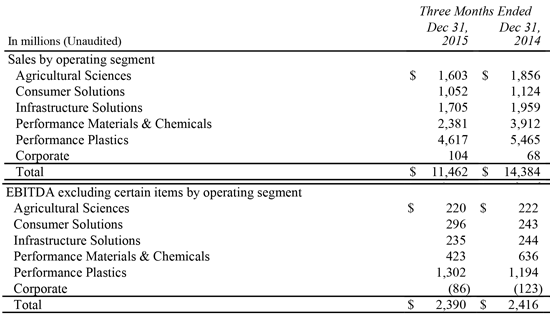 The plastics business in particular, which uses oil as a raw material, benefited from cheap commodity prices. The unit's adjusted EBITDA climbed 9% from last year to fourth-quarter record of $1.3 billion. The Performance Materials and Chemicals business, on the other hand, is struggling with declining earnings. The sale of Dow Chlorine Products, ongoing restructuring and the tough conditions in the energy market could continue to impact PMC profits in 2016. Total adjusted EBITDA decreased slightly (1.1%) to $2.39 billion, excluding the $2.23 billion gain recorded from sale of chlorine business to Olin Corp. (NYSE:OLN).
However, the profit (EBITDA) margin improved meaningfully from 16.8% last year to 20.9% to their highest quarterly levels in more than a decade. The margins improved in all segments, most notable consumer solutions and the core plastics business where margins were more than 28%. The company has attributed this to disciplined price and volume management.
Adjusted operating earnings came in at $0.93 per share, which was 9% higher from last year and better than Wall Street's estimate of $0.69 per share. And it wasn't just an earnings beat - it was a high quality earnings beat that came with margin expansion. The company's decision to double down on high-margin businesses while selling the less profitable ones is bearing good results.
Dow Chemical has pulled off another impressive quarter, once again displaying its greatest strength, its ability to deliver decent volume and margin growth, even in a challenging business environment with weak commodity prices. The raw materials company is facing some serious headwinds with prolonged weakness in the energy markets, heightened concerns from China and emerging markets and uncertainty around the Fed's policy. But the company is targeting significant cost savings and earnings growth moving forward, which should continue to have a positive impact on margins.
Dow Chemical has been pushing to improve productivity and extract $1 billion in savings for the three years ending 2017. For 2015, the company eyed $300 million of savings, but ended up exceeding this target by $45 million. It is now aiming for additional savings of more than $300 million for 2016. The company has accelerated headcount reduction and plans to eliminate 500 additional jobs, increasing the total tally to 2,200 roles. The pension expense is also expected to fall by $200 million to $300 million in 2016, which will also help the company's bottom-line.
But more importantly, Dow Chemical is positioned to deliver EBITDA growth over the next couple of years as some of its major projects begin to come online. It started the Freeport PDH (Propylene Dehydrogenization) facility on the US Gulf Coast in December, which was a part of its Gulfstream expansion program. The PDH facility is going to play a crucial role in fueling the company's EBITDA growth at an annual run-rate of around $450 million. In December, Dow Chemical also announced taking full control of its seven-decade old 50/50 joint venture with Corning (NYSE:GLW). The transaction is projected to push annual EBITDA by $1 billion on the back of synergies. Dow Chemical has also been working on Louisiana Ethane Flexibility project which will boost its ethylene capacity by 250,000TA and annual EBITDA by $250 million. The three projects, Freeport PDH, Corning transaction and enhancements of ethane cracking capabilities, will drive the company's earnings growth from 2016. These and other projects, such as Sadara joint venture and Texas Ethylene Unit, should fuel EBITDA growth over the next couple of years.
But what sets Dow Chemical apart from its peers is its merger with Du Pont, the largest deal ever in the chemicals industry, which should fuel the company's growth over the long term. After the merger, the larger entity will be divided into three parts -- a materials maker led by Dow, a specialty company dominated by Du Pont and an agriculture company formed through a combination of Du Pont's seeds channel and Dow's traits business. The merged Dow-Du Pont will become leaner, more focused organizations, one of which will emerge as a major new entrant in the agriculture space. This should result in significant synergies which will be likely greater than Dow Chemical's estimate of $3 billion related to costs and $1 billion related to growth.
Dow Chemical, therefore, is positioned to continue growing volumes and earnings in 2016 and the long term. This should have a positive impact on shares.
Disclosure: I/we have no positions in any stocks mentioned, and no plans to initiate any positions within the next 72 hours.
I wrote this article myself, and it expresses my own opinions. I am not receiving compensation for it (other than from Seeking Alpha). I have no business relationship with any company whose stock is mentioned in this article.