On January 20, 2016, the price of active-month NYMEX crude oil fell to the lowest level since May 2003, when it traded down to $26.19 per barrel. Since then, the price recovered, reaching a high of $34.82 on January 28. The energy commodity took another look below the $30 level on Tuesday and Wednesday last week.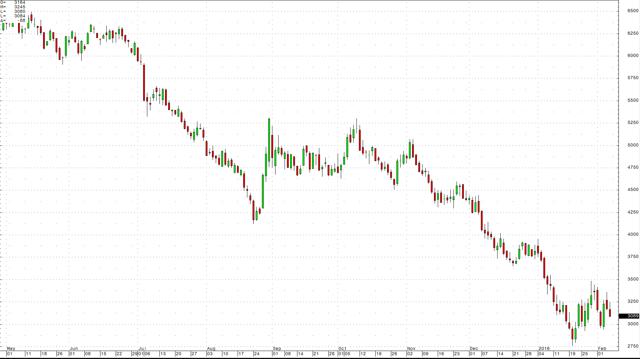 Click to enlarge
On Wednesday, a bullish key-reversal trading pattern on the daily chart took the price higher, and March NYMEX crude settled last week over $30 at $30.89 per barrel. While crude rallied over 30% from its January 20 lows to last week's highs, the price action has not set the world on fire. Crude oil is off the January lows; it is consolidating, and while the technicals look a bit better, the fundamentals are not pretty.
Technicals - Failure or more upside to come?
After the recent bounce in crude oil, the price has been consolidating just above the $30 level. A consolidation period after a bounce from new lows is nothing new for oil; we saw this type of market action twice before, during the current bear market in crude oil that has taken the price from over $107 per barrel in June 2014 to around the $30 level.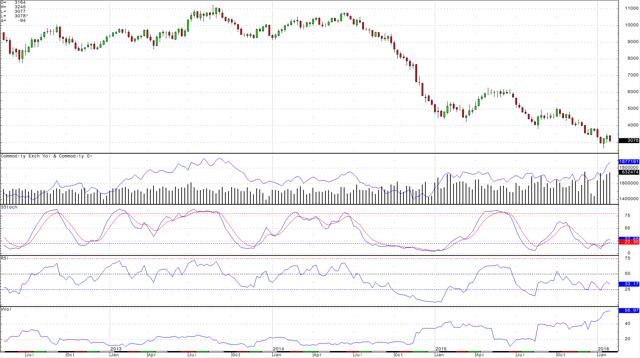 Click to enlarge
When oil rebounded from $42.03 in March 2015, the price consolidated for almost two months before resuming its decline. Last August, when oil found another bottom at $37.75, the price consolidation lasted almost three months before it made its next low. Therefore, the current consolidation is still in its infancy, and it could last for a few more months. Each consolidation ended around the time of an OPEC meeting, when the cartel repeated its policy of no production cuts.
On a purely technical basis, there are signs that the current recovery in the oil price has not peaked just yet. The slow stochastic, a momentum indicator, has crossed to the upside in oversold territory, signaling that the path of least resistance in oil is currently higher. Relative strength, another technical metric, is below neutral, meaning that there is room for price increases. Open interest, the total number of open long and short positions on NYMEX crude oil futures contracts, stands at 1.877 million contracts. This is the highest level since September 2013, when the price was north of $100 per barrel. Higher open interest is a clue that there are lots of speculative positions currently in the market. Finally, weekly historical volatility at 57% is the highest since 2009, which tells us that options are expensive. It is likely that this metric will decline over the course of the current consolidation in the weeks ahead.
I interpret the current technical state of the crude oil market as mildly bullish; sentiment seems to have shifted away from calls for oiling falling into the abyss, for now.
Supply weighs on price - OPEC emergency?
Recent strength in crude oil has been partially due to rumors of an emergency OPEC meeting; however, there has been no confirmation of any such plans from the cartel. Obviously, there are members of OPEC who are in desperate need of a production cut to boost prices. However, two of the most powerful members of the cartel, Saudi Arabia and Iran, are not likely to agree about anything.
Meanwhile, while Saudi Arabia is the dominant producer in the world with over 10 million barrels of output each day, Russia is the only other producing nation that produces at that level. Given the close relationship between Vladimir Putin and Iran, the two together actually wield more power than the Saudis in terms of world petroleum markets, as their aggregate production eclipses the Kingdom's.
Russia has been moving towards privatizing their oil production, but it would be naive to think that Putin will not retain ultimate control of the nation's daily output. The Saudis have also been making noises about privatization of Aramco, but the same holds true for the royal family, who are not likely to give up any control of what is their crown jewel. For now, oil continues to flow from Russia and the Middle East, and increased selling from Iran in the post-sanction world has added to global supplies. However, if Russia decides that a production cut is in the cards, they could influence the Iranians, who would find a great deal of support from other cartel members, even if the Saudis object.
In the U.S., production continues to flow, although rig counts dropped by another 31 last week to 467 rigs in operation. This is the seventh straight week of declines in the number of rigs in operation, and a decrease of 673, or 60%, from last year. Eventually, U.S. production will slow due to less pumping. The well-publicized target of OPEC policy has been shale production in the U.S. The eventual decline in U.S. output could trigger increased support for an OPEC cut. In this case, the Saudis would find it hard to maintain their status quo position. World production continues to weigh on price, even at today's low levels.
Oil is low - Let's tax it
The Obama administration announced a proposal last week centered on a $10 per barrel oil tax to pay for "infrastructure improvements" that would phase in over a five-year period. The U.S. president said, "It is right to do it right now while gas prices are really low." The administration said that they would work with Congress to decide who will pay the tax. While the headlines read that this proposal amounts to a tax on oil companies, the bottom line is that consumers will pay the ultimate bill.
$10 amounts to a 30% tax on gasoline, heating oil, jet fuel and other oil products at current prices. The administration appears to be proposing taking away part of the discretionary income created by lower oil prices from consumers. While prices are less than one-third what they were less than two years ago, this tax, if approved by Congress, would not disappear if oil prices were to spike back up to previous levels. The administration said that they will "work" with Congress on the proposal, but in the current political environment, there is a zero percent chance that Congress will even consider this tax increase initiative.
Market Structure - Fundamentals
The market structure continues to reflect the bountiful supplies of oil around the world. Brent crude oil futures rolled to from March to April, and the April Brent versus April WTI spread was trading around the $1.20 premium for Brent level late last week. This spread had briefly moved back to historical norms where WTI was at a premium to Brent, but rumors of OPEC production cuts caused the spread to move the other way.
Term structure continues to be in a wide contango, particularly in the case of NYMEX crude. The one year, March 2016-March 2017 NYMEX crude oil spread closed at the highs last week.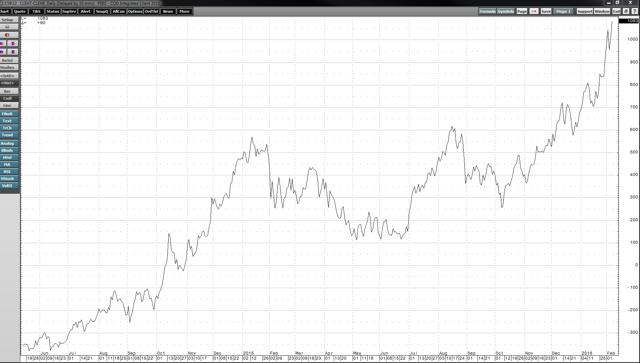 Click to enlarge
$10.83 amounts to a 35% contango, which is just another sign of how much crude oil is sitting in inventories in the United States. Last week, the API reported an increase of another 3.8 million barrels in U.S. inventories. The Brent April 2016-April 2017 spread was around the 22% level last week, lower than the one-year NYMEX spread, perhaps because of the rumors of production cuts by OPEC that would more directly impact Brent crude prices.
Processing spreads have corrected a divergence that had existed until early January. Gasoline prices had outperformed heating oil prices on NYMEX futures. The low price of gasoline had increased demand for the oil product as U.S. drivers took advantage of bargain basement gasoline prices at the pump at a time of the year when inventories were low. Meanwhile, a warmer-than-usual winter season in the U.S. had caused the demand for heating oil to decline and inventories to build for distillate products. Therefore, gasoline crack spreads remained strong, while heating oil cracks tanked. Recently, this divergence has corrected.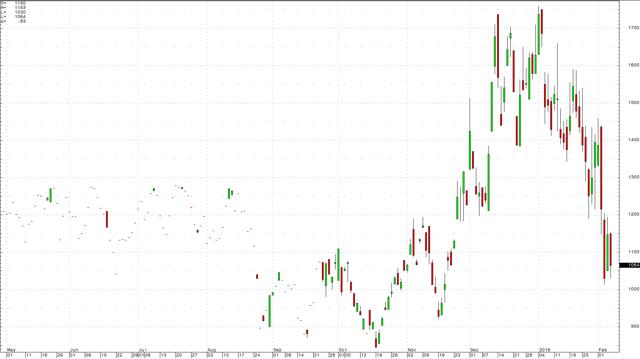 Click to enlarge
The March NYMEX gasoline crack spread has declined from $17.60 per barrel on January 4, 2016 to close around the $10.55 level last Friday.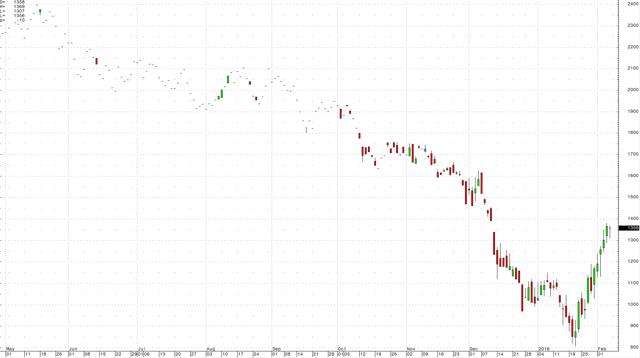 Click to enlarge
Meanwhile, the March NYMEX heating oil crack spread has rallied from lows of $8.06 per barrel on January 21 to close around the $13.70 level last week. While these two processing spreads have returned to more appropriate seasonal levels over recent sessions, they are both still below last year's levels. Early last February, the active-month heating oil crack spread was over $25 per barrel, while the gasoline crack spread was at the $15 per barrel level. The weakness in these refining spreads is a negative sign for raw crude oil - either inventory is high, demand is low or a bit of both. It is also bad news for those companies involved in refining - their margins are not that attractive.
While the price of crude oil is currently in a consolidation phase and sentiment has improved, slightly, market fundamentals continue to be negative for the price of the energy commodity.
New lows will cause equities to tank
NYMEX crude oil dropped by $65.07 between June 2014 and March 2015. It then declined by $24.83 between May and August last year. The plunge from October highs to January lows was $24.73 per barrel. While there have been significant recoveries in this bear market, the fact is that after each period of consolidation and recovery, the price made a new and lower low.
It is virtually impossible to pick tops or bottoms in markets, as they always tend to extend past where fundamental or technical factors indicate. Right now, crude oil sentiment has turned slightly positive, and even the potential or whiff of an emergency OPEC meeting or production cut could cause rallies. However, the fundamental structure of the market suggests that we could be in for another new low if the market is once again disappointed and frustrated by no action by the producing cartel.
Meanwhile, if oil does make a new low, it will be bad news for the equity markets around the world. Major indices will drop, given the number of oil-related companies that trade on the stock market. Case in point, crude oil was weak last Friday, and the DJIA fell by over 200 points on the session. More importantly, banks that finance many companies in the oil business are going to find themselves with a growing number of nonperforming loans. We have seen some real weakness in the banking sector this earnings cycle, and lower oil exacerbates these problems. Even if crude remains around the $30 per barrel level, it is possible that the number of loan defaults will grow and contagion will spread throughout the global economy. The bottom line is that if oil does not experience a significant recovery, stocks are in real trouble.
As an aside, the falling oil price has been a mixed blessing. On one hand, lower prices at the pump and for other oil products has handed out what amounts to a tax cut and more discretionary money for all consumers. However, the contagion from lower oil has been at least partially responsible for the fall in equity markets, which is causing a decline in investment portfolios in 2016. Now the U.S. administration is looking to tax those low prices at the pump. For many U.S. consumers, this creates a "Heads I win, tails you lose" scenario as the U.S. government looks to pick our pockets, once again.
As a bonus, I have prepared a video on my website, Commodix, that provides a more in-depth and detailed analysis on crude oil to illustrate the real value implications and opportunities.
Disclosure: I/we have no positions in any stocks mentioned, and no plans to initiate any positions within the next 72 hours.
I wrote this article myself, and it expresses my own opinions. I am not receiving compensation for it (other than from Seeking Alpha). I have no business relationship with any company whose stock is mentioned in this article.