Gold has been all the rage in 2016; however, last week two other metals broke out to the upside and one beaten down metal is showing some signs of life. Gold is rallying on uncertainty; the yellow metal was up over 10.7% in dollar terms so far in 2016 as of last Friday. Gold has recouped all of its 2015 losses in the first five weeks of this year. Gold fell by 10.46% last year and the precious metal certainly has its mojo back this year.
Precious metals have been in a bear market since making highs in 2011. Gold traded up to over $1900 and silver came within a whisker of $50 per ounce. In that year, copper traded to over $4.60 per pound. In the years that followed, all of these metals have made nothing but lower highs and lower lows. However, early in 2016 there are some signs that this could be about to change. Gold, silver, platinum and copper are showing some signs of life. The question is, can these metals climb to levels that negate the pattern of bearish price action that has been in place for almost five years?
Silver and platinum awaken
Silver had a great week. After trading in a range between $13.62 and $14.64 per ounce since November 9, 2015, gold's little brother broke to the upside last Wednesday. Silver closed the session at $14.82 and added to gains on Thursday and Friday.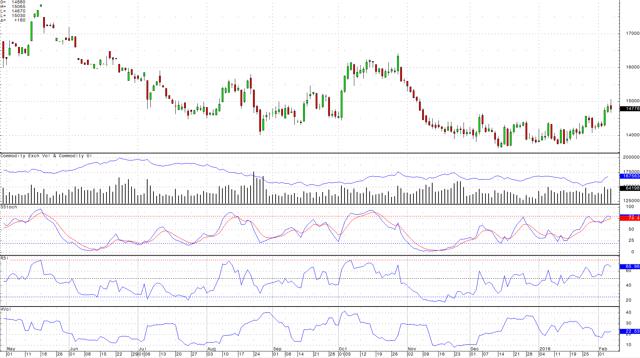 Click to enlargeAs the daily silver chart illustrates, the break of resistance came with rising open interest and an increase in volume. The rises in these two metrics are both supportive and a validation of the move that took silver out of the trading range of the past three months.
Gold has been moving higher throughout 2016, however, over the first weeks of the year another precious metal, platinum, continued to languish. In fact, on January 21, platinum traded to the lowest level since December 2008 when it traded to $811.40 per ounce.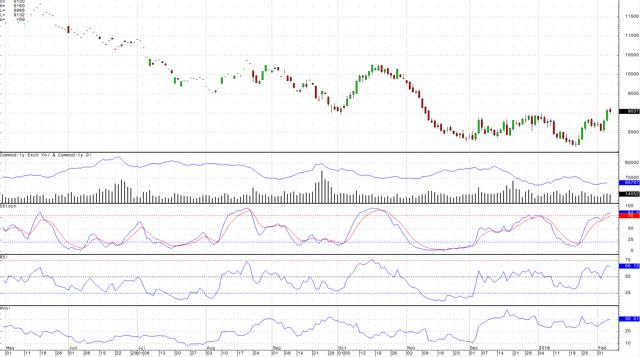 Click to enlargeSince then, the price of platinum has recovered. Platinum traded above resistance, the highs of January 5 at $899.10, settling on February 5 at $913.20 per ounce. The move in platinum has been significant as it traded to highs of $916 last week -- more than $100 above the lows seen just two weeks before.
Ugly markets for all industrial commodities
2015 was an ugly year for all industrial commodities. The economic slowdown in China, a lethargic Europe, a strong dollar and excessive supplies of industrial commodities all led to lower prices. Precious metals fell as a sector by over 19%. Base metals lost over 23% of their aggregate value. The energy sector posted losses of over 25% with the most liquid commodity, crude oil, shedding over 30% of its value. Other commodity sectors also posted losses in the bear market year, with grains falling over 14% and meats down over 21%. Even the best performing commodity sector, soft commodities, lost 3/4 of 1%. The bottom line is that the secular bear market in raw material markets finished its fourth straight year on December 31, 2015. The first month of 2016 was a case of more of the same. Crude oil made a new low at $26.19 per barrel on January 20. That was the lowest price since May 2003. The day before another industrial commodity also made a new low when copper traded down to $1.9355 per pound.
Is copper next?
Since January 19, copper has had a reversal of fortune. On that date, the red metal put in an impressive performance. Copper made a lower low, the lowest price traded since April 2009. It then turned around and closed the session that day at $1.9775 after trading to highs of $2.013.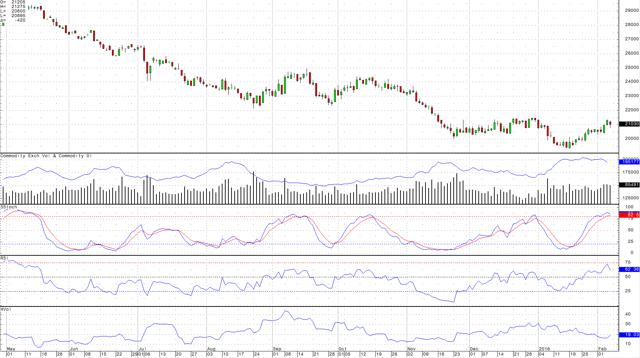 Click to enlargeAs the daily chart highlights, copper built on gains made on January 19. On January 26, copper put in a key reversal on the daily chart. Copper made a lower low than the previous session and closed above the highs of the past 10 sessions at $2.0375 per pound. Since then, copper has followed through on the upside, closing last Thursday at $2.1315 after trading up to highs of $2.1380 per pound. This was the first time in 2016 that copper was higher than the December 31, 2015 price of $2.1255 on the active month COMEX contract. On Friday, copper moved lower to settle the week at $2.0895 per pound.
At the same time, open interest and volume have been rising along with the price of copper and momentum and strength indicators, which are in overbought territory on short-term charts, pointing to an upward trend in the red metal. On longer-term charts, copper remains in neutral or oversold territory and has experienced a shift in momentum to the upside. Additionally, the current level of open interest of under 200,000 contracts has been at the highest in history. This indicates that there could still be speculators and traders with short positions in the copper market -- nothing can ignite a recovery rally in a commodity like big short positions.
Key resistance in copper now stands at the December 30 highs at $2.1485 per pound. That is now the line in the sand for copper; above there the next level of resistance is above $2.40 per pound.
The fifth year of bear market conditions
The current trajectory of copper, silver, platinum and even gold is impressive over recent trading sessions. However, these markets have all been in brutal bear markets since 2011. Each one of these metals has made lower lows and lower highs, which has led to a vicious cycle of new multi-year lows. We have seen recovery rallies over the past four years; each attempt to break the cycle has failed miserably, leading to new lows.
With the exception of gold and silver, 2016 commenced as the fifth year of the bear market in commodity markets. It has also begun as a year in which volatility across all asset classes has risen. Equity markets were under siege in January. Currency volatility has increased and the debt markets have diverged. U.S. government debt has rallied in a flight to quality and corporate and high yield debt markets have been weak. The rallies in gold and silver are further evidence of the uncertainty that has swept across all asset classes over the first five weeks of 2016.
Lots of blue sky for silver, platinum and copper
The subject of this piece is a question of whether silver, platinum and copper can recover at this time. The larger question is can they break the bearish cycle of the past almost five years? When it comes to the latter question, time will tell. In terms of a recovery, I would argue that the recovery is long overdue and there is plenty of upside room.
The abundance of blue sky in these markets makes them compelling candidates for long positions for short-term nimble traders and investors. These metals may remain in a long-term downtrend trend at the end of a recovery period however, 2016 is a year of volatility. In volatile conditions, trading rather than medium or long-term investing is likely to yield the best chance to achieve positive economic results.
A challenge of the long-term bear markets could await us in the future. The recent move in the dollar is certainly a positive development for the prices of all raw materials. However, when it comes to silver, platinum and copper there is a lot of upside room before we can even address long-term resistance levels. This sets these markets up for powerful recovery rallies no matter what happens to the longer-term trends.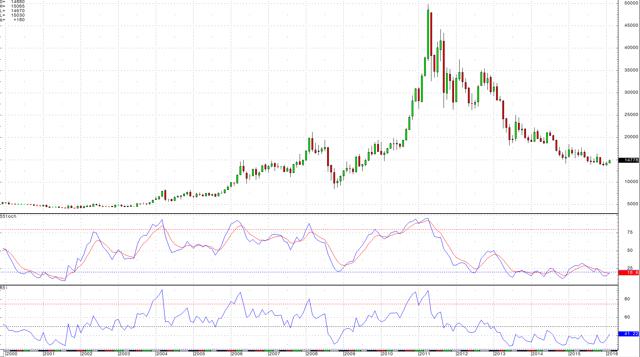 Click to enlarge The monthly silver chart shows that the close on Friday, February 5 at $15.03 is $1.34 below key resistance at the October 2015 highs of $16.37 per ounce. It also shows that silver remains in oversold territory and momentum indicators are shifting higher. That all adds up to a lot of room for price recovery -- almost 9%.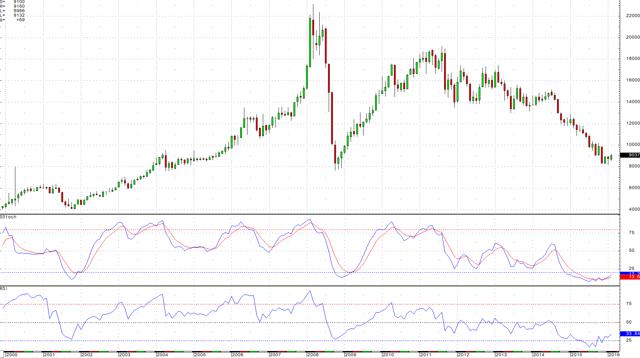 Click to enlarge When it comes to platinum, the monthly chart shows a similar pictorial to the silver chart. The technical metrics are both constructive after the recent price rise. Platinum closed at $913.20 last Thursday; key resistance is at the October 2015 highs of over $1020 per ounce -- more than 11.5% above the current value.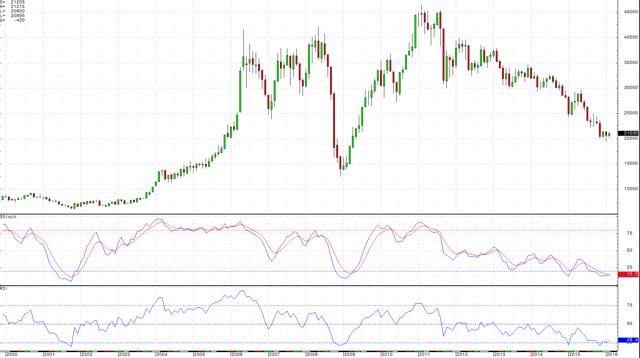 Click to enlarge Finally, the monthly copper chart highlights an oversold commodity with momentum that is just starting to shift. This market could have the bluest sky on the upside. Copper closed last Friday at $2.0895 and resistance on the monthly chart is way above the current price at the May 2015 highs of $2.9610 per pound -- just under 42% above the current price.
As you can clearly see, there is a lot of room in each of these metals for a recovery rally before the price can challenge long-term resistance levels. Therefore, given the recent shift in momentum of all three metals and the blue sky between current values and resistance, the chance for significant recovery rallies is currently excellent.
One must be very cautious given the high degree of volatility in all markets these days. The best strategy could be buying dips in these three metals with tight stops and looking for rallies to take profits quickly. If either of these metals begins to move sharply higher and you have a long position, use trailing stops as the markets move higher. Raise those stops in order to take risk that is commensurate with reward prospects. It is virtually impossible to pick bottoms or tops in markets. However, these markets have shifted from selling rallies to buying dips to initiate positions for the time being.
As a bonus, I have prepared a video on my website Commodix that provides a more in-depth and detailed analysis on silver, platinum and copper to illustrate the real value implications and opportunities.
Disclosure: I/we have no positions in any stocks mentioned, and no plans to initiate any positions within the next 72 hours.
I wrote this article myself, and it expresses my own opinions. I am not receiving compensation for it (other than from Seeking Alpha). I have no business relationship with any company whose stock is mentioned in this article.
Additional disclosure: The author always holds part of his portfolio in precious metals, that percentage depends on market conditions.